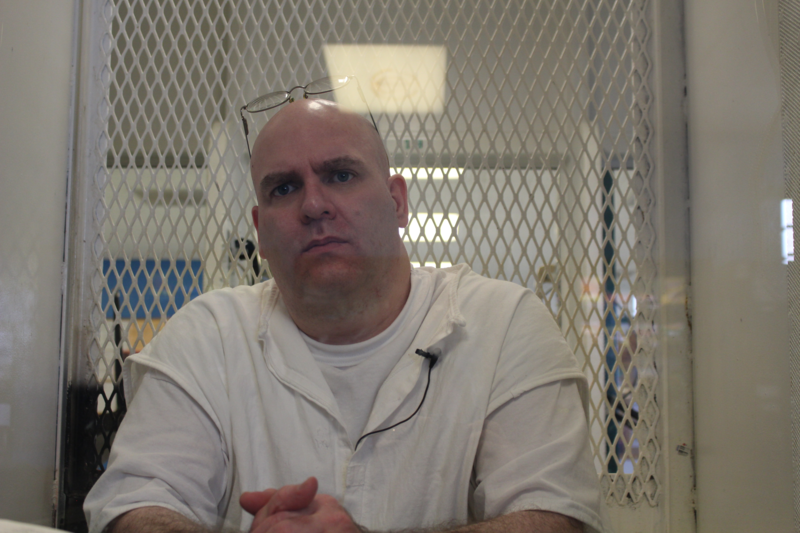 Larry Swearingen is scheduled to be executed Wednesday by the State of Texas.
It was 19 years ago that Swearingen was convicted of the abduction, rape and murder of Melissa Trotter. This is the sixth time that Swearingen had a date with death in the Texas prison system. But lingering questions about his guilt have caused the courts to repeatedly step in.
"My name is Larry Ray Swearingen, I'm on death row — scheduled to be murdered August 21 for a crime I did not commit," said Swearingen in an interview at the Texas State Penitentiary at Huntsville. "You have faulty forensic sciences that are upholding this conviction, and now they want to murder me to make sure the conviction doesn't come undone."
After two decades on death row, Swearingen was pudgy, bald and his skin was a pasty white. In all that time, he never stopped insisting on his complete innocence.
"No, I didn't not take Melissa's life. We were friends in the end. We're friends now. We will always be friends," Swearingen said.
But the police and prosecutors who worked to convict Swearingen of capital murder and who are working now to have him executed contend that was a lie — one of Swearingen's many lies.
"There is no other perpetrator out there. There's no other bogeyman. There's no other serial killer that killed Melissa Trotter. It's Larry Swearingen," said Kelly Blackburn with the Montgomery County District Attorney's Office. "There is a mountain of evidence that connects Larry Swearingen to the death of Melissa Trotter that he was convicted on — besides science."
Forensic science is central to solving murders. Prosecutors rely on it every day. But in the Melissa Trotter case, some of the forensic science appeared to contradict the prosecution. However, Blackburn said there was a wealth of circumstantial evidence in the case that pointed directly at Swearingen.
"Larry Swearingen wasn't connected to this case through DNA or through science," Blackburn said. "He was connected to this case and was convicted on evidence that put him at the scene that on a mountain of circumstantial evidence that put him in Melissa Trotter together ⁠— what happened before, during and after her murder. So that's why he was convicted."
Swearingen admitted if someone only listened to the prosecutors' narrative, he sounded guilty. But he said they consistently used junk science to pin a murder on him while dismissing legitimate forensic science that proved it was impossible for him to be Melissa Trotter's killer.
"I was in jail on trumped up charges. It was determined that Melissa Trotter died at the time I was incarcerated in the Montgomery County jail," Swearingen said.
Melissa Trooter, 19, went missing on Dec. 8, 1998, in Willis, Texas, north of Houston. She was an outgoing college student last seen alive at the student center at Lone Star College Montgomery County campus. Swearingen at that time was a 27-year-old electrician. He was driving a stolen red pick-up truck and had a history of problems with the law.
"I was a screw up. I was a violent screw up. Two plus two and you get the wrong conclusion. 'Hey, he's done these things before. Look over here; yeah we have a good suspect here,' " Swearingen said.
Swearingen immediately became the suspect in the Melissa Trotter missing persons case. They had been seen together at the college the day she went missing. Three days after her disappearance, Swearingen was arrested on outstanding traffic warrants. He's been behind bars ever since.
While being questioned by investigators in 1998, he told them he didn't know Melissa Trotter and had never spoken to her.
"I don't even know the girl. Up until that point I didn't even know that the girl existed," Swearingen told officers.
"Then why would she have your pager number?" an officer asked.
"She asked me if there was a way to get hold of my sister," Swearingen responded. "When I walked up to the marina she asked me, 'Aren't you Becky's brother?' And I said, 'Yes.'"
"You ain't never talked to her before?" an officer asked.
Swearingen responded, "No, never."
On Jan., 2 1999 — 25 days after her disappearance — hunters found the body of Melissa Trotter in a remote location in the Sam Houston National Forest. She was partially clothed. Investigators determined she had been strangled with a leg segment cut from a pair of pantyhose.
It was now a murder investigation. And the evidence against Swearingen was piling up. Police searched his truck and found strands of Melissa Trotter's hair.
Swearingen now admits she had been in his truck many times.
"We were dating. We were friends with benefits. We went out and had a good time. I enjoyed being with her, and she enjoyed being with me," he said. "What we did or didn't do is nobody's business. There has to be some chivalry in the court system where you don't degrade someone who can't be here to say, 'Yes, that's true,' or 'No, that's not true.' "
While Swearingen was in the county jail, there was a strange twist in the case. A letter written in lousy Spanish claimed that Swearingen was innocent. In the letter, there were details about the case that had not been in the news — about the position of the body and the color of Melissa Trotter's underwear. This letter could exonerate Swearingen, except for the fact that he wrote it.
"When they started printing in the paper that they were going to kill me — that's what prompted the Spanish letter," Swearingen explained. "I was scared to death about it."
Swearingen said he knew those incriminating details because he had the autopsy report and crime scene photos.
Prosecutors argued they had plenty of evidence that tied Swearingen to the Melissa Trotter murder: a cell phone tower "pinged" him near where the body was found, a match of the murder weapon pantyhose was found at Swearingen's trailer. Polyester fibers from his truck were on Trotter's coat.
Swearingen countered that cell phone tower "pings" are no longer considered legitimate evidence. He said claims of a pantyhose match were overblown and inaccurate and that polyester fibers are polyester.
"Fibers are not unique to anything. They're mass produced," Swearingen said. "So when you say, 'Hey, this fiber here is unique.' No, it's not. It's similar."
And there was the evidence that the prosecution dismissed. Blood under Trotter's fingernails did not match Swearingen's DNA. Trotter's body was only lightly decomposed. Experts testified that it appeared Trotter's body was in the woods for no more than two weeks — that's when Swearingen was locked up in the county jail.
Blackburn said none of this matters. He said Swearingen is a killer who has proven that he will do and say anything to avoid paying for his crime.
"But even given all that, this isn't what convicted Larry Swearingen. The evidence that was presented in the totality of everything that we're looking at and the picture that was painted for the jury as to what they were to evaluate that put him before, during and after this murder," Blackburn said. "That's what convicted him."
On Friday the Texas Court of Criminal Appeals and the U.S. Court of Appeals for the 5th Circuit rejected Swearingen's latest motion for a stay of execution. Swearingen's appeal now goes to the U.S. Supreme Court.
"I hate to say it, everybody wants to live," Swearingen said. "I mean it's a fight or flight process. Nobody wants to die for a crime that they didn't commit."
This article was originally published on https://www.tpr.org/. It's the first story in a three-part series that investigates Swearingen's claim that he's innocent.