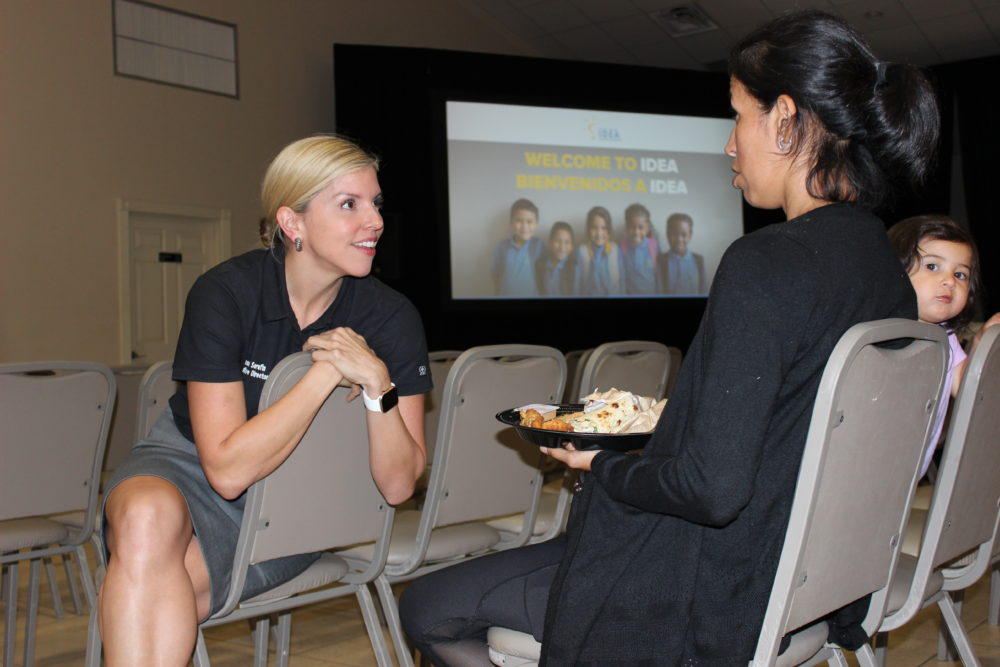 Nearly 20 years after a new elementary and middle school opened up in the Rio Grande Valley, the fast-growing charter school network called IDEA Public Schools has spread across Texas, opening schools in Austin, North Texas, San Antonio and El Paso.
Now IDEA is planting its flag in Greater Houston, with an ambitious plan to open four schools in 2020 and a total of 20 schools by 2026 — and perhaps more after that. It's part of IDEA's larger goal to enroll 100,000 children in Texas and other states by 2022.
The Houston expansion doesn't just involve a number of campuses, but also a wide swath of territory across the region that stretches from Cy-Fair to Santa Fe and includes top-rated traditional public schools and other charters alike. It's drawn both excitement and skepticism from parents — and concern among some traditional school districts, like Houston, about competition for student enrollment.
IDEA's executive director for its Houston Region, Allison Serafin, said that the expansion is all part of their mission.
"Our plan is really grounded in the fact that we have about 250,000 children across the Greater Houston area that are attending D or F schools, according to the Texas Education Agency," Serafin said in an interview.
"So when we think about the fact that one in 10 students across the metropolitan area are prepared for college and career, our growth plan is designed to ensure that we can offer more children a transformative public education."
For years, that promise has made IDEA Public Schools the darling of both private philanthropy and federal grant administrators, winning $117 million earlier this year, the largest federal grant ever for charter school expansion. Even as it's become arguably the hottest charter school network in Texas, it's also been targeted by charter critics, who call it a "Texas Sized Destroy Public Education IDEA."
RECRUITING FAMILIES
Serafin made her pitch to parents in North Harris County, at IDEA's first recruiting event. About 50 people turned out at an event hall in Spring, where there was Chick-Fil-A to snack on and an area for kids to play and color while their parents listened.
Among them was Yadira Anguiano, who's been excited about IDEA coming to Houston as soon as she saw ads on Facebook and on billboards.
"They're just awesome schools," Anguiano said. She's heard heard nothing but positive things from her cousins in the Rio Grande Valley — where IDEA started and where some of her cousins teach and others send their children. Her own four children are zoned for the Spring Independent School District, but Anguiano plans to sign up for IDEA as soon as possible. Sign-up opens Sept 1., and Anguiano didn't want to risk a wait-list.
"I want good school opportunities, I mean, I'm not saying that the schools here are bad, but if they can get a better advantage towards college classes, then I'm all for it," Anguiano said.
Serafin introduced parents to the principals for IDEA's first two campuses and invited them to sign up for small group sessions in the coming weeks. The first two campuses will each house two schools for lower and upper grades and enroll about 1,500 students; one is located in Spring ISD, the other in Houston ISD, near the Hardy Toll Road.
Serafin told News 88.7 that so far, they've had interest from more than 700 families.
"We're going to start by really getting to know our families. That's going to happen over the next month and a half. And as we launch our enrollment effort we're going to continue to get to know our families and hear what matters most to them," she said.
COLLEGE FOR ALL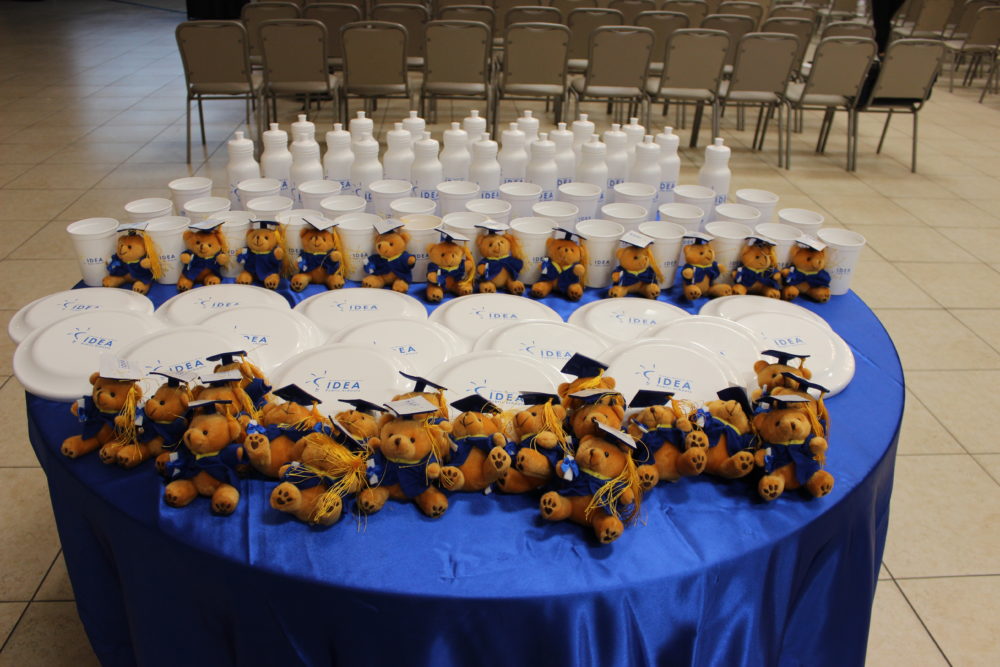 During the town hall, Serafin ran down what she believes makes IDEA Public School different than other schools: high expectations, diverse teachers and strong results.
"100% of our seniors matriculate to college, 100%," Serafin emphasized to the audience.
Serafin, who's had stints teaching in Houston public and charter schools and served on Nevada's state board of education, also described how all of IDEA's high school students are required to take 11 Advanced Placement, or college-level, classes to prepare for that.
That sounded good to many parents, who came looking for strong academics for their children. Still, others were skeptical, like Maxine Wiggins.
"Do we run that emotional risk of changing our child from a school we're not satisfied with and then moving to another one and finding out that our child is still not getting the education they deserve because the teachers are in fact not qualified?" Wiggins asked Serafin.
Wiggins said that she's desperate to find a better school for her daughter, Hope Faith. She's starting the fourth grade and is a voracious reader. Her neighborhood school in Aldine falls short on a key state rating for academic growth. At her current charter school, Wiggins said that teachers don't challenge her daughter and don't seem qualified.
"We're hoping you're going to have certified teachers. Is that something that we can expect from you all? That the teachers will be certified by the state of Texas?" Wiggins said.
Serafin didn't answer directly, but defended teachers — including herself — who aren't certified right away or who receive alternative credentials, but, she said, get results.
TOUGH QUESTIONS
Still, some experts say parents need to ask tough questions like that and talk with other families who've tried IDEA.
"The challenge with many charter schools is that they often make promises that add up to 100%. But if you actually look at the data, they don't add up to 100%," said Julian Vasquez Heilig, who is the dean of the University of Kentucky College of Education and previously a professor at the University of Texas at Austin.
Take IDEA's claim that 100% of students go to college. Vasquez Heilig said that doesn't include students who leave IDEA before graduation.
Vasquez Heilig said that another question for not just parents, but also for residents and taxpayers is where the charter school expansion is headed, and at what expense to public schools.
"Do we want a system of education that is run privately where it's either for-profit or non-profit corporations?" he asked. "Or do we think education is a public good and that it should be democratically controlled and that we should have a say in what happens in schools?"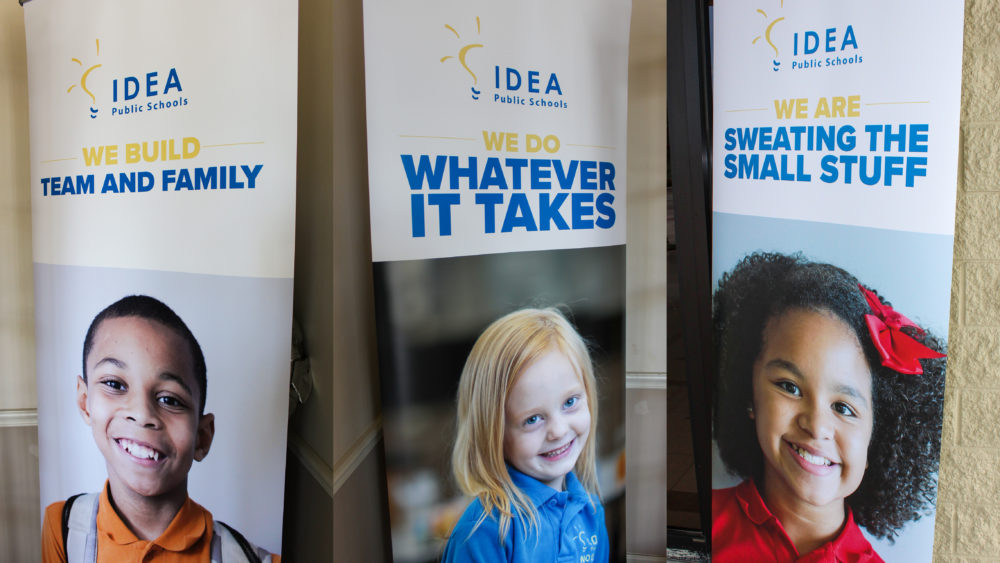 In Greater Houston, IDEA Public Schools has expanded its boundaries to include more than two dozen districts, including A-rated districts, like Pearland, and name-brand charter schools like KIPP and YES Prep.
To expand here, the network is using $9 million in federal grants and another $20 million in private philanthropy, half of that from the Houston-based John and Laura Arnold Foundation.
"It's actually about creating a privately managed education system and that's why you would ask for permission to sit schools in highly rated districts," Vasquez Heilig said.
As to why IDEA has staked out such a wide territory in Greater Houston, Serafin pointed back to their mission.
"Our priority is to identify communities where families lack access to A and B rated schools," she said. "So you may see on a map in the Greater Houston area that we do envision the opportunity to add value to families across the fourth largest city in America."
Serafin said that they aren't planning immediately to open a school in a high-rated district like Pearland or Cy-Fair immediately, but added that real estate costs and input from community members are both factors in deciding where to open a new campus.
"If there was a critical mass of families that reached out to us and said we would love IDEA to be in our community to offer our students our children a transformative public education, then, of course, I'm gonna take the meeting and want to learn more because we're in service to families," she said.