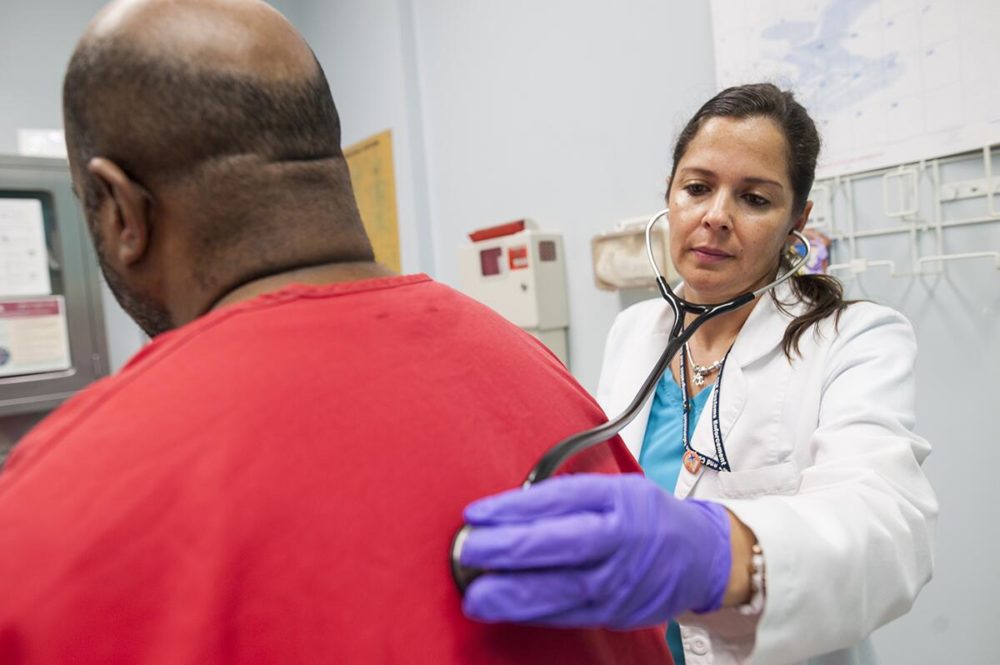 When Aly came to the United States almost three years ago, he hoped for a new shot at life. Aly, whose name has been changed to protect his identity, said he feared the person who murdered his father in Africa was also after him.
"My life is in danger if I go back to my country," Aly said.
He chose the United States because a family member who lives here said they could help Aly get the medical treatment he needs to stay alive. He has sickle cell anemia, a painful disease that is often fatal if not treated properly.
But Aly's main treatment in federal immigration detention has consisted of ibuprofen and folic acid. That's the basic care Immigration and Customs Enforcement (ICE) has given him since he was detained 30 months ago when he asked for asylum at the bridge in El Paso.
Licensed clinical social worker Emily O'Shea said ICE's treatment of him is "inhumane." She works with immigrants and other people with sickle cell through the Sickle Cell Association of Texas.
"It's a potentially fatal situation," she said.
She said what Aly really needs is access to a blood specialist, better pain medication and other treatments. She said if a parent was treating their child with the same care ICE gave Aly, she would call it "medical neglect."
Doctors and advocates worry that a lack of quality health care can have dire consequences for many migrants detained in Texas and other parts of the country.
Seven people have died in ICE custody since last October. That doesn't include a transgender woman with HIV who died right after being released from custody in June, according to the Washington Post.
Other health care issues have been raised by an independent federal review citing unsanitary conditions at four different facilities; an outbreak of mumps that has infected over 400 people in Texas detention facilities and has yet to be controlled; and doctors urging immigration officials to adequately treat detainees for life-threatening conditions.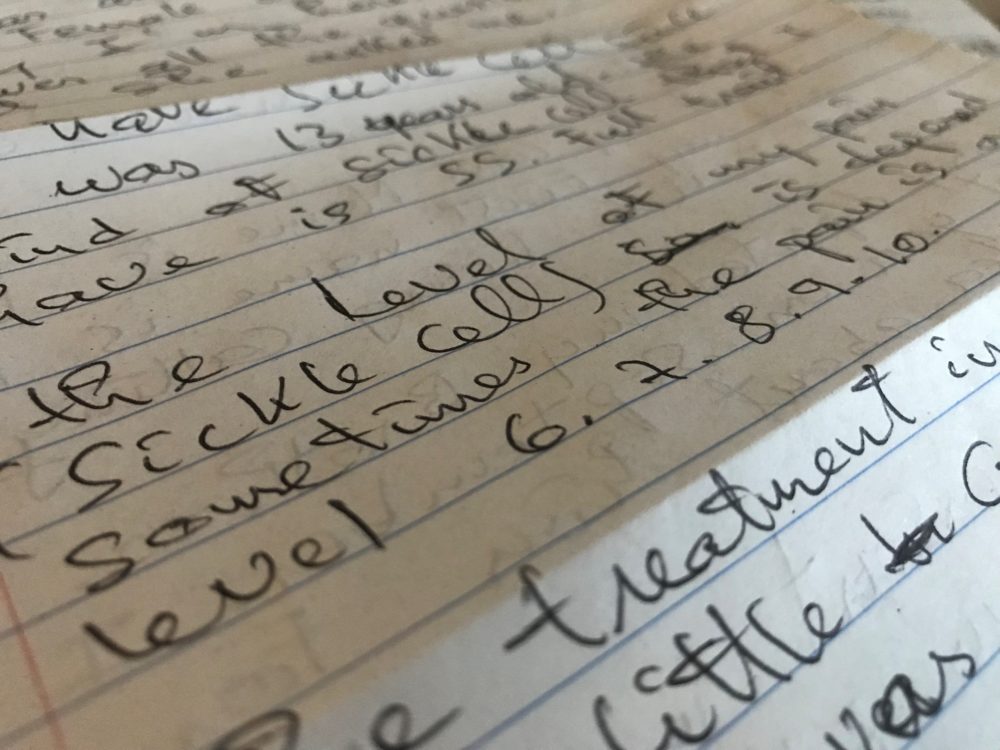 "Inside My Bones"
Inside his detention cell, Aly said he's depressed, often going two or three weeks without seeing the sun.
He's in his twenties and from an African country, but asked that we not reveal any specific personal information because it could put his life in danger.
"In my dorm here it's very cold. After two, three days sometimes at night my feet hurt a lot, or my hands," he said.
It's not just that he's cold, but that the cold aggravates his sickle cell anemia.
"I feel it right inside my bones, my bones hurt," he said.
Sickle cell disease affects millions of people around the world. A genetic defect causes blood cells to be sickle-shaped, hard and sticky, which means they get stuck in blood vessels and don't carry oxygen normally, causing many complications, including pain, infection and strokes.
To manage the pain, Aly takes ibuprofen and waits for it to kick in. Sometimes he gets a fellow detainee to rub his feet to help the pain subside.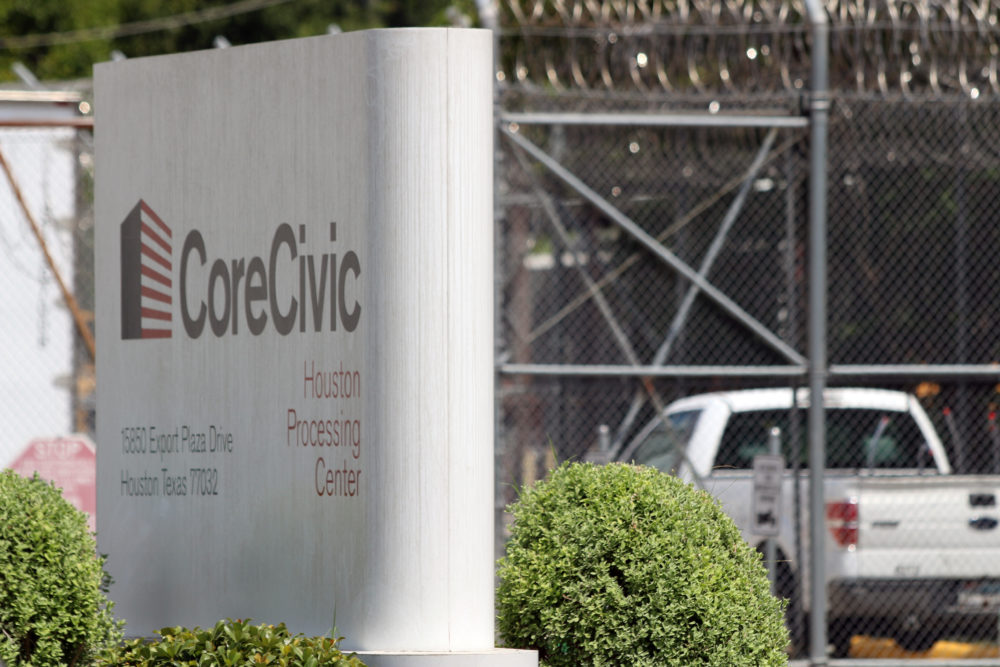 Solitary Confinement as Treatment
Dr. Kate Sugarman writes medical opinions to help immigrants get released from detention, or get better care, when they face critical health issues.
"We have a bunch of people with HIV and it's complex to have immune suppression and be in a large detention center that doesn't always have adequate hygienic facilities," Sugarman said.
She said she sees HIV-positive detainees especially vulnerable, considering reports of uncontrolled outbreaks, like the increasing number of mumps cases in Texas immigration facilities.
More Than 400 Mumps Cases Confirmed In Texas Immigrant Facilities
Sugarman said she's worked on other serious cases.
One detainee would go into anaphylactic shock in detention. Another had complications because they were partially paralyzed, but she said often ICE doesn't follow her medical advice.
Sugarman said instead, she sees some serious health conditions being treated with solitary confinement.
"Something that I find quite disturbing is for someone to be put into solitary because of a medical problem," said Sugarman.
She said solitary confinement can lead to critical mental health problems, which are compounded with the trauma the immigrant may have already endured in their home country, along with the health issues they're already facing.
In a statement, ICE told Houston Public Media they are committed to ensuring the welfare of all those in the agency's custody.
According to ICE, more than $269 million is spent each year on healthcare services for detainees.
Still, a federal investigation earlier this year found poor conditions in four different immigration facilities that negatively impacted people's health.
The Office of Inspector General found violations like mold on the floor and walls, unusable toilets, expired food, a lack of toiletry supplies and no outdoor spaces, which can impact mental health.
Meanwhile, the average number of people in ICE custody each day has increased 15% in 2019 to nearly 49,000 detainees, according to data provided by an ICE spokesperson.
As for Aly, he's no longer in Texas.
He lost his asylum case and was sent back to Africa. Before his deportation, he said he would try again to flee his home country to find a safe place to live and where he can get basic medical care.