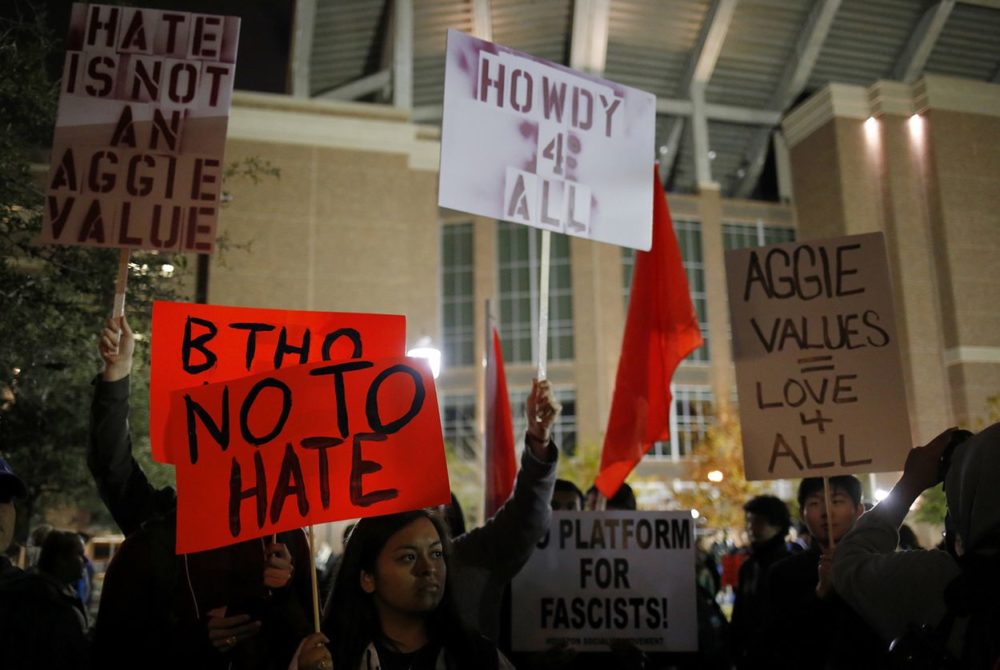 In 2016, white nationalist Richard Spencer arrived at Texas A&M University to hold a rally, triggering massive protests and later a policy change for free speech on campus. A&M administrators decided that only university-sanctioned groups could invite outside speakers.
So, when an Aggie alum tried to invite Spencer back the next year — under the theme of "Today Charlottesville, Tomorrow Texas A&M" — A&M canceled the event out of safety concerns.
That whole situation could have ended very differently today, due to a new Texas law passed this session. Known as Senate Bill 18, it requires public colleges and universities in Texas to follow stricter, more uniform policies regarding free speech on campus.
Top Republican state leaders pushed for the changes because they feel conservative voices need more protection on campus. Though some feel it doesn't go far enough in that regard.
"As at least conservatives, we feel that this legislation could've been stronger," said Nicholas Ciggelakis, who chairs the Young Conservatives of Texas at A&M.
Still, Ciggelakis said that he doesn't think the controversial event with Spencer at A&M was the law's focus.
"My interpretation of the law is that it is [reiterating] the status quo," Ciggelakis said. "It's concerned about universities such as the University of Texas, which have had students attack other organizations such as the Young Conservatives of Texas chapter there for just simply holding up signs in support of Kavanaugh," he said, referring to now U.S. Supreme Court Justice Brett Kavanaugh, who was accused of committing sexual assault in high school.
Ciggelakis said that he wished that the final measure had included stronger language.
Under SB 18, Texas universities can't decide whether or not to schedule a speaker based on "any anticipated controversy related to the event" — though they can consider security needs. Also, free speech won't be limited to certain zones on campus. Instead, all common outdoor areas will be treated as "traditional public forums."
There will also be a new process for complaints of potential free speech violations. And Texas higher education institutions will have to submit reports to lawmakers on how they've followed the new free speech rules.
Ciggelakis said he hopes that this legislation will encourage right-leaning groups like Pro-Life Aggies and Turning Point USA to be more vocal in their beliefs.
"I think sometimes they are nervous about what they are able to do, and I think having Senate Bill 18 set up some guidelines will allow for them to feel confident that they are fully able to express their First Amendment rights," said Ciggelakis.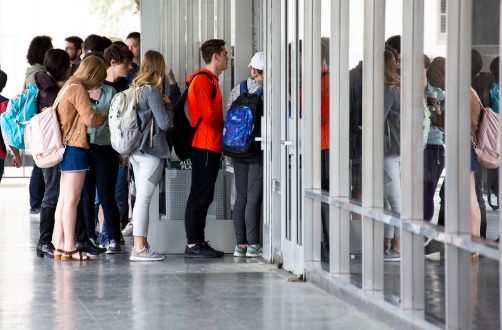 "Feeling unsafe and unwelcome"
But other students are worried about what could happen this fall when students return to campus.
"I speak on behalf of myself, University Democrats, and I think most students at UT when I say I am incredibly disappointed that Governor Abbott signed SB18," said Joe Cascino, president of University Democrats at the University of Texas Austin. "I believe that there are few greater educational harms than students feeling unsafe or unwelcome on campus and that this new law is really a slippery slope to cause both among many students."
The students Cascino said he's most worried about: students of color and marginalized groups on campus.
"They are in more danger of feeling unsafe and unwelcome. And possible, you know, real danger, too," Cascino said.
He added that controversial speakers create safety concerns and SB 18 could be a "detriment to the wider university."
Cascino said that while he is a huge believer in the First Amendment and free sharing of ideas, he believes that universities should be able to step in to ensure the safety of students. SB 18 still allows universities to take campus security needs into consideration when scheduling events.
A national trend
The new law makes Texas one of 16 states that have either adopted or are working on adopting similar legislation.
"Generally it's the states with more conservative legislatures and Texas is one of them" said Scott Jaschik, co-founder and editor of the publication, Inside Higher Ed.
Jaschik said that since this law only applies to public universities in Texas, it sends more of a political message and students probably won't see too much of a difference on campus.
"The public universities were already covered by the First Amendment, so you didn't really need the legislation to say that they're covered by the first amendment," Jaschik said. "On the other hand, you can say that there is an additional bill that has been required of them, to show that they have to follow the First Amendment."
In some ways, the new Texas law echoes an executive order that President Donald Trump signed in March to improve free speech on campus, though Jaschik said that the executive order is a "little bit unclear, because nobody is really sure exactly what it will mean."
"In theory, what it means is that public universities, if they are public, have to enforce their laws to their ability," he said.
Gov. Greg Abbott proudly noted that when he signed SB 18 into law: "Shouldn't have to do it. The First Amendment guarantees it. Now, it's law in Texas," he said in a video posted to Twitter.
Texas public universities will have to change their policies starting September 1st.