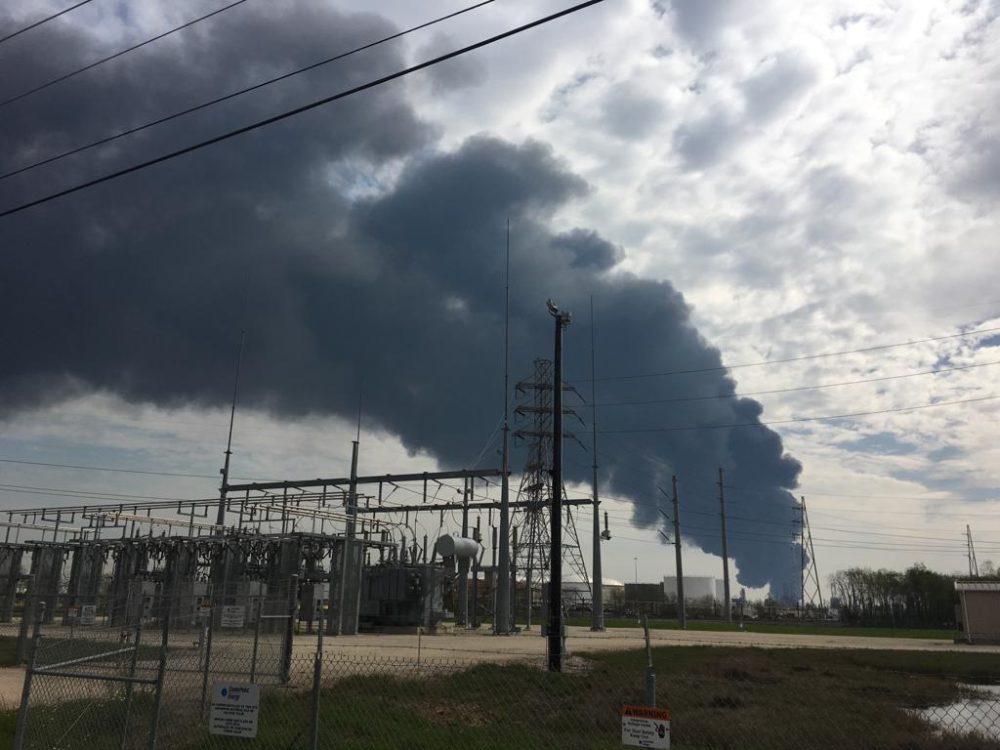 Just over two months have passed since a fire broke out at the ITC chemical plant in Deer Park, sending a plume of black smoke over much of Houston. It's one of the latest such fires that has ignited new calls for accountability from both Harris County officials and residents.
Forty-year-old Ebunoluwa Akinola remembers the day the fire started all too well. "My mother called and woke me up and said, 'Hey, are you alive?'" he says. "And I was like, 'Wait a minute. What do you mean am I alive? Good morning.' She was like, 'Well, I just saw that there was a plant that blew up, and I was hoping it wasn't the one directly next to your house.'"
Akinola lives next to another chemical plant, one of many in southeast Houston, and about a dozen miles west of ITC. He sheltered in place after the ITC fire, but he says within days that his eyes burned, his throat clogged up and he grew nauseous. And when the fire reignited on March 22, he says things got much worse.
"My whole left side of my body was going numb, and it was freezing cold," he says.
Akinola says he sought medical attention and says he was told he'd had a minor heart attack and had developed acute bronchitis. He wants to know if ITC is to blame. If so, he wants Harris County to do something.
"Is this something that we're going to investigate for another four or five years and get no compensation, no retribution?" he says.
Akinola's not the only one seeking accountability. Late last month, District Attorney Kim Ogg announced five environmental misdemeanor charges against ITC. The next day, the County Commissioners Court approved $850,000 to triple the number of environmental prosecutors and hire two full-time investigators. All that followed multiple indictments against officials at another company, Arkema, for their roles in the fire at that company's Crosby chemical plant in the wake of Hurricane Harvey. Attorneys for the Arkema officials say they're not criminals but heroes who did all they could.
Alexander Forrest, chief of the DA's environmental crimes unit, says the additional resources are long overdue. "One of the reasons I asked for more prosecutors in 2017, before these incidents occurred, was because I did recognize that we were not equipped with the tools we needed to have intelligence-based investigations," he says.
Forrest says that will help the office spot bad actors quicker and potentially head off future disasters. "We need to cultivate relationships with people that may be whistleblowers. We need to have better air monitoring abilities in areas where we know there are more regular complaints of air pollution," he says.
Christel Bastida takes that as encouraging. Bastida lives on the Northside with her son Jeremy. Ten-year-old Jeremy has a long history of respiratory ailments. Bastida says he was finally showing improvement, but she says he suddenly got worse, and she blames the ITC fire.
"When he told me that he remembered now what he had gone through as a small, small child, yeah, in me that started feelings that these people need to be prosecuted," she said in testimony before Harris County Commissioners Court. "Giving these small fines or suing for $100,000 is not going to cut it."
News 88.7 reached out to ITC's attorney, who declined to comment for this story. But Alexander Forrest of the Harris County DA's Office says the county will need all the extra artillery it can muster, because corporate opponents can afford to hire the toughest legal counsel available. And even if the county wins, the state has capped fines at a fraction of what many critics say such companies might afford.
"Not all corporations are going to be deterred by a $1 million fine or a $500,000 fine," Forest says. "The fine needs to take into account the question of, 'Does this hurt? Will this send the right message?' It needs to be a percentage based on revenue and not just a flat number."
That's Bastida's concern as well. She believes the new makeup of Harris County Commissioners Court will be more receptive to residents' concerns about environmental threats. But she says she's not so sure anything will change in Austin.
"There are a lot of state reps that I'm very hopeful about and I think will push for accountability and transparency as far as these polluters go. But at the top of the state Legislature, I'm not really convinced that they care too much about enacting restrictions or any kind of accountability for these companies," Bastida says. "And the last thing I want to see is these polluters taking a fine and going, 'Eh, here's $1 million. Who cares?'"
The Legislature has no plans to address raising penalties for environmental crimes in the current session.
ITC is a subsidiary of Japan's Mitsui, a $30 billion company.
UPDATED (May 21, 2019): An earlier version of this story stated that Ebunoluwa Akinola lives about a mile away from the ITC plant. The post has been updated to reflect the actual distance. It has also been updated to include attribution for Akinola's account of his medical visit.