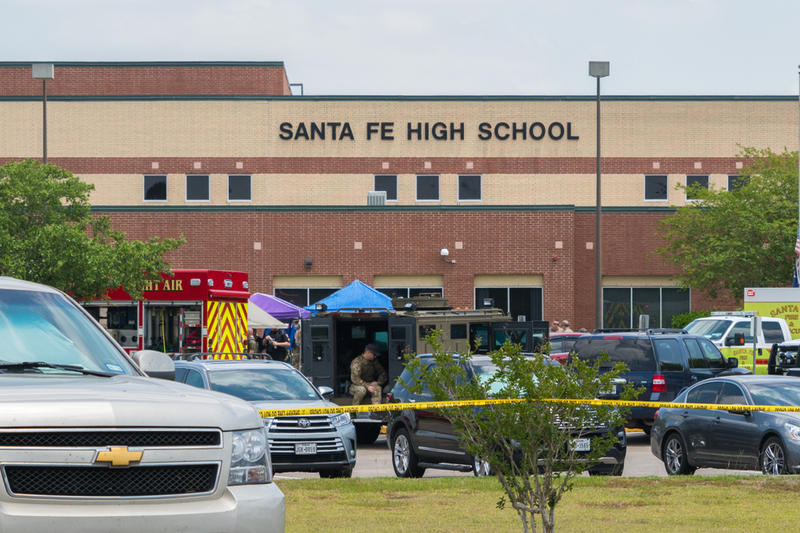 UPDATE (May 14, 2019): This post has been updated to reflect the current status of school safety bills as they move through the legislature. It will continue to be updated as their status changes.
May 18 marks the first anniversary of the Santa Fe high school tragedy, in which 10 people were killed and 13 wounded. State lawmakers have drafted a number of bills in response to the shooting, and with the legislative session ending on May 27, some of the future laws are taking shape now.
Gov. Greg Abbott named school safety as one of five emergency items for the 2019 legislative session. Shortly after the Santa Fe tragedy, he released a school safety report. Among the list of recommendations, it called for lawmakers to study red flag laws, though Abbott told an NRA convention last year, "The problem is not guns, it's hearts without God."
The Santa Fe shooting came just weeks after 17 people were killed and 17 injured at Marjory Stoneman Douglas High School in Parkland, Florida. In response to the Parkland shooting, Florida state lawmakers passed the Marjory Stoneman Douglas High School Public Safety Act, which included some gun control measures, such as raising the minimum age to purchase a firearm from 18 to 21. It also included a provision that's sometimes referred to as an extreme risk law or "red flag law," which allows law enforcement officers to obtain a court order temporarily restricting a person's access to firearms and ammunition.
Encouraged to see @GregAbbott_TX declare school safety an emergency item this Session after the tragic shooting at Santa Fe ISD. I agree.

Also, any school safety plan should include common sense, gun safety laws. #txlege#LieAndTry#SafeGunStorage#RedFlagLaw

— Gina Hinojosa (@GinaForAustin) February 5, 2019
Rep. Greg Bonnen and Sen. Larry Taylor, both Republicans who represent Santa Fe in the legislature, have taken the lead on writing bills in response to the shooting. In a committee hearing, Bonnen said the incident was devastating for his district.
"In the 30-some odd years of my professional life as a neurosurgeon, I've seen a lot of loss. I've seen a lot of human suffering and pain," Bonnen said. "This was the worst tragedy that I've ever been a part of."
Bonnen and Taylor have written separate comprehensive omnibus bills. Each combines a broad range of policy changes. Neither of their bills mention firearms. Other bills, like HB 131, El Paso Democrat Rep. Joe Moody's version of a red flag law, had been in the works for years before the Santa Fe tragedy, but are intended to prevent similar attacks.
Below, we've compiled a list of bills related to school safety, firearms and mental health initiatives, along with their current status in the Texas legislature.
1/2 Students and parents expect their schools to be a safe and secure environment. That's why I filed HB17 and HB1754. This legislation and associated funding will provide each campus with the direction and resources they need to establish and maintain that environment.

— Dr. Greg Bonnen (@DrGregBonnen) February 13, 2019
2/2 My colleagues in the House and Senate will all have a hand in crafting the final bills before we send it to the governor's desk, and I know that working together we will get this done. Our students deserve it. #SchoolSafety #TXed #txlege

— Dr. Greg Bonnen (@DrGregBonnen) February 13, 2019
Bills Gaining Traction
Sen. Jane Nelson authored the Senate's supplemental budget bill,

SB 500

, which includes a reimbursement for Santa Fe ISD. According to the school district, it incurred around $3 million in security costs following the shooting. The Senate and House have passed the bill.

SB 11

by Sen. Larry Taylor is the Senate's comprehensive omnibus bill on school safety. The bill requires schools to adopt an emergency operations plan, notify parents of threats to the school and include substitute teachers in the emergency response training that full-time teachers receive. Two substitute teachers at Santa Fe High School died in the shooting.

The bill also calls for new security standards for instructional facilities, requires districts to establish threat assessment teams to respond to behavioral threats at each school and calls for a non-physician mental health professional to advise school districts on mental health and substance use. The Senate has passed this bill and it's under consideration in the House. This bill is

expected to pass

both chambers.
Today we're discussing SB 10 on the Senate floor, that will address mental health shortages and improve access to mental health services. This was developed after many discussions in response to the tragedy in Santa Fe, and I'm proud to vote in support of this bill. #TXlege

— Charles Schwertner (@DrSchwertner) March 5, 2019
Bills In Limbo
Inactive Bills
Some of these bills never received a hearing. For others, the deadline to advance them has passed.