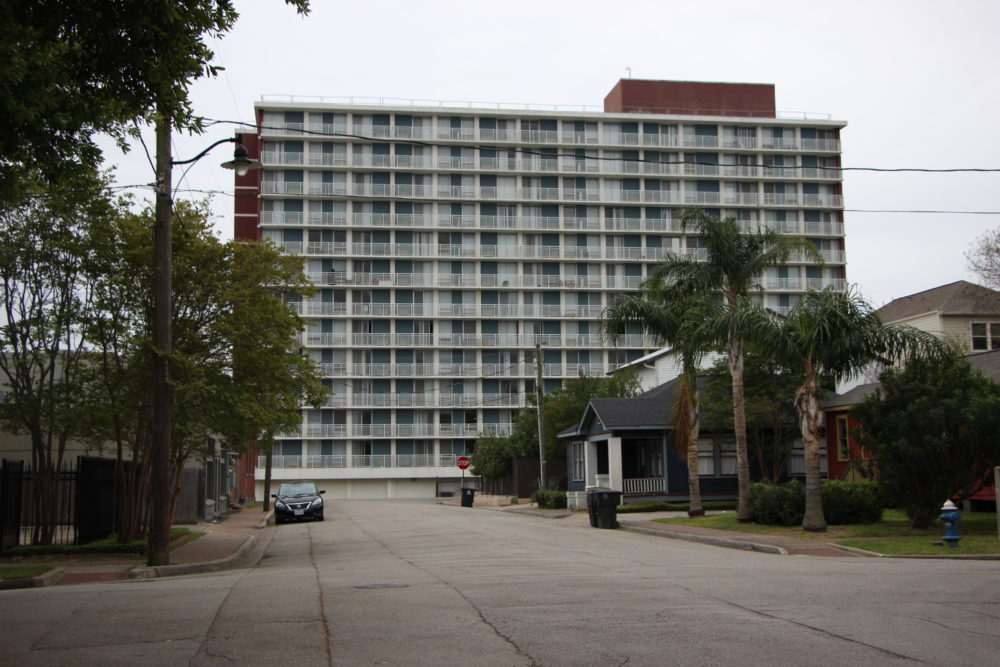 For the past 18 months, residents of affordable senior living facility "2100 Memorial," just west of downtown Houston, have been fighting with the Houston Housing Authority, which has been trying to get them out.
In August 2017, Harvey flooded the first floor of the building, which is advertised as luxury high-rise living at affordable prices. No residential units were affected but a few weeks later, residents received eviction notices.
That led to a lawsuit against the Houston Housing Authority (HHA), which owns the building.
Now, the housing authority wants to tear down the existing building and build a new one on the site. Residents are not having it, but HHA officials say it's necessary.
"This property is an old hotel that was, I guess, purchased back in the mid-nineties," LaRence Snowden, chair of the housing authority board, told News 88.7. "And so it really has incurred, I guess, has gone through numerous disasters."
Harvey caused irreparable damage to the building, he said, making it more cost-effective to rebuild.
"All of the existing rules and regulations and guidelines that we would have to adhere to, we would lose several floors," Snowden said. "So there needs to be the proper type of construction put on that place."
But let's go back to a few days after Harvey hit in August 2017.
The flood waters from Buffalo Bayou caused a short in the downstairs equipment, which shut off the water supply. Some residents evacuated to a shelter but most stayed and went days without showers until volunteers arrived, which supplied the seniors with basic needs.
Many also stayed after being told to leave. In October 2017, they walked into the leasing office with rent checks, singing, "We shall not be moved" to the tune of "We Shall Overcome".
Lone Star Legal Aid filed a lawsuit on their behalf and a judge issued a temporary injunction, meaning the seniors were able to stay put. Still, most did end up leaving. Of the 196 that lived there at the time of the flooding, only 21 remain today.
If the housing authority gets its way, they will have to move out too – at least until the new building is ready.
At a recent housing authority hearing on the issue, current and former residents were upset.
"There's nothing around here where I feel safe, there's nothing that I can afford," former resident Margaret Lindsey said. "So what are we supposed to do?"
For current resident Connie Castillo, it's a question of trust.
"They've lied to us and they've had deceptive things," Castillo, who is part of the lawsuit against the housing authority, said. "They're telling us one thing but you know what? Not one of it is in writing."
She also doesn't know where she would go during the three years the housing authority says it will take until the new building is ready.
The agency has helped residents move out and find new affordable housing, but Castillo doesn't want to go anywhere else.
"There are people that have moved out that are begging to come back because they realized the places they moved to are not nice, they're not safe, they weren't comparable to what we have at all," she said.
Snowden admitted it is a challenge to relocate residents, but said they will work with the seniors to find suitable places for them.
"What we want to do is to make sure that they get to an affordable housing location that is safe and that is in areas that hopefully they will be able to get transportation, if they don't have it, to the places that they need to go," he said.
Rich Tomlinson, the Lone Star Legal Aid attorney representing the seniors, said they will continue to fight the demolition.
He said he will argue before the Texas Department of Housing and Community Affairs board at an upcoming meeting. The board has to approve an amendment to the land use agreement for 2100 Memorial so that it can be torn down.
"My clients have to be a party to this, Tomlinson said. "Unless they're a party to it, it's not going to be legal. And that's going to be our argument both before the board and also back in district court here in Harris County."
The lawsuit, by the way, is on ice until the state board's decision, and it will be moot if the board approves the demolition.
If it doesn't, the legal battle over 2100 Memorial will likely continue.
This post has been updated to reflect a change in when the state's housing affairs board is expected to discuss this issue.