In Austin, there are bills speeding through the Senate that promise to help victims of Hurricane Harvey and pay for projects to reduce flood damage in the future. This comes after Gov. Abbott made the issues "emergency items" for the 2019 Texas legislature.
Bills SB 6, SB 7, and SB 8 –which aim to help Texas plan for, pay for and respond to future natural disasters and handle continuing recovery from Hurricane Harvey– have been placed on the Senate's intent calendar for Monday, March 18. SB 500, related to the supplemental budget, will go to a committee hearing in the House that same day.
But for Harvey's victims, the help can't come soon enough.
Alice Torres is tethered to an oxygen tank in her bedroom by a plastic hose. She and her 84-year-old mother, Dolores, have lived in their brick bungalow in Southeast Houston for more than 30 years. The house never flooded until the morning of Sunday, August 27, 2017.
"It was like a river in front," Torres said. "I was like, 'Oh, my goodness, I'd better go check the garage.' The garage was already flooded. So by the time I went into the back bedroom to tell my mom we're flooding, by the time we came back it was already up in the kitchen."
Then the Torreses saw their dogs, Rayo and Samba, were trapped outside. They opened the door to save them, and the water rushed in, flooding the house to a depth of 3 feet. The water receded the next day, but their nightmare didn't end. It had only begun.
"You name it, it's happened," Alice Torres said. "We flooded. We had insurance, and they didn't come through like they were supposed to. Then FEMA denied us, because we had insurance."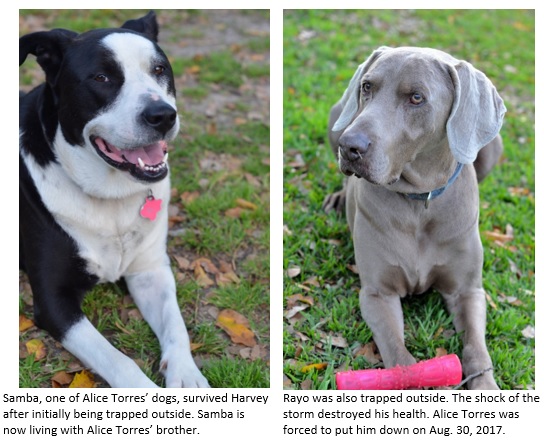 A contractor gutted the building, and when the Torres's money ran out, they were left with a bare concrete foundation spewing dust and tar fumes into the air and mildew in the walls. Torres and her mother have applied for help from the City of Houston and non-profits like Baker Ripley. But they say they haven't gotten a penny of relief. So they've started a GoFundMe page.
"We need assistance with everything. The system has failed us completely," she said.
It's people like the Torreses that those emergency bills are meant to help. Senator Brandon Creighton represents Conroe. Floodwaters from Lake Conroe and the San Jacinto River inundated his constituents. Creighton is the author of a bill to create the Texas Infrastructure Resiliency Fund. Local governments would be able to draw on it for projects ranging from debris removal to construction of the Coastal Spine, a massive project to block storm surges.
"We've been working closely with Senate Finance to include appropriations from the ESF or Rainy Day Fund in the supplemental budget for this fund," Creighton said.
Creighton's bill and the supplemental budget would tap the Rainy Day Fund for $3 billion, which in turn would unlock more than $5 billion in federal matching grants.
"I'm very happy with regards to the direction of this legislation. The only thing that I'm not happy about is that we didn't do this a year ago," said Bill Kelly, director of government relations for Houston Mayor Sylvester Turner's office.
"To our local folks who need those services that have been slow to see progress," Kelly said, "know that it has been frustrating for us as well, ′cause we want to wake up every day and know how did we move the ball forward on these."
For all the effort of lobbyists like Kelly, there's no guarantee the package will pass. Drawing from the Rainy Day Fund requires a two-thirds vote of the Legislature. And if it does pass, it's far from clear how many people like Alice Torres and her neighbors will get the help they need.
Asked what message she would send to lawmakers, Torres said, "I would tell them, y'all need to come and get your hands dirty, and you need to come down and see for yourself what is going on in these communities, in our communities, in the communities that you represent."
Meanwhile, Torres and her mother continue living in a toxic home. They have no other choice.