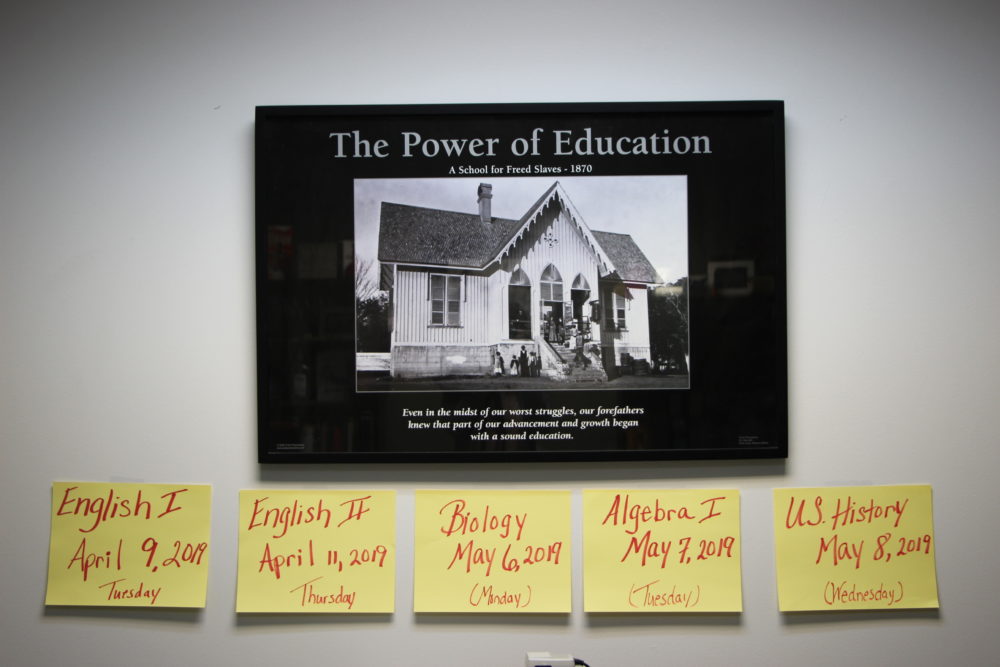 At Kashmere High, Principal Reginald Bush starts his day with the kind of discipline usually seen in the military. He wakes up at 4:15 a.m. Just after 5 a.m., he's hopped on a conference call with one of his lead administrators. By mid-morning, he checks on students as he strides through the main hallway, which is bright and clean with fresh paint.
It's his first year as principal of Kashmere High and Bush has a big task: Save the historically black school from the threat of being closed by the state. Bush is laser-focused on that goal with a kind of steely optimism.
"Consistency, consistency is the big piece," Bush said in an interview. "I think if we remain consistent, with the momentum that we have, there's no doubt in our mind that Kashmere will receive distinctions this year."
That would mean Kashmere High wouldn't just pass the state's accountability system, which is largely based on state test scores. It would pass with high marks.
If successful, that would mark a major turnaround. For nine years straight, Kashmere High School in Northeast Houston has been on the state's list of failing schools. That's the longest for any school in Texas.
So, the big question this year is: Will they break the streak and win state approval? The answer matters a lot. If they don't, the Texas Education Commissioner could close the school — or even replace Houston's entire school board. Kashmere High is one of four struggling schools in the Houston Independent School District that could trigger a state takeover of the largest district in Texas, under the law known as HB 1842.
READ: Here's what you need to know about a potential state takeover of Houston schools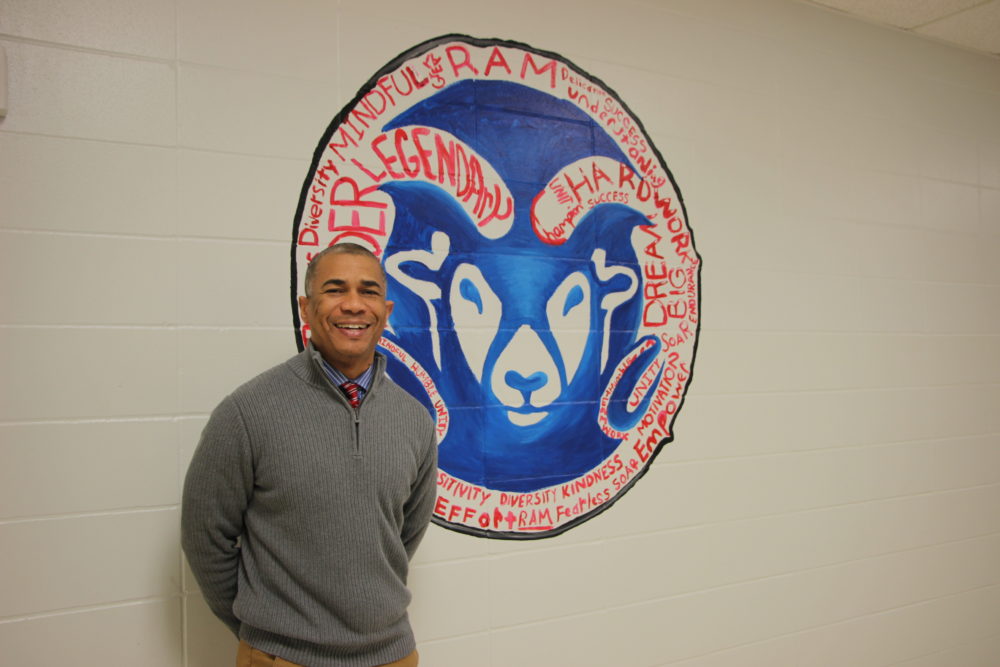 Consistency is just one part of Bush's strategy. And he's optimistic because his students are scoring better on practice tests in English, science and social studies.
"Everything is pretty much still moving, the needle is still moving," he said. "We're watching the growth of kids."
Bush doesn't want his team or students to get distracted by naysayers.
"If you're not in the work, you're in the way," he said. "And so, we encourage people — if they really want to make this happen — they will come in and jump in the work, because the more and more we say negative things, those things do get in the way."
Here are other strategies Bush and his team are laser-focused on to make the state's grade:
Student engagement: Bush said that he wants more students to be involved in some club or activity on campus. When he started, less than 20 percent were involved. Now more than half of the school's 700 students have some activity. They've started new clubs to foster that — additional dance teams, a nutrition group and cooking club. Student involvement may not be directly counted by the state's accountability system, but Bush maintains that it's vital. He explained that it boosts attendance, giving students a reason to come to school and giving teachers a greater chance to reach them. "Because when students are engaged on a daily basis, they begin to take ownership. They begin to take ownership of their lessons. They begin to take ownership of their destiny," he said.
Focus on English-language learners: While Kashmere High is a historically black school, over 10 percent of students are learning English as a second language. Bush said that they've brought in tutors to work with these students. If they improve, that will help Kashmere High close the gap. "Making sure students grow, that's the goal," he said.
Looking beyond high school: Bush is trying to emphasize what happens after high school. That means more college-prep courses, like Advanced Placement, in the master schedule; more students working towards industry jobs certifications; or enlisting in the military. That helps Kashmere High build points in the state's accountability system.
Revamped reading team: Bush said that he didn't want to replace a lot of Kashmere's teaching staff. Instead, he wanted to give them more support — with specialists and professional development. The English Language Arts department highlights that, which now has a 10-member team of expert coaches and interventionists. Shundra Harris-Mosley leads the team. In the morning, she and her team members check in on English classes, to see how things are going. Then, they confer in her office, where most of the walls are covered with posters with hand-written notes. Some display the dates for the upcoming state exams underneath a picture of a school for freed slaves. Behind her desk, there's a poster of Martin Luther King, Jr. After they confer, they walk through classes again in the afternoon. It's constant monitoring to make sure everyone is on track. "That is one of our biggest pieces, getting the right help, getting the right people," Harris-Mosley said.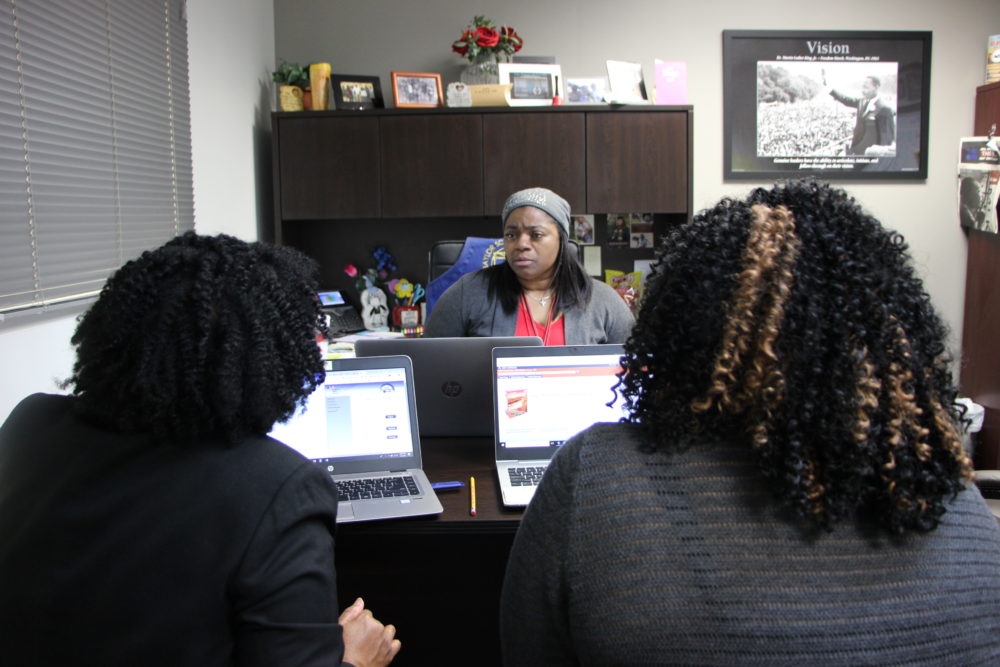 Kashmere alum and parent, Christopher Ray, said that he's seen a shift since his daughter enrolled as a freshman at the school. She's now a junior, active in multiple groups from dance to Junior ROTC and planning on college at Prairie View A&M University or Texas Southern. She's about the 25th member of their extended family to be a Fighting Ram. And Ray doesn't want her to be the last.
"I have hopes and dreams that they will (pass)," Ray said. "The way it's projected and was told to me, it seems like they will but you know it remains to be seen."
He said that a lot of things make the school great, starting with an alumni base that's passionate to see the historically black school thrive. Then there are dedicated teachers, he said, some of whom were on campus when he was a student in the early 1990s. Ray said that he knows they have his back, now that his daughter is there.
Still, Ray said that he sees other ways Kashmere High can improve. One is to bring back vocational programs, such as cosmetology and auto shop. Another is stable leadership. Kashmere High has had four principals in eight years, according to Houston school records.
"We have to have stability — right now," Ray said. "Whatever the state is going to decide what they're going to decide. But, ultimately, it has to be a decision that's going to enhance — not to tear down, not to hinder."
For some, passing the state's accountability standard is just the first hurdle. Jasmine Jenkins, who leads the advocacy group Houstonians for Great Public Schools, said that she'll be surprised if they don't meet that bar. Her group has been canvassing parents and students in the dismissal line on campus. They've heard positive reaction about an increase in enrollment and drop in fights — but also an interest in more challenging classes.
"We can't claim success for any of our schools until the district reaches a much better rate of students who are not just prepared for college and career, but who are pursuing credentials after high school," Jenkins said.