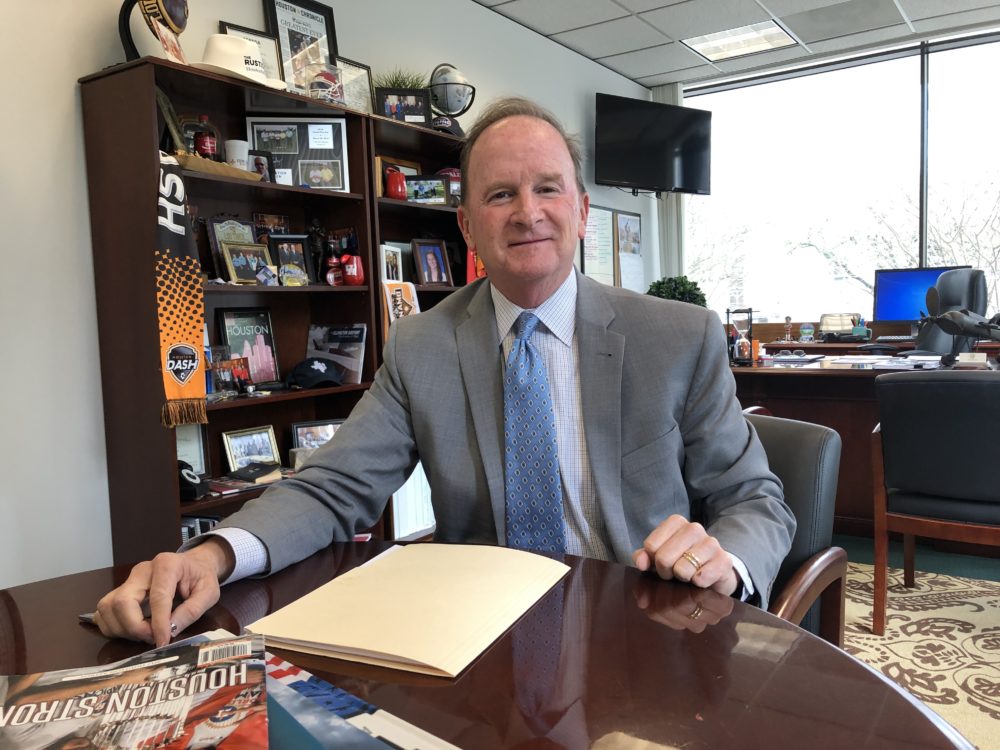 Recent shutdown aside, working for the government has its perks, such as generous retiree packages. Known as Other Post-Employment Benefits (OPEB), they help pay for a retiree's health insurance. But hundreds of state and local governments, including Houston's, have chronically underfunded OPEB. And now with baby boomers retiring, the bill is coming due.
"Our initial $2.4 billion liability has been mentioned, but we've projected it out over the next 30 years, and it became $9 billion," said David Berger, an actuary and vice president with Segal Consulting. He testified earlier this month before Houston City Council's Budget and Fiscal Affairs Committee. "And so that would increase far faster than your revenues, your tax revenues, and so that kind of highlights the need for not only a current solution but a longer term, what can we do to control the longer-term costs as well?"
Houston is far from alone. Boston College's Center for Retirement Research conducted a study in 2016. It found that states, counties, and cities collectively owe more than $860 billion.
So how does Houston plan to deal with the problem? Mayor Sylvester Turner's administration, in cooperation with Segal Consulting, proposed a set of reforms, with the aim of limiting the pain for current retirees and older workers. The first reform, Berger said, would be to reduce subsidies for Medicare Supplement plans.
"The second thing that you see there is no spouse subsidy or dependent subsidy for anyone with less than 15 years of service or under age 40," Berger said.
At present, employees' spouses get subsidies until the day they die, even if the employee dies first.
Council Member Dave Martin chairs the Budget and Fiscal Affairs Committee. "We have some retirees that are marrying younger men and women," Martin said. "For instance, a 50-year-old man marries a 30-year-old woman or a 50-year-old woman marries a 30-year-old man. The obligation in the retirement goes with the younger spouse, so that adds some more costs to us because we have a longer period of time after the employee passes that we have to cover the spouse."
The Turner administration also wants to contain costs that go along with the rising price of health care by capping subsidies. But at least current employees and retirees would still get some help.
Actuary David Berger said future employees wouldn't be so lucky. "And then lastly no post-65 coverage for new hires," he said. "We really had to bring that long-term cost down, and so this was the way we decided to go about it."
That could make it more difficult to attract new people to work for the city. But Houston has little choice. Bill Fulton, director of the Kinder Institute for Urban Research at Rice University, said that unfunded liabilities from OPEB could have consequences for cities similar to those of unfunded pensions.
"Where we've seen bankruptcies so far have been purely a pension problem. That was the problem in Detroit," Fulton said. "I do think – I can't say which ones, but I do think probably some jurisdictions will be at similar financial risk as [Other] Post-Employment Benefits become more expensive."
The City's plan would set up a trust fund to pay down the debt. But money paid into the fund can't be used elsewhere.
"As cities must address questions of, for example, aging infrastructure, roads, water systems – in Houston, flood protection – if the investments in those things have to be reduced in order to cover Other Post-Employment Benefits, then what is the impact on the ability of the business sector to do business in that city if the infrastructure is crumbling?" Fulton said.
Houston City Council is expected to vote on the proposal to overhaul retiree benefits in a matter of weeks.