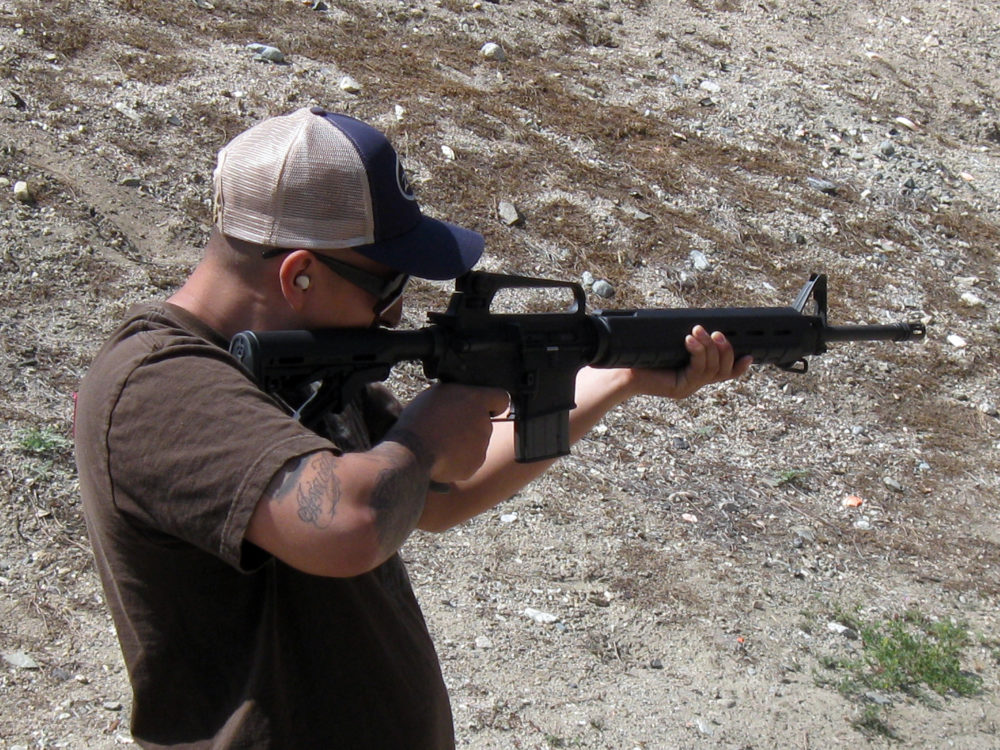 Texas has had its share of mass shootings, most recently last year at Santa Fe High School, and the year before at a church in Sutherland Springs, where 26 people died.
After every shooting, debates about how to avoid them are renewed. And a central part of those debates are calls for stricter gun laws and often for a ban of one particular type of gun that's been used in some of the deadliest shootings: the AR-15 style rifle.
It's basically the civilian version of the military grade M16 and M4. The main difference is that it can fire only one shot per trigger pull.
There are many political arguments for and against a ban of this type of firearm, but let's cut through the noise and examine the factual ones.
Former astronaut Mark Kelly has been a vocal proponent of gun control. He says it's too easy for civilians to get their hands on an AR-15, which is one of America's most popular rifles.
Kelly and his wife Gabby Giffords, the Arizona congresswoman who was severely injured in a mass shooting in 2011, were in Houston recently to promote gun control candidates in last November's election.
"More deadly than a 1930s era Tommy gun," Kelly, who also served in the U.S. Navy, said about the AR-15. "But the standard to buy one (is) much lower."
He doesn't call for an outright ban, but would like it to be harder for people to get one of these rifles.
Many gun rights advocates, on the other hand, downplay the lethality of AR-15s.
Dan Allford is one such advocate. To make his point, he demonstrated the impact of a few different weapons at a gun range just south of Hempstead.
He shot an AR-15, a semi-automatic AK-47, a .300 caliber Winchester Magnum, a 12-gauge shotgun and a 9 millimeter handgun at wood and metal targets to see which gun has the most penetrating power.
It's the heavier shotgun slug that wins, not the faster – but lighter – round from the AR-15.
"Don't get me wrong, it's a devastating round," he said. "But it's still not enough energy to humanely kill deer."
The focus on the AR-15 is misplaced, Allford said. He said that if you move to ban that rifle, you would have to logically include lots of other firearms, including shotguns.
But shooting through wood planks is one thing – the human body is another.
Kulvinder Bajwa, a trauma surgeon at the University of Texas Health Science Center and active U.S. Army reservist, said when it comes to lethality, it's the velocity of the bullet that matters, and the one typically used with the AR-15 is one of the fastest around. It travels at more than 3,000 feet per second.
"AR-15, along with what it hits and where it hits and how it hits causes an intense amount of damage as it goes through a body," he said. "Because the body is not going to be able to stop it or not going to be able to predict the patterns and it transfers that kinetic energy into that tissue and then that's where you see this blow-out on the other side."
It's why, Bajwa said, the military likes this type of rifle.
"In that caliber mostly used for war, they're meant to kill but if they miss, there are severe injuries," he said. "So either way you take somebody out of the fight."
Enter Paul Howe. The former Army special operations team leader teaches combat shooting for both law enforcement and civilians in Nacogdoches.
He said it makes no sense to single out one weapon or one type of bullet to ban.
"You really can't because they have taken that platform – and that's what I call it – that weapon style, and put it in so many different calibers now," he said. "So do you ban a weapon style or just that bullet and that caliber? Where does it stop from there?"
There was a time when AR-15-style guns were banned, starting in 1994. But it was only for 10 years and Congress let the ban expire. For now, the debate continues over what good banning certain guns might do.