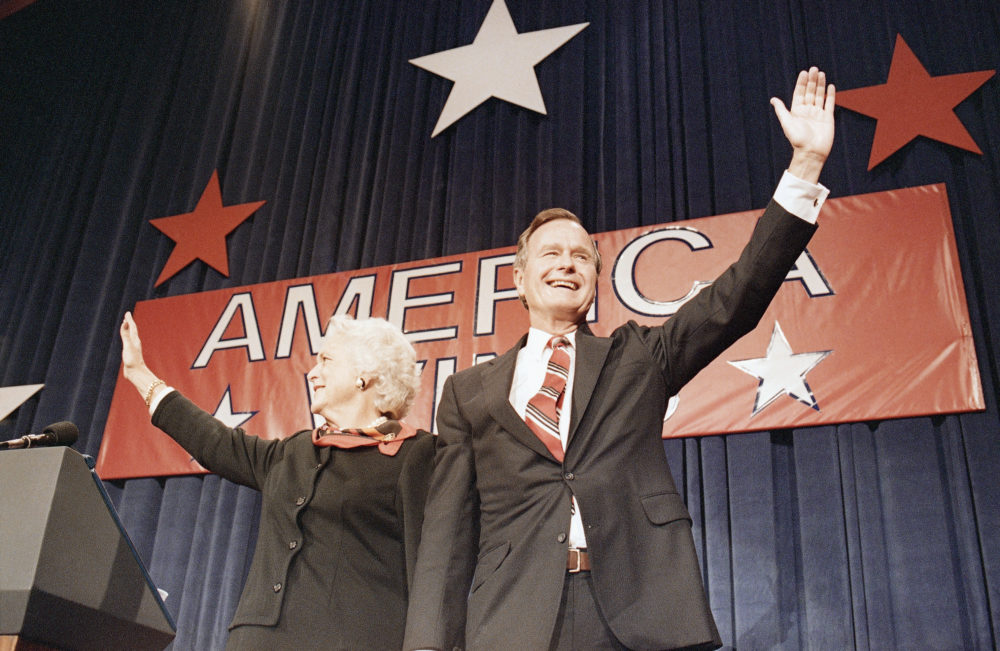 Perhaps better than anyone else, George Herbert Walker Bush embodied the saying, "I wasn't born in Texas, but I got here as fast as I could." The Lone Star State shaped his life and career, and he in turn helped transform the state's politics.
Bush moved to West Texas in 1948 – fresh out of Yale, his wife Barbara and son George W. in tow. Bush first went to work for Dresser Industries. He then cofounded Zapata Petroleum in 1953. When the company split six years later, Bush took sole control of Zapata Off-Shore, moving it, and his growing family, to Houston.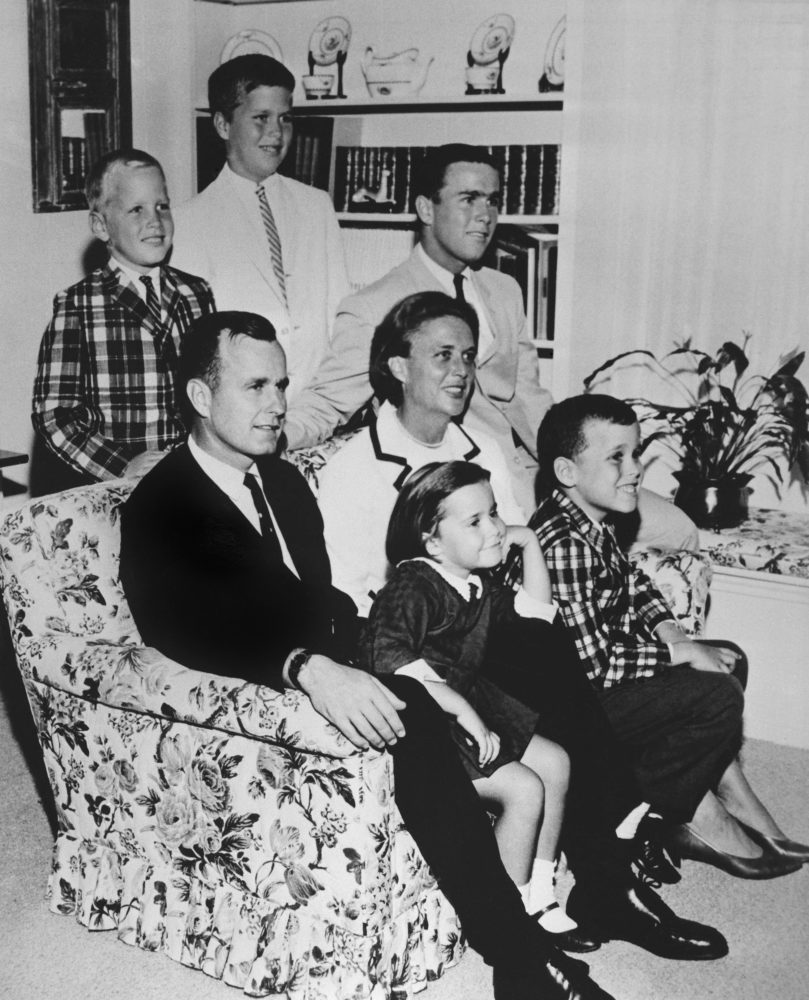 "I just have fond memories of him being a very hands-on, active sports dad," says Neil Bush, his third son. He remembers a typical Sunday at the Bush household involved a pickup game of baseball or football with his dad and brothers, followed by a cookout. "My dad was a classic Texas grill guy...My mom would shape the burgers and season the burgers. My dad would cook all these hamburgers and stuff, and it was just so much fun being in our house. It was full of energy."
George Bush had grown up with a strong sense of the importance of public service. His father, Prescott Bush, was elected senator from Connecticut in 1954. Not long after George Bush moved to Houston, both political parties tried to recruit him. He ultimately chose the GOP and in 1963 became chairman of the Harris County Republican Party.
Chase Untermeyer was a high school junior when he met Bush. "The first time I actually shook hands with him was very brief," he remembers. For Untermeyer, Bush not only was a Republican, "but he did represent a fresh approach to politics, completely divorced from the old cronyism and corruption of the longtime Democratic establishment that existed in Austin."
First Run For Public Office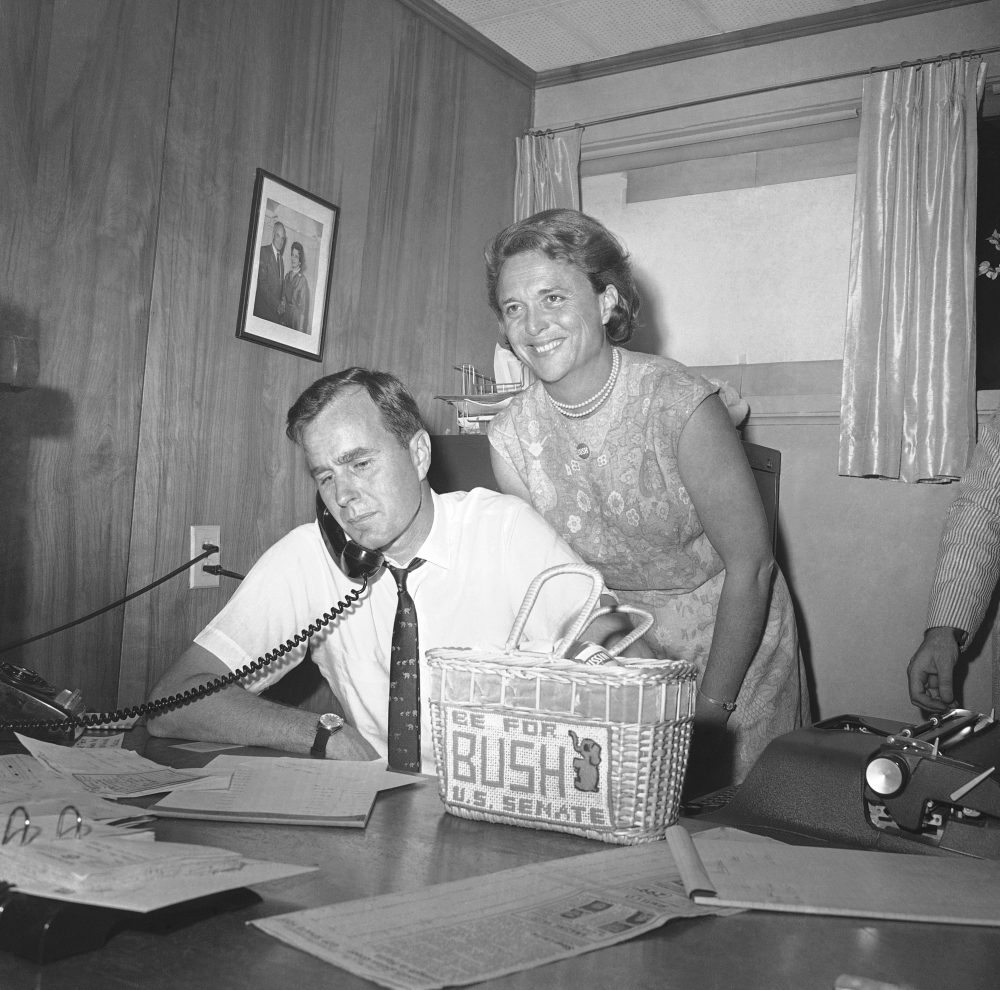 The next year, Bush made his first run for public office.
Bush had to work his way through a crowded Republican field to win the nomination. His Democratic opponent was incumbent Senator Ralph Yarborough.
The George Bush of 1964 did not come always across as the moderate of later years. This was the year Arizona Senator Barry Goldwater won the Republican presidential nomination.
The year 1964 ended in a Democratic landslide, both nationwide and in Texas — little surprise, perhaps, since Texas' own President Lyndon Johnson topped the Democratic ticket. Bush lost, but he put up a strong fight.
Peter Roussel graduated from the University of Houston in 1965. He went to work for a Houston advertising agency that handled broadcast advertising for Senator John Tower's 1966 reelection campaign. "The Republicans had Tower running for the Senate," he recalls. "Bush was running for Congress from the 7th Congressional District, and we occasionally would do joint events with him."
Texas' 7th had elected nothing but Democrats for more than 80 years. But the district had just been redrawn as the result of a Supreme Court case, and Republicans saw an opportunity for a pick up. The party turned to Bush.
"He had great appeal, and it was also pretty clear that he was going places. The only question was how far and how fast," recalls Chase Untermeyer, who as a junior at Harvard volunteered for Bush's 1966 campaign. He was back in Cambridge on election night, when he learned of Bush's victory. "He wrote to thank me for my efforts in his campaign, and then, very excitingly, he asked me whether I would like to be one of his interns in Congress the next summer."
Fair Housing Act
Untermeyer went to work for Bush that summer. When he returned to help out during spring break of his senior year, Martin Luther King Jr. had just been assassinated, and Washington, D.C. was tearing itself apart. It was at that moment that Bush voted for the Fair Housing Act, the last major civil rights bill of the 1960s.
Bush stood his ground. He told an angry town hall crowd that African-Americans and Latinos were risking their lives for their country in Vietnam, and they deserved the same rights as any other citizens. Bush's son Neil was there. "His constituents were, many of them were irate," he explains, "and so he addressed the crowd at a particular gathering that we all attended. And he did it with such dignity, and I just will never forget how proud I was."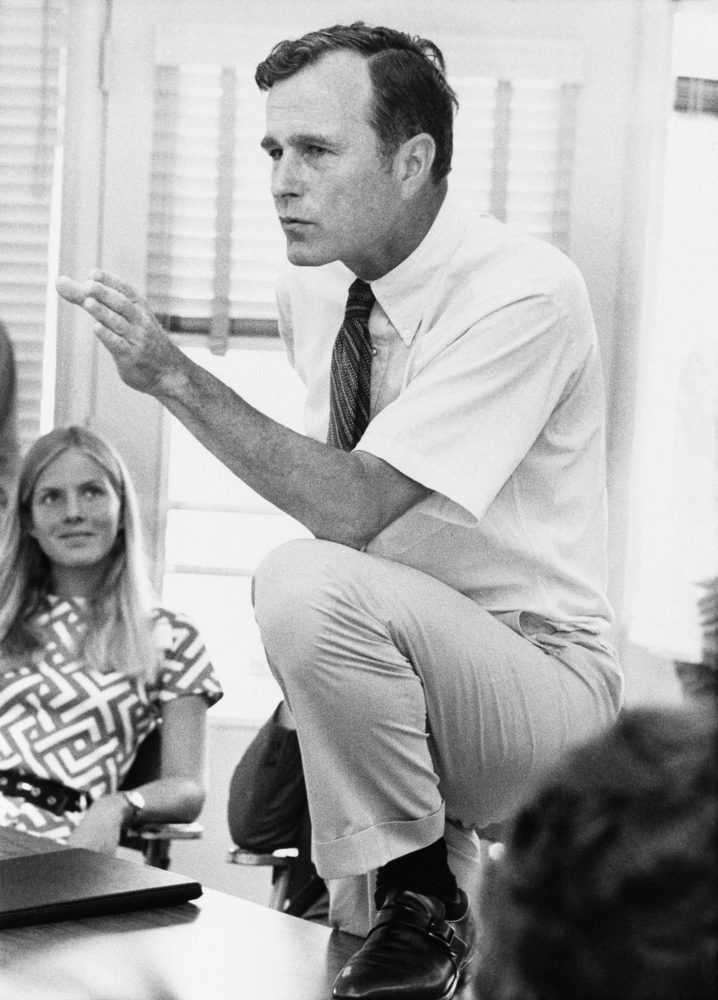 Bush won a second term in Congress that November. Not long after, Peter Roussel joined Bush's staff as his new press secretary – a position in which he'd serve Bush for the next six years. "Nobody was more energetic than he was. I remember one time a member of Congress said to me...'Boy, that Bush, he can go, go, go!' And I thought, 'Man, you're telling me.' I said, 'It's hard to keep up with him.'"
In 1970, Bush ran for the Senate again. He expected a rematch with Ralph Yarborough. But Yarborough lost the Democratic primary to Lloyd Bentsen. Bentsen went on to defeat Bush – accusing him of being too liberal for Texas.
President Richard Nixon then named Bush ambassador to the United Nations. Bush led the unsuccessful rearguard to preserve Taiwan's seat in the body after China's admission.
Visiting LBJ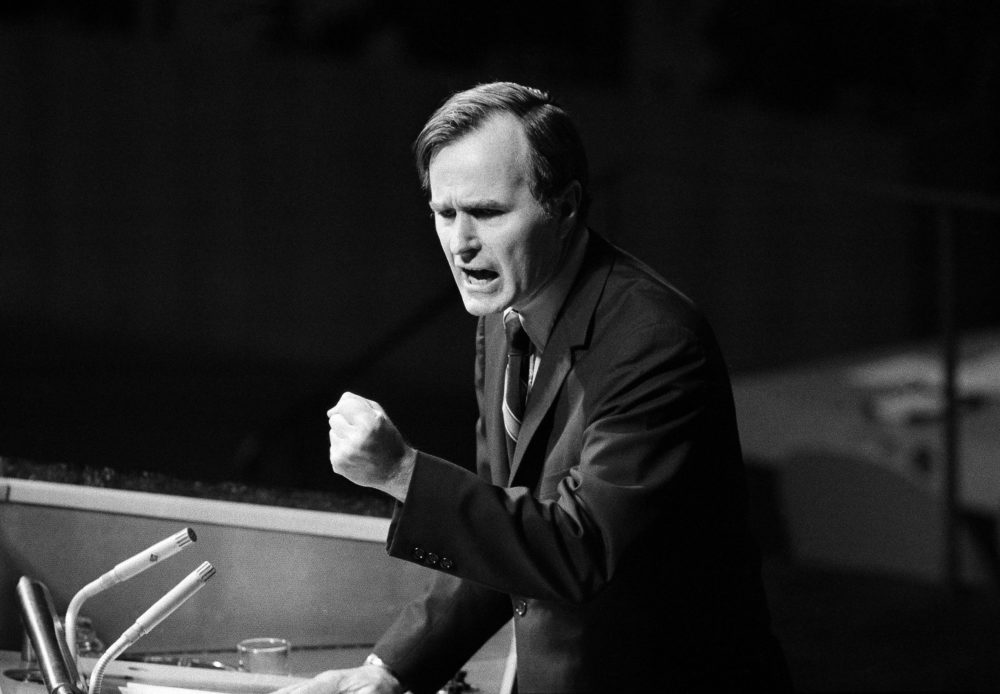 While serving at the UN, Bush traveled to Austin to make a speech, with Peter Roussel in tow. "We had some time there before we were going to fly back to New York," Roussel recalls. "And Bush said to me...'Will you call out to the ranch and see if President Johnson's out there? I'd like to just drop by and make a courtesy call.'"
Bush had last seen Johnson in January 1969, on the day of Nixon's inauguration. The Houston Republican was one of the few people who went to Andrews Air Force Base to see Johnson off. Bush had left his own reception to bid his fellow Texan goodbye. Now, four years later, LBJ was only too happy to see Bush again. Johnson took him on a tour of the ranch while Roussel waited by the plane. They returned at dusk.
Bush and Roussel were two of the last people to see Johnson alive. The former president died a few days later, but Bush had little time to dwell on Johnson's death. Nixon had asked him to become chairman of the Republican National Committee just as the Watergate scandal began to unfold. Bush spent much of his two year tenure crisscrossing the country, telling Republican voters that their party and Watergate were not one and the same.
Roussel says that whenever they'd get back on the plane after one stop, Bush would immediately start writing thank you notes to people at the event they'd just left. "And I have to believe that, if you fast forward, years later, when he did run for president, that there were people out there in some of those states that remembered that. That he was there for them when the going was tough."
Advising Nixon To Resign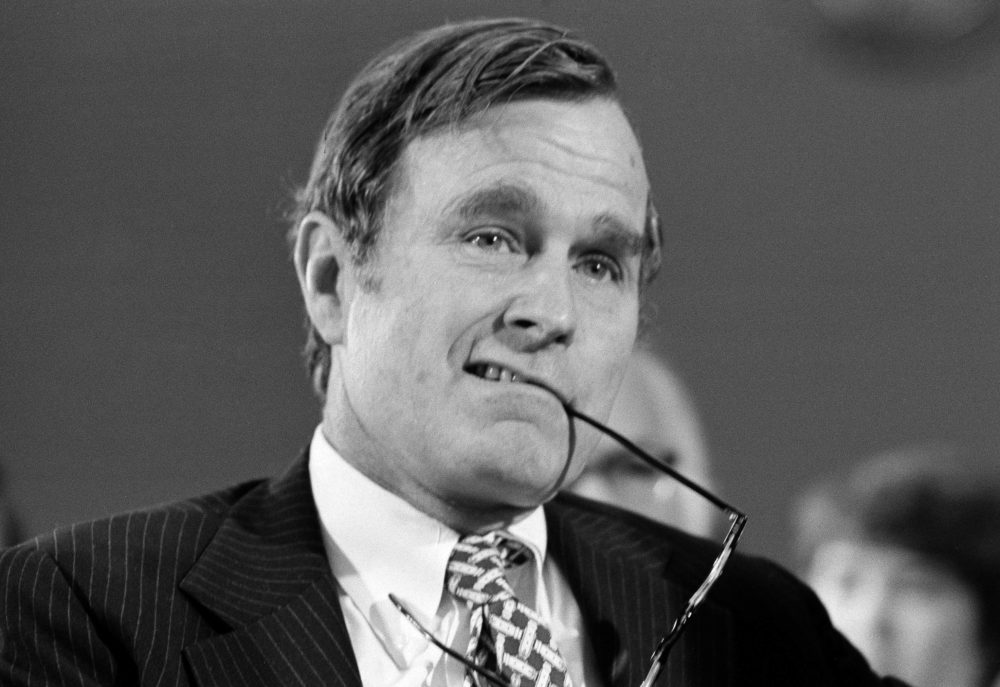 Bush defended Nixon until almost the end. But on August 7, 1972, with Nixon facing impeachment and likely conviction, Bush wrote Nixon a letter advising him to resign. Nixon didn't answer, but he made the decision to resign the next day.
When Gerald Ford took office as President, Bush found himself on a very short list of candidates for vice president. But as the days stretched into weeks, he grew convinced his rival, New York Governor Nelson Rockefeller, would get the job. Bush was in Kennebunkport, Maine, watching TV on the porch with Roussel, when he got the call from President Ford.
Instead of vice president, Ford named Bush his envoy to China. A year later, Ford brought Bush home to lead the CIA. Then Jimmy Carter defeated Ford in the 1976 presidential election, and Bush found himself back in the private sector. In 1977, he began working on a memoir of his career in government. But Bush soon decided he wasn't ready to leave politics behind.
Bush had enlisted Chase Untermeyer to help him with the memoir. Untermeyer says Bush first broached his ambition while the two of them were fishing at Kennebunkport. "He, just one afternoon, came up with this question, 'What do you think if I ran for president?'," Untermeyer recalls, "and I must admit, and with some embarrassment I will tell you, that it was to me a wild thought."
First Bid For Presidency
Bush formally entered the race in May 1979. His chief rival for the Republican nomination was former California Governor Ronald Reagan. It was a bitter contest. Both men believed the size of government needed to be reduced, but Bush didn't share Reagan's view that government was the problem. The two debated in Houston in April 1980.
Bush lost the Texas primary to Reagan and withdrew from the race a few weeks later. He traveled to Detroit that July with little expectation of a role in the coming campaign. Bush invited Peter Roussel to join the family at the Crowne Plaza Detroit Downtown Riverfront hotel. Roussel had just lost his father, and Bush didn't want him to be alone.
Reagan named Bush his running mate on the ticket for the vice president position. George Bush immediately sank his differences with Reagan. Neil Bush says that from that moment, through the election and ever after, his father never spoke a word against his erstwhile opponent. "He was so loyal to the president and respectful of his role as vice president, that he would never do anything, even talk within the family about differences he might have had with the president," he says.
The one moment of Reagan's presidency where all eyes were on Bush came early – March 30, 1981. Chase Untermeyer was then Bush's executive assistant. "He had given a speech in Fort Worth," he explains, "and was just taking off from Carswell Air Force Base outside of Forth Worth when the word came of the attempt on the president."
President Reagan had been shot. Bush had been scheduled to address a joint session of the Texas Legislature. Air Force Two did fly to Austin, but only to refuel before heading back to Washington.
Reagan spent the next two weeks in the hospital. Despite a notorious remark by Secretary of State Alexander Haig, it was Vice President Bush who was in charge until the president returned to the White House.
For nearly eight years, Bush served not only as one of Reagan's biggest cheerleaders but also as a key adviser behind the scenes. "The reason it's hard to appreciate [Bush's contributions to Reagan's presidency]," says biographer Jon Meacham, "is he maintained an almost impregnable wall of confidentiality around the advice he gave Reagan."
Meacham says the experience of Bush's two immediate predecessors shaped his view of how a vice president should behave.
Bush launched his second bid for the presidency in October 1987. He came home to Texas to make it official. "This is where I got my real start," Bush proclaimed. "This is where Barbara and I began our life together. This is where four of our children were born. And this is where I've come to say this, the most important words of my life: I am here today to announce my candidacy for President of the United States."
Victory In The Presidential Election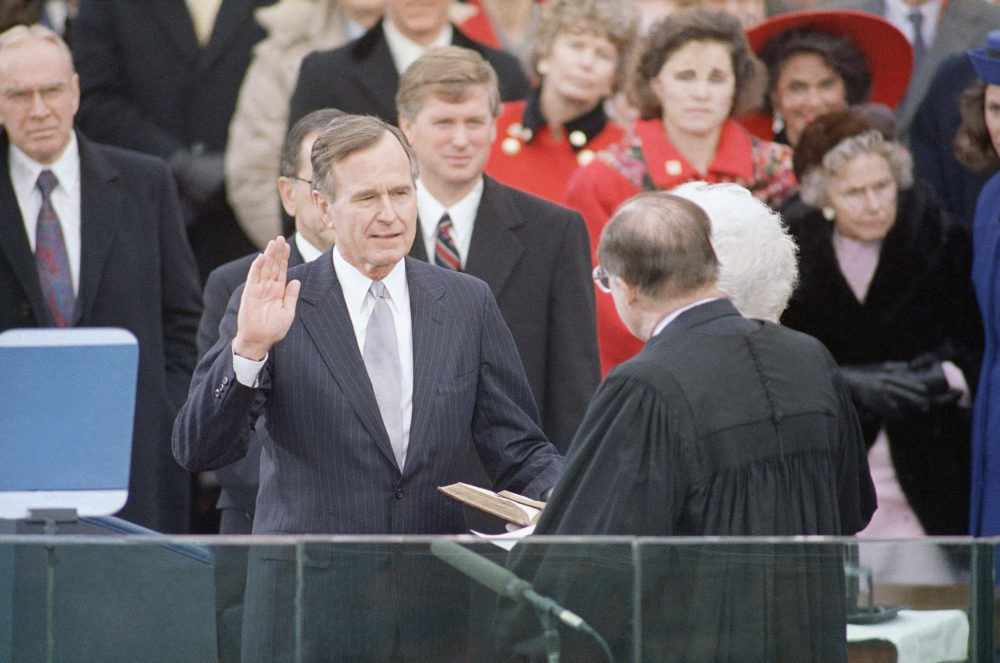 This time, Bush captured the Republican nomination. He went on to crush his Democratic opponent, Massachusetts Governor Michael Dukakis, in the fall. In doing so, Bush made history. He was the first sitting vice president in more than 150 years to be elected president.
Chase Untermeyer, George Bush's director of presidential personnel, says that helped Bush hit the ground running: "We took advantage of that by leaving in place a large number of the appointees of President Reagan during the time that the new Bush administration could study the shape of the government and figure out who was best served by staying where they were or being moved elsewhere…That was a luxury that was unique."
Bush entered office with the economy strong, but with global politics changing fast – themes he touched on in his inaugural address. "We live in a peaceful, prosperous time, but we can make it better," he said. "For a new breeze is blowing, and a world refreshed by freedom seems reborn, for in man's heart if not in fact, the day of the dictator is over."
Before Bush's first year in office ended, Communist control of Eastern Europe collapsed. The Berlin Wall fell. Bush spoke on the magnitude of the changes in July of 1990, when he hosted that year's G7 summit at Rice University – calling it the first such summit of the "post-post-war era."
Iraq Invades Kuwait
Less than a month after the summit, Iraq invaded Kuwait. President Bush worked with allies to level sanctions against the regime of Saddam Hussein and began to assemble the largest military coalition since World War II. He addressed Congress on September 11. "Iraq will not be permitted to annex Kuwait," he said. "And that's not a threat. It's a not a boast. It's just the way it's going to be."
The UN Security Council passed a resolution giving Hussein until January 15, 1991 to withdraw his troops. When the deadline expired, Bush launched Operation Desert Storm. It took less than eight weeks to drive Iraqi forces out of Kuwait.
Bush's approval rating soared to more than 80 percent. That began to erode as a brief recession gave way to a sluggish, jobless recovery. Unemployment peaked at close to eight percent in the summer of 1992 – just before the Republican National Convention in Houston.
In accepting his party's nomination for a second term, Bush highlighted his foreign policy accomplishments. But he also touted one of his signature economic achievements. "Just two weeks ago," he noted, "all three nations of North America agreed to trade freely from Manitoba to Mexico, and this will bring good jobs to Main Street, U.S.A."
NAFTA
Bush signed the North American Free Trade Agreement, better known as NAFTA, before the year was out. The deal would transform the U.S. economy, to the lasting benefit of Texas. But it was tremendously controversial. Third party candidate and fellow Texan Ross Perot made his opposition to it his signature issue, saying it would cost American jobs.
Perot won nearly 20 million votes – more than enough to tip the balance away from Bush and give the victory to the Democratic candidate, Arkansas Governor Bill Clinton.
In addition to Clinton and Perot, Bush had battled opposition from the far right of his own party, notably from conservative columnist Pat Buchanan. In his concession speech at Houston's Westin Galleria Hotel, Bush urged young people not to let the bitterness of the election destroy their idealism. "...(Do) not be deterred," he said, "kept away from public service by the smoke and fire of a campaign year or the ugliness of politics."
Pierce Bush says his grandfather lived up to that pledge from the moment he returned home from Washington. "I still remember the day when my grandfather showed up, and we went over to West Oak Drive, and we had some signs saying 'Welcome home, Ganny and Gampy,'" he says.
In "retirement," George Bush began a schedule of speechmaking, correspondence, and philanthropic work that could exhaust a man half his age. Jim McGrath helped Bush to set up his post-presidential office. He ultimately became Bush's speechwriter and chief spokesman.
George W. And Jeb
Bush took great pride when his sons George W. and Jeb won the governorships of Texas and Florida, respectively – and when George W. won the presidency in 2000. Inevitably, people drew comparisons between Bush 41's conduct of the Gulf War and Bush 43's conduct of the Iraq War. But McGrath says the elder President Bush never tried to second guess his son, let alone influence him.
"He would be there to offer advice if asked, of course...," McGrath explains, "just like any father would be, but he did not interject himself into...the policy disputes and the personnel questions and things of that sort. He was just there to be a supportive dad."
In the mid-2000s, Bush was diagnosed with a condition similar to Parkinson's disease that ultimately cost him the use of his legs. He kept active as long as he was able. In October 2017, he joined four other former presidents on stage at Texas A&M University to raise money for victims of Hurricane Harvey. The younger President Bush paid tribute to his father.
Soon after, as the #MeToo movement gathered steam, several women accused the elder President Bush of groping them. He offered numerous apologies. Unlike many other high profile figures so accused, Bush emerged with his reputation largely intact.
The Love Of His Life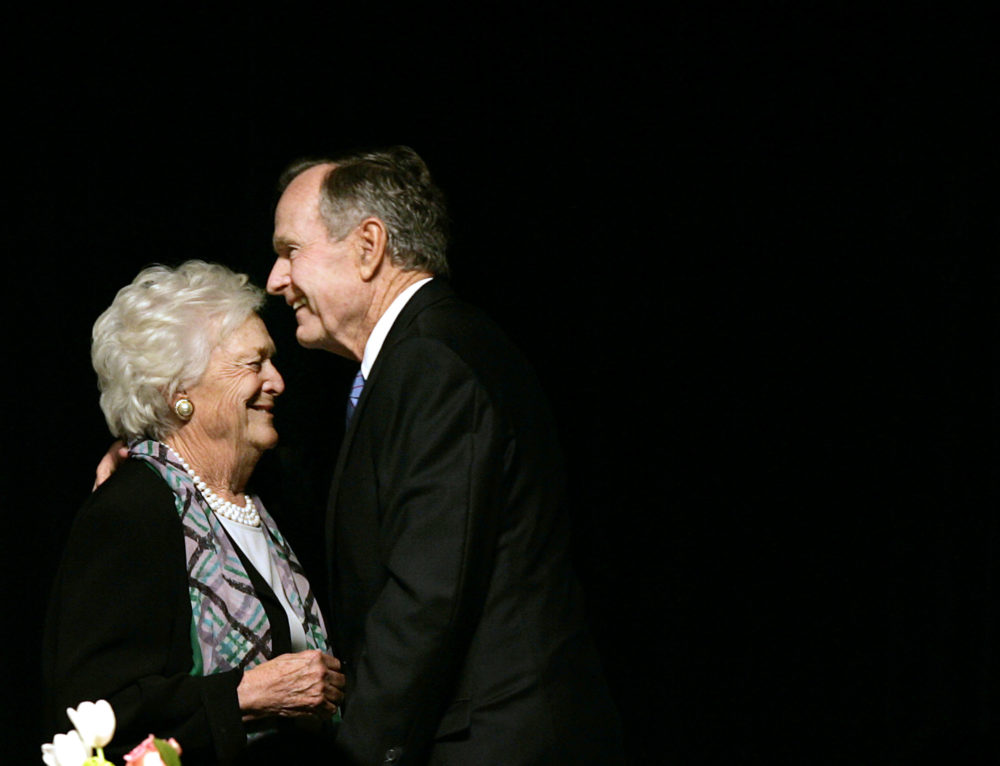 When his wife Barbara died, George Bush lost the love of his life and his indispensable partner of 73 years. Their marriage was the longest of any presidential couple. For Bush, it was the beginning of the end.
Chase Untermeyer believes that history is already proving much kinder to George Bush than the voters of 1992. "There's a degree of satisfaction that people now look back upon the single term of George H.W. Bush as a peak of American government, of honorable service, of experienced judgment," he says.
But Bush's four years as president were only a piece of a lifetime commitment to public service. Peter Roussel says that's how he'll remember his lifelong friend: "When the great American composer George Gershwin passed away, the noted American novelist John O'Hara commented on his passing this way, 'I heard that George Gershwin has passed away, but I don't have to believe it if I don't want to.' I would say that's exactly the way I feel about George Bush."