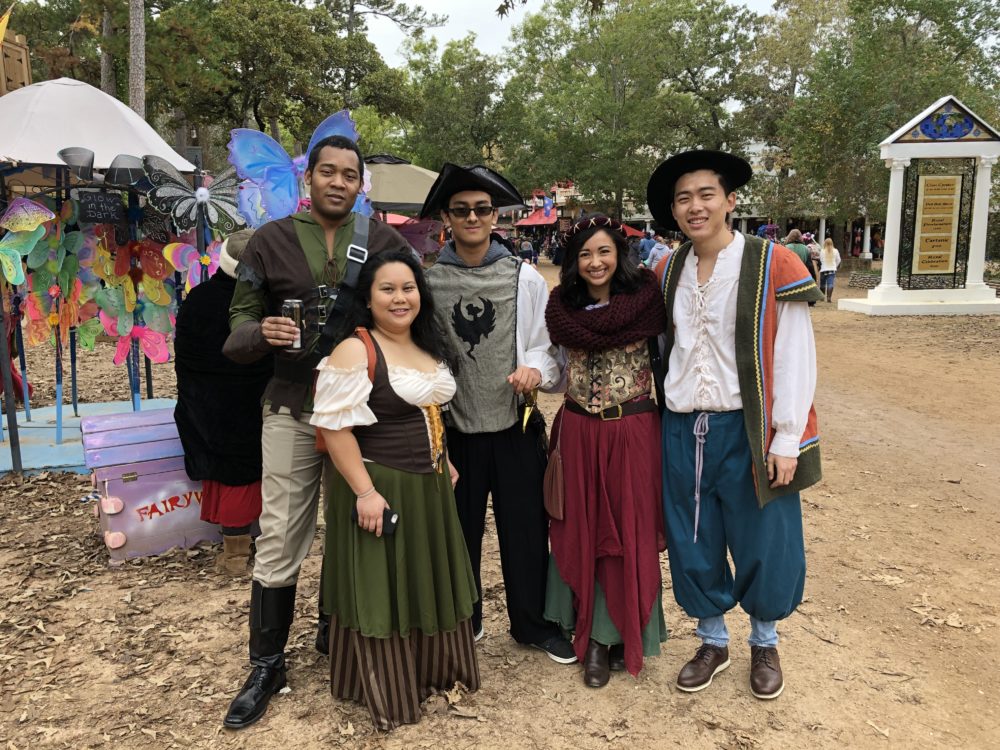 I recently drove northwest of Tomball to visit the Texas Renaissance Festival. While strolling the grounds, I came across a group of five friends, all dressed in period clothes. Bought or rented, costumes are expensive. They're usually a sign the wearers have been to the fair before.
Katerina Guevarra told me she keeps coming back because, "it's one of the largest Renaissance festivals, I think, in the United States, and it really shows the amount of work and the 'authenticity,' and it's just a lot of fun to people watch."
Justin Jenkins put it more simply: "To drink and be merry. In costume."
Then I asked, if they could travel back in time, would they want to visit the Renaissance for real?
"Good Lord, no!" Jenkins said.
Guevarra agreed. "Nah. Dysentery? Lifespan? Pass!"
Good call on their part, because there are few periods of history where the romantic image clashes more with the gritty reality.
"I had always wanted to time travel. If I could just go back in time to a palace even for a day," said Eleanor Herman, author of The Royal Art of Poison: Filthy Palaces, Fatal Cosmetics, Deadly Medicine, and Murder Most Foul. "And having written this book, I wouldn't do it anymore. I'd be afraid I'd come back with something really, really disgusting."
Let's start with the basics: Real Renaissance villages had no indoor plumbing. Palaces like Versailles were toxic waste dumps.
"There were brimming chamber pots full of bacteria and parasites in just about every room," Herman said. "And even worse, the courtiers routinely dropped their britches and did their business in the middle of the hall." Add in waste from the chickens, pigs, cattle, and other animals kept near or in the home for food.
"The people were also filthy themselves, because doctors told them it was dangerous to bathe," Herman said. That attracted fleas and lice, which spread more diseases.
Money and social rank didn't help when you got sick. Often they made things worse. A peasant might get a little blood let from the town barber. But a royal or noble, with a doctor on staff, would be bled over and over. And medicine? "They would give you mercury enemas and arsenic skin cream for a rash," Herman said.
You didn't need a doctor to poison you, either. You could do the job yourself just trying to look good. "Queen Elizabeth [I of England] had arsenic rouge and lipstick. It can get into the human body and cause you to go crazy and get very ill with time," Herman said.
Herman became interested in the topic while researching earlier books on the Renaissance. If anyone at court died, rumors of poison started flying, and Herman found there were genuine assassinations. But if someone died because of something they ate, there was usually a simpler explanation.
"They cooked the food, the meat over an open hearth," Herman said. "And when you do that without a temperature, you know, without an oven, half of the meat is going to be sort of dried and burnt, and the other half is going to be raw. You could sicken and die very easily from food poisoning before they had IV drips to give you some hydration, and they would think that was poisoning, because the symptoms are quite similar."
Herman lives near Washington, D.C. From August through October, she'll dress up in full costume and head to the Maryland Renaissance Festival to sell her latest book. She loves it. Her advice: Go to the festival. Enjoy the beauty and the pageantry. Eat safe food. And go home afterward without having to worry you've caught the plague.