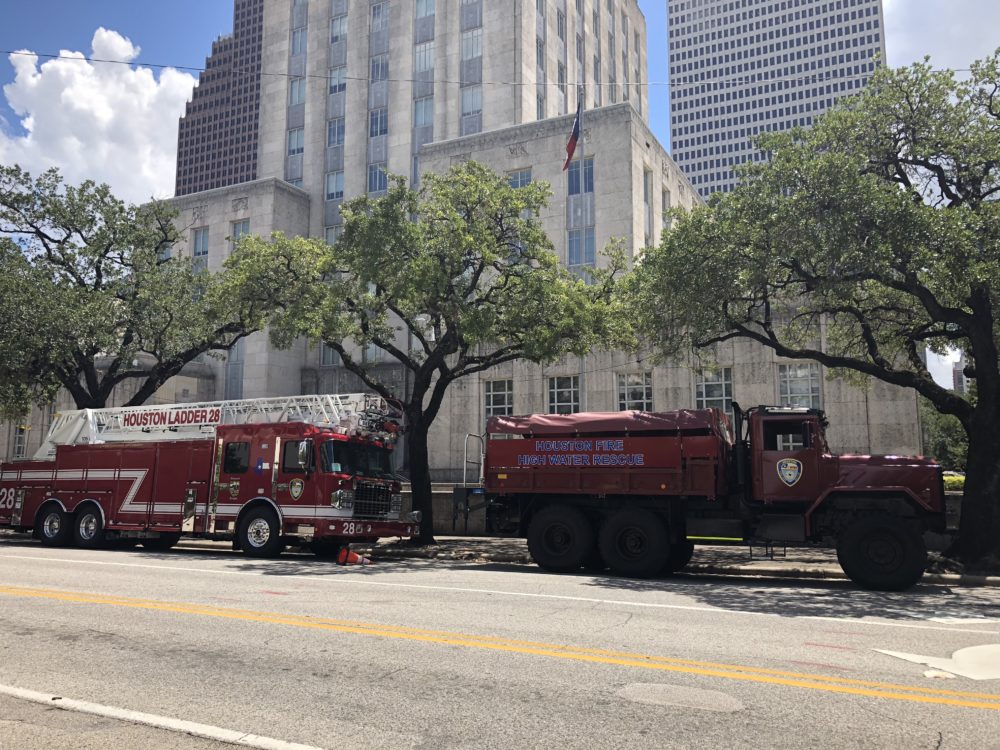 One of the biggest decisions facing Houston voters next month falls at the bottom of the ballot. Proposition B would require the city to start paying its firefighters the same as its police officers. The issue has driven a wedge between the firefighters and the mayor they once considered their ally.
"The city of Houston has had pay parity between the fire department and police department since 1975," says Marty Lancton, president of the Houston Professional Fire Fighters Association. "That was broken by the ex-police chief and then-Mayor Lee Brown in 2001."
Since then, the pay gap has grown wider under successive mayors. Houston is currently the largest city in the United States in which firefighters and police do not have pay parity. Lancton says his union campaigned hard for Mayor Sylvester Turner because they thought he'd change that.
"We had a longtime, 26-year friend in [then-State] Representative Sylvester Turner," Lancton says. "We went out and we helped Mayor Turner get elected. We put 1,200 firefighters on the streets, block walked 75,000 homes, just so that we could get somebody that would equally value the service and sacrifice. Unfortunately, that's not what happened."
Turner spent much of his first two years as mayor working to overhaul the city's pension system to keep Houston out of bankruptcy. The mayor argues all that work will be undone if Proposition B passes.
"You cannot add another $100 million to the bottom line under the revenue cap and expect to absorb this particular item," Turner says.
Lancton says Turner is just trying to scare voters. He points to the Fiscal Year 2016 budget on the city's website. It's the last budget that includes a breakdown for the fire department's payroll. The firefighters haven't had a raise since.
"The mayor talks about a 20 percent base salary increase, 5 percent incentives," Lancton says. "If you take what the mayor is out there telling the public, and you do the math, it's nowhere near what the mayor is saying it costs."
The City Controller's office, which acts as Houston's financial watchdog, prepared its own analysis. Controller Chris Brown presented it to the City Council earlier this month.
"We demonstrate the annualized cost due to pay parity could be as high as $85.1 million beginning in Fiscal Year 2020, and this $85 million does not include the proposed 7 percent raise for the Houston Police Department," Brown said. Later that day, the council approved the raise negotiated with the police, driving up the projected cost of pay parity to more than $100 million a year.
The cost argument is a familiar one for Lee Adler of Cornell University's School of Industrial and Labor Relations. Adler advises firefighter unions from upstate New York to Los Angeles.
"It just gets tiring to see these explanations advanced all over the country – north, south, east, and west – about why people who risk their lives every day are not entitled to get a wage that they believe they're entitled to," Adler says.
Jay Aiyer disagrees. Aiyer teaches public affairs at Texas Southern University and served as chief of staff to former Mayor Lee Brown. He says that concept of fairness must account for the changing nature of what firefighters do.
"About 85 percent of what [Houston firefighters] do now is EMT calls for service," Aiyer says. "They spend as much time doing rescue work as they do fighting fires. So from a public safety perspective, they've changed dramatically. Police have largely stayed the same."
That's one reason Houston police oppose Proposition B as strongly as the firefighters support it.
"This is a self-imposed crisis on their part," says Joe Gamaldi, president of the Houston Police Officers' Union. "They voted down a 4 percent raise in 2014. They now refuse to accept a 9.5 percent raise from this mayor. So they have been treated fairly. They just refuse to accept the pay raises because they don't want to take any concession."
Both Mayor Turner and Controller Brown say the only way to meet pay parity will be to lay off thousands of city employees. That's what worries Gamaldi the most.
"They're going to have to lay off a minimum of 850 firefighters," Gamaldi says, "and then they're going to have to start laying off our cadets and our young police officers, and we simply cannot afford to lose a single police officer."
Police officers and firefighters both have critical, life-saving roles in Houston, but voters will decide next month whether their pay should be equal.