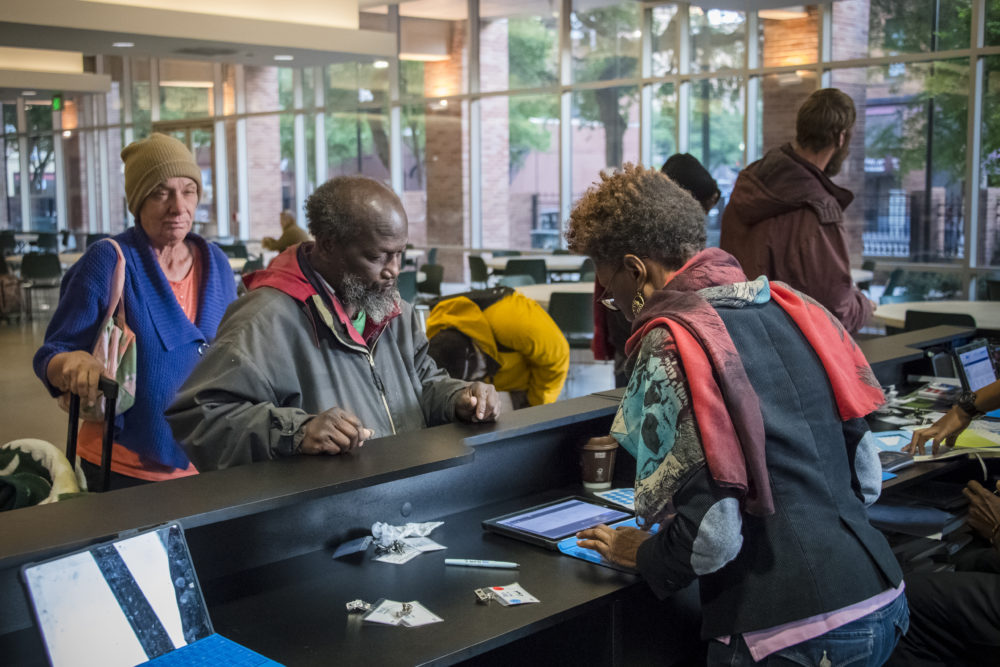 If you venture into downtown Houston, you can't help but see them – huddling in doorways, meandering through mid-town, living in tent cities – they are the visible homeless – easy to identify, the stereotype of "A Homeless person." But there are many more "People Experiencing Homelessness" that you'd have to look harder to find – people who live in their cars, in shelters with their children. And, in recent months, many are people who lost a home or a vehicle in a weather event such as Harvey. They make up the much larger group of Houston Homeless.
Marilyn Brown from the Coalition for the homeless explains: "The larger number of people who actually experience homelessness in their lives will find themselves that way because of an economic reason. Hurricane Harvey actually showed us how many people were living very close to the edge doesn't take very long to not be able to pay the next month's rent. Even if your house didn't get flooded. People experiencing homelessness are families and individuals not very different from you or me."
Since 2012, The Way Home, a coalition of over 100 agencies, has worked to help those dealing with homelessness... their theory is first establish permanent housing and then make sure there is access to supportive services – employment, food, education, and legal services thus ending the cycle. The work begins at shelters like The Beacon in Downtown Houston which serves lunches daily along with offering legal aid counseling mentoring and access to housing.
The Beacon's Becky Landes explains how these access points help begin the transition out of homelessness: "Any individual or family that find themselves falling into homelessness can come and do that first step towards working towards housing in that first step as a housing assessment and that gives not only us at the Beacon but across our collaborative system of 100 plus organizations an opportunity to to see what's going on with that individual and best fit them to a housing option that works for them."
After the initial needs of housing and food are taken care of – employment is another step in finding a permanent solution… but that may offer even more challenges especially if someone is a parent. How does one look for work or hold down a job if they have a child who is not yet old enough for school. SEARCH, another of The Way Home partner organizations offers The House of Tiny Treasures – a day care/ preschool.
Thao Costis of SEARCH explains what they offer is so much more: "It's also assessment so that we recognize when a child needs therapy when they need an extra person to work with them because of their fears and they can't convey it verbally. So how do we do that through art through play and then of course speech therapy. And so we work on all those elements socially mentally physically so that they can catch up."
With all these organizations working together, Houston has been able to reduce homelessness by 51 percent since 2011.
Again, Marilyn Brown of the Coalition for the homeless: "Houston is absolutely leading the nation in solving homelessness. We have created a system that is working. It's not complete yet. We've still got tweaks to make but there is not a week that goes by that someone from another city another community even another country doesn't contact us to find out what we've done and how they can duplicate replicate that in their community."
Their ultimate goal? Prevent and end homelessness in Houston in the near future.