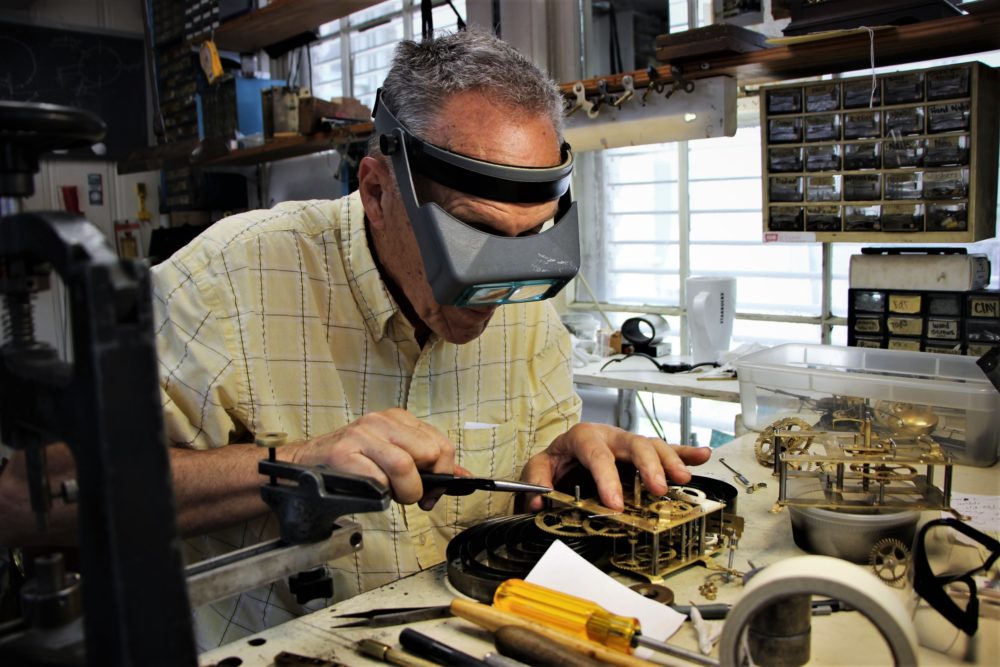 Hurricane Harvey. In the neighborhoods it flooded, residents tell of how eerily quiet things got in the weeks and months afterward. So many homes were unlivable, so there were a lot fewer people. But, in hundreds of those homes, there was something else that went silent.
Old clocks.
It turns out, a lot of people flooded by Harvey owned them. And many ended up at Chappell Jordan Clock Galleries. Located in the River Oaks area, the shop dubs itself as the largest clock store in the South.
"There's always something chiming here. People ask if I ever get used to it. I say, 'I don't even hear it, anymore'" said co-owner Ralph Pokluda, who has worked at the shop for 49 years. They have 10 showrooms that hold 1,500 clocks.
'Unlike any storm that we've ever dealt with in the past'
Along with selling clocks, Chappell Jordan Clock Galleries also repairs them. Pokluda said they're still getting what he calls "Harvey clocks"—and they're currently at a six month turnaround time. Normal time to restore an antique clock is usually a couple of months, Pokluda said.
As a native Houstonian, Pokluda said he's seen lots of storms. But, Harvey was different, he said, because it was so widespread and affected more of their customers.
"We quickly saw this was unlike any storm that we've ever dealt with in the past," said Pokluda. "This time we quickly became overwhelmed.... We've already been running at 100 percent, in the repair end of the business before Harvey; doing as much as we possibly could with the staff that we had. But, all of the sudden, we started getting calls, immediately after the storm."
Pokluda said they ended up taking in about 200 grandfather clocks, along with wall and mantle clocks. Some clocks in for repair were some of the few items people were able to actually save, when several feet of water rushed into their homes. To help his customers, he said they've been working 6 days a week.
'Harvey clocks' are still coming in, some will cost thousands to repair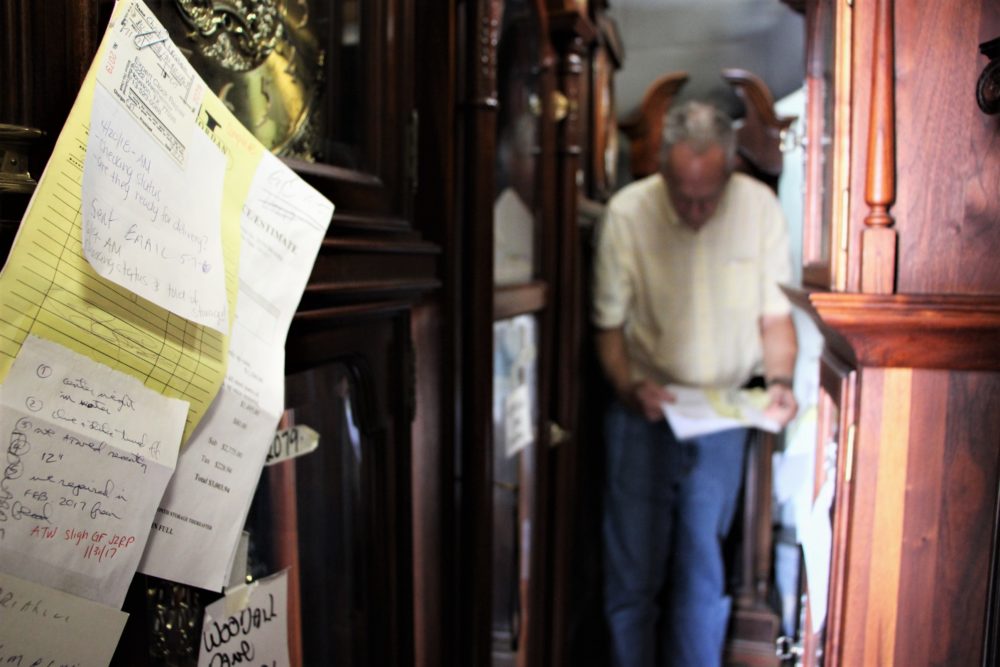 A warehouse adjacent to the shop is holding 150 grandfather clocks for repair. Not all of them are Harvey clocks, but Pokluda said they've been so swamped, they haven't been able to also move their existing repairs.
"We were bringing in all these clocks. We needed to mold remediate them right away, to stop the mold issue," said Pokluda. "So, we went and rented a warehouse to put all of our own things in, so we could handle all these clocks coming in."
Pokluda said some of the Harvey clocks will cost thousands to repair, the challenging antique clocks are even approaching a $10,000 repair cost. He added other related industries have also been impacted.
"Dial painters are backlogged. The cabinet makers are overwhelmed, because they're working on probably the hardest part of this equation. We're seeing clocks that were in water for a week," said Pokluda. "All these different trades are involved, and everybody is sort of overwhelmed. Matter of fact, I talked to Fred, our cabinet maker here in Houston, and he said, 'Ralph, I don't think that I've got another one of these in me.' It is hard work."
One clock-owner's story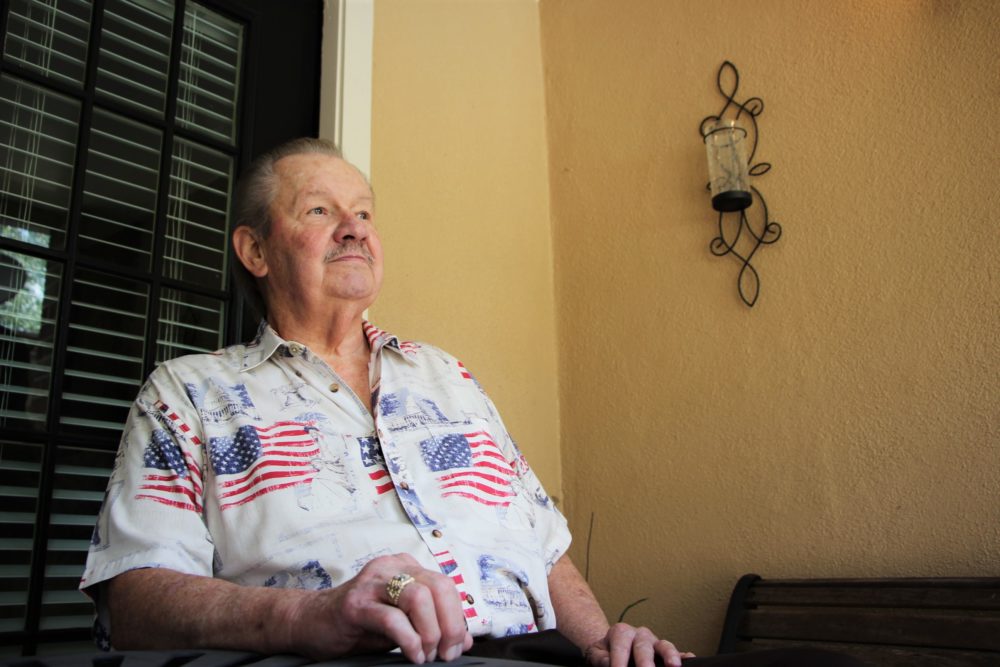 One of the clocks sitting in the warehouse came from a home that was flooded with four feet of water from the Addicks Reservoir.
"We didn't get back in there for two weeks when the water went down," said the clock's owner, Jerry Arnold, 78. "I mean, everything was so soggy."
Jerry Arnold is a home-owner, though he and his fiancé are temporarily living in an apartment, while they search for a new house. He's currently waiting for his grandfather clock to be repaired, which was one of the only items he said they were able to save, from Harvey's floodwaters.
"[The clock] always sat in the living room, ever since I got it," said Arnold. "When I picked it up to move it, I was very careful... and the whole bottom piece came apart. So, they're having to rebuild all of that now."
A stuffed giraffe is currently sitting in the place of where the clock will go in the apartment, said Arnold.
And Arnold said his losses didn't stop once Harvey's floodwaters receded. His 13-year-old family dog, Queen Victoria, continued to be upset after being rescued in a boat during Harvey, and stopped eating, said Arnold. She passed away three months after the storm.
Post-Harvey, Arnold is trying to repair and replace what he can, and repairing his grandfather clock will cost around $3,500 dollars. That's about a thousand dollars more than its value, said Ralph Pokluda, from Chappell Jordan Clock Galleries.
But Arnold said the over-100-year-old clock is worth the money.
"It means a lot, as far as just surviving this long. Ya know? I think it probably rode in a covered wagon," said Arnold. "Maybe, even if it wasn't a family clock, I would still take care of it. Because of where it's been... I respect it."
The clock shop's Pokluda said he expects to be caught up on their workload by the end of the year.