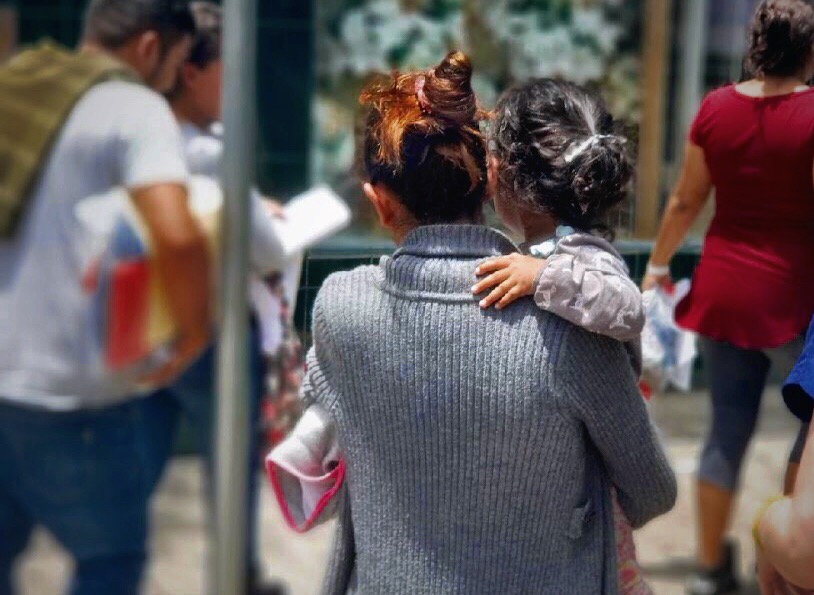 We're hearing more about how migrants are being treated at the Central Processing Center in McAllen, Texas. Some volunteers from Texas and elsewhere are sounding an alarm, alleging migrants are not receiving proper health and medical care.
Three volunteers at the Humanitarian Respite Center, run by Catholic Charities of the Rio Grande Valley, have independently confirmed to Houston Public Media similar accounts of insufficient nutrition and basic medical attention. A Houston lawyer, a pre-med student at The University of Texas at Dallas, and a Kean University professor recounted stories of not being able to shower for several days, sparse food, dehydration, and even babies with fevers who have not been treated.
The same story, over and over
"You know, I've gotta tell you, I've seen this with my own two eyes. And I'm a nurse, and I've been a nurse for decades," said Dr. Norma Bowe, a professor at Kean University with a PhD in community health. "They're coming out of detention centers – out of United States detention centers – with dehydration, high fevers, coughs, sore throats; some of them had chickenpox."
The migrants, released from facilities in McAllen and Brownsville, come off buses – in reported groups of 100 to 150 people – to register and be treated at the Humanitarian Respite Center, in McAllen.
That's where Dr. Bowe, Naimeh Salem (a Houston lawyer), and Ashtyn Tayler (a pre-med student) said they encountered detainees who say they hadn't bathed for days, were fed little food, and were neglected when repeatedly asked for medical care.
Migrants leaving the Humanitarian Respite Center in McAllen, Texas. They are provided ankle monitors, as a condition of their release from detention, as they await court hearings.
"I asked everyone coming into Respite. They all said the same thing, " said Salem, the lawyer. "Not a single person that I interviewed, at the Respite Center, said that they were eating a proper meal. They all said that they were really hungry," said Salem.
She said the detainees told her they only got a bag of chips, a small bottle of water, and maybe an apple a day. "In previous years, I received complaints about the food not being great. But they were getting [enough] food," said Salem. "This time is different. They are not getting a proper meal. They are going hungry."
Dr. Bowe, director of non-profit organization Be The Change NJ, came with five volunteers from New Jersey to volunteer in McAllen. She said, according to her background and knowledge as a nurse, the amount of dehydration she saw does not convey being provided adequate water in detention- even if the migrants were only there for a couple of days, after a long journey.
"And, frankly, if they had been in a United States detention center- even for just three days- we would not have seen the level of dehydration that we saw. There would be no excuse for that," said Dr. Bowe. "People were perking up, even after just, you know, 16 or 20 ounces of Pedialyte. So, dehydration is actually one of those things that is pretty easy to treat. And, I cannot believe for a minute that they were being adequately hydrated in the detention center."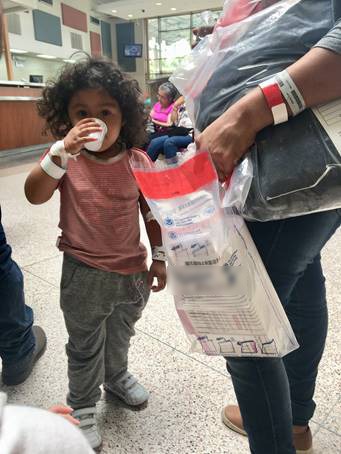 The migrants Salem interviewed were traveling anywhere between two weeks to two and a half months, she said. It's easy to understand they may have been in poor condition when they were apprehended at the border. But, the volunteers all believe the state of the migrants while leaving the facilities could have been prevented and were easily treatable with basic care; such as over-the-counter medicine, basic wound care, and proper sustenance.
"They should be taking care of the basic needs of all of these people that they detain," said Salem. "And, they are not giving them the minimum; which would be, at least, [enough] food and medical care…. I don't think people would believe that this is what's going on, in the U.S., in 2018."
It is unclear exactly how much treatment of detainees has changed, if at all, in recent years. An organization, who has helped migrants in McAllen since 2014, recently told KUT the physical and psychological detention problems its seen has remained consistent, albeit "heartbreaking."
"Nobody listened"
All of the volunteers separately told Houston Public Media of babies with high fevers, whom allegedly did not receive care; despite pleas from their mothers.
"So, something isn't adding up when I have scores of immigrants come in and tell me, 'I tried to tell the guards I was sick,' 'My baby's been shivering and sweating for two days now and I tried to tell them my baby was sick, and they didn't do anything. They stuck her in a room. They didn't give her any medicine. They didn't take her temperature,'" recounted pre-med student Ashtyn Tayler, 24.
"Mother after mother has told me that they begged to care for their child and nobody listened. And to see a mother break down, with a baby in her arms, and say 'Please help me,'…. I mean, it feels like these people have been forsaken," said Tayler.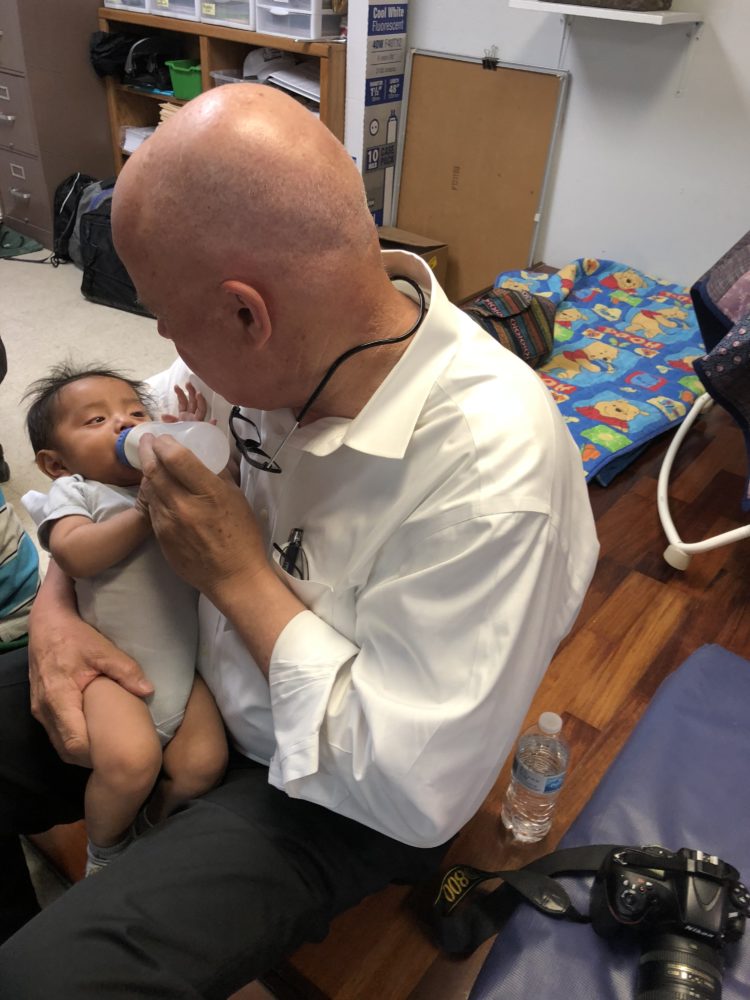 Dr. Bowe said the migrants are coming out of detention with high fevers. "So, if they were getting any treatment at all, in there, they would not have had these high fevers. You know, we were hydrating and we were giving infant Advil and infant Tylenol… and fevers were coming down pretty quickly," said Dr. Bowe.
"So, if they had gotten any medical attention in the detention center, they would not have come out – five minutes later – in that kind of shape. So, I don't believe when they say that they're getting medical attention in there. I don't believe anyone who says that. And the folks coming out, talking to us, told us that they were not getting medical attention either," said Dr. Bowe.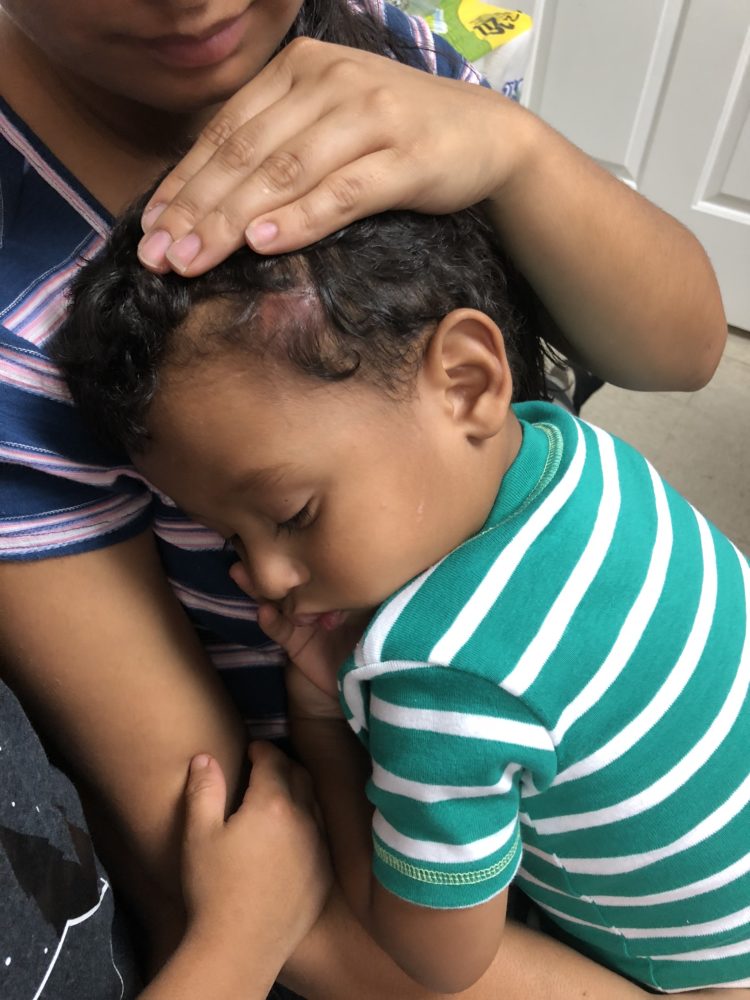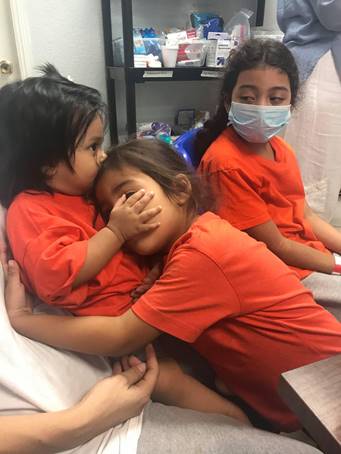 Tayler, the pre-med student, said she spent a little over a week rendering first aid to immigrants, who needed medical attention. "To witness that kind of trauma walk through your doors, and the best you can do is first aid? The best you can do over-the-counter medicine, and pray that you can call a local doctor if you need to call in prescription or refer somebody to the hospital? That's… that's more than sad," said Tayler. "I mean, it's a taste in your mouth that doesn't leave. It's just… you can feel it, and you can feel it on them. That they've been mistreated."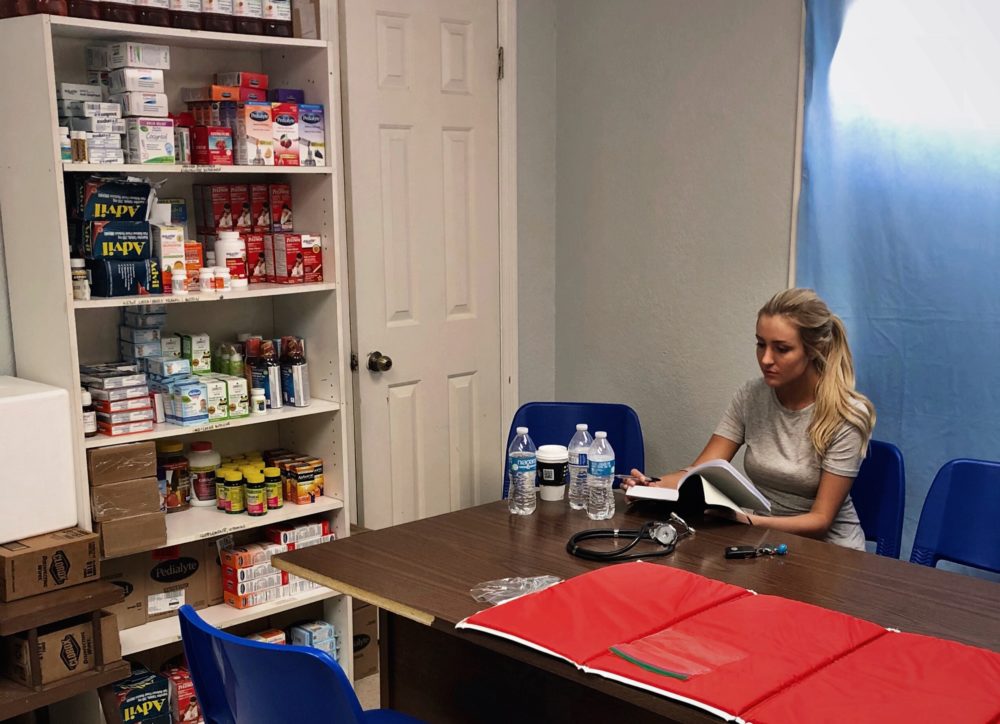 U.S. Customs and Boarder Protection responds
We told U.S. Customs and Boarder Protection (CBP) what we'd heard. In an e-mail, a spokesperson said the Rio Grande Valley sector has an $8 million dollar contract to provide professional healthcare staff in the facility 7 days a week, 24 hours a day:
"U.S. Border Patrol in the Rio Grande Valley Sector contracts healthcare personnel to include: (Physician (MD), Physician Assistants (PA), Nurse Practitioners (NP), Emergency Medical Technicians (EMT), Certified Nurse Assistants (CNA), and Certified Medical Assistants (CMA)) to provide public health, acute, chronic and basic first aid services to those in our custody including at the Centralized Processing Center."
CBP also pointed to its National Standards on Transport, Escort, Detention, and Search, for answers.
It says officers and agents are to assess the migrants for reported or observed illnesses or injuries, upon intake. It also states those conditions should be electronically documented and addressed with appropriate medical care in a timely manner.
In regards to hygiene, the policy states: "Reasonable efforts will be made to provide showers, soap, and a clean towel to detainees who are approaching 72 hours in detention," although the volunteers told us reports of detainees not showering for four to six days.
Another spokesperson sent Houston Public Media a June 2018 report, compiled after unannounced inspections of dozens of border facilities. It concluded the facilities were in compliance with the 1997 Flores Settlement Agreement, outlining the migrants were receiving regular meals, water, and showers. It did not mention situations involving medical care.
When asked what Dr. Bowe thought of the report results, she said, not in a million years, did it match what she saw coming out of detention (with her experience as as a nurse and her community health policy PhD).
"And I saw upwards of a thousand people coming out of that detention center. So, it wasn't just a bus load of people, that maybe got different treatment. Everyone was, pretty much, in bad shape," said Dr. Bowe.
But the volunteers told us about another issue: the ankle monitors, put on migrants by contractors working under Immigration and Customs Enforcement (ICE).
Ankle monitors
The released detainees have ankle monitors, as a condition of their release from detention facilities. The New York Times reports an estimated 80,000 migrants wearing tracking devices live in the U.S.
The volunteers told Houston Public Media they've seen several cases of ankle monitors that were on so tightly, they caused wounds or discomfort.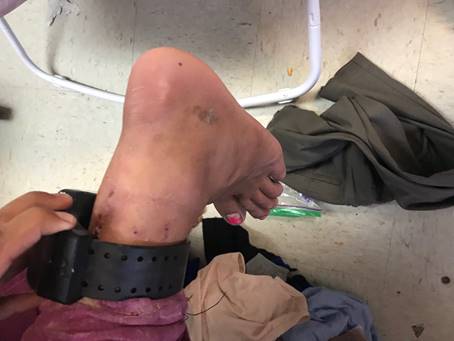 "The 19-year-old breastfeeding mother, whose ankle bracelet was so tight, that it created a wound, under the bracelet, that was getting infected," said Dr. Bowe, while referencing the photo (above). "I had to practically get on the floor with antibiotic cream and gauze, and try to dress a wound under an ankle bracelet. She could barely walk. And I actually had to do that out in the waiting area, because it was too painful for her to walk back into the clinic."
Tayler said this was not an unusual occurrence.
"Many of the ankle monitors that I saw were placed on too tightly," said Tayler. "These ankle monitors had blistered, they had chaffed, there were sections of skin that were raw. And, obviously, that leads you open to a secondary infection."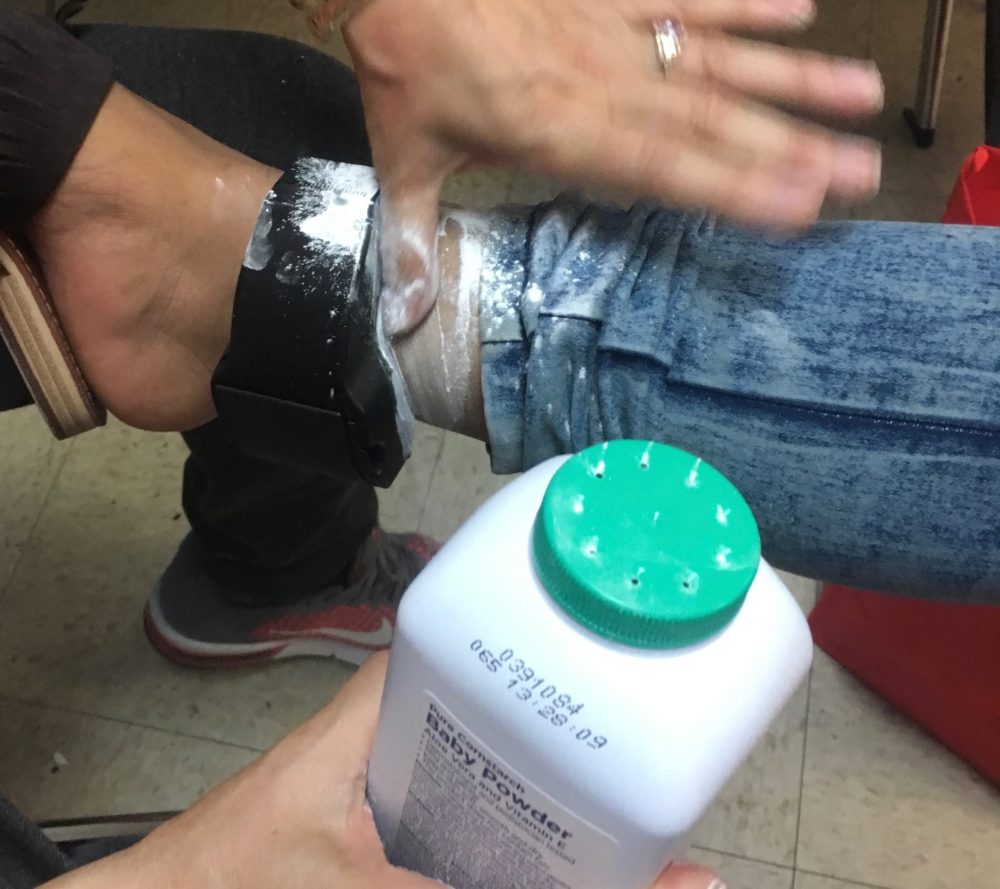 In an e-mail, a spokesman for ICE said detainees, "may be fitted for an ankle monitor by a contractor supporting those efforts. During the fitting process, comfortability, flexibility and constriction – among other factors – are considered."
He said detainees could "raise any physical-related concerns during the fitting process, and could follow up with their case officer after the initial fitting if they experience any subsequent discomfort or physical injuries."
But Ashtyn Tayler, the University of Texas student, said it's the injuries you can't see so easily that she worries about.
"There are so many people here who are traumatized. They're emotionally scarred," said Tayler. "And these will be the scars of a generation and this will be an entire mass of people that carry this with them for years, if this is not dealt with, and this is not unpacked, and it's not healed in a proper way."
Tayler said many of the migrants she met told her their treatment at the border has made them second guess their desire to come to the United States.