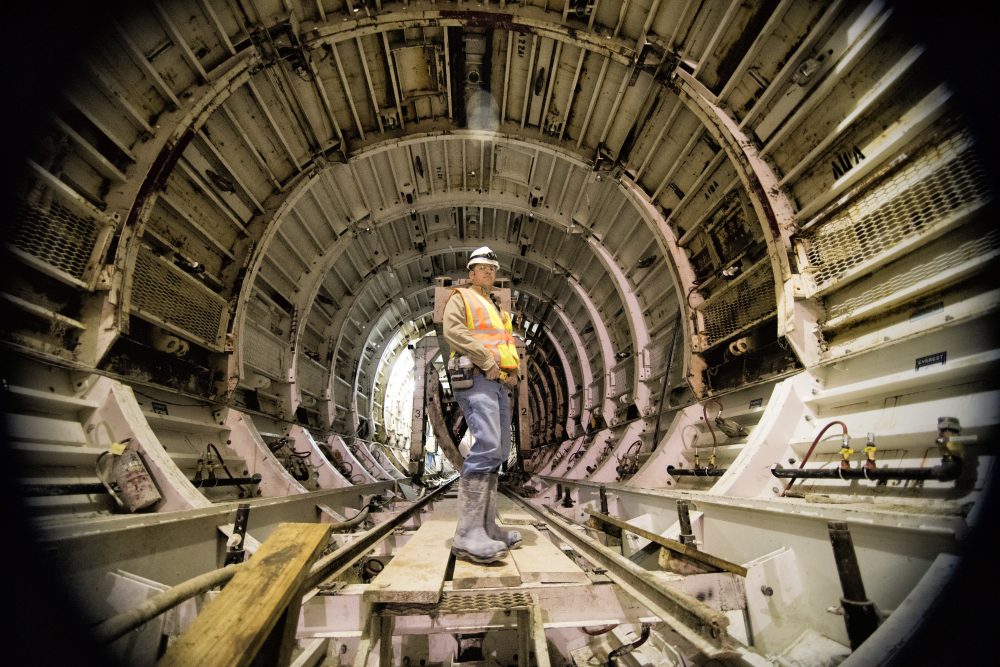 Hurricane season starts June 1st, and a Post-Harvey Houston has already cultivated a pool of potential flood mitigation projects. One of them is massive underground tunnels, to divert storm waters from flood-prone watersheds into the Houston Ship Channel.
So far, the Harris County Flood Control District is considering what a feasibility study would look like. The district declined to comment further, at this time. And while some local officials have said this idea is thinking "outside of the box," tunnels to mitigate flooding isn't a new concept.
Chicago's Tunnel and Reservoir Plan (TARP)
Construction for The Windy City's Tunnels and Reservoir Plan, or TARP, began in 1975. Also known as "Deep Tunnel," it's dubbed as "one of the largest civil engineering projects on Earth," by the Metropolitan Water Reclamation District of Greater Chicago (MWRD).
The system includes four huge tunnels that run almost 110 miles long; which are connected to three colossal reservoirs, to capture and store combined stormwater and sewage. According to the MWRD website, TARP protects 1.5 million structures from flooding, and touts over $180 million in annual flood damage savings.
By 2029, TARP is expected to have a holding capacity of over 20 billion gallons of wastewater and stormwater. In comparison, Hurricane Harvey dumped 1 trillion gallons of water on Harris County over a 4-day period, according to the Harris County Flood Control District.
"When I read about Houston considering those tunnels, it seemed to me just, like, a knee jerk reaction to the intensity of what Harvey brought to the region," said Mary Pat McGuire, an Assistant Professor of Landscape Architecture at the University of Illinois. She notes Chicago's flooding is different than Houston's, but McGuire said the overall sentiment remains the same.
"Too often there's a sense that you meet the big storm with the big infrastructure. And, the bigger the better. And so, tunnels... they speak to, I would say, an old thinking about how to use infrastructure to deal with natural systems. And, unfortunately, it's still a kind of left over paradigm of thinking that controlling water in these ways is still productive."
McGuire said she doesn't believe the city should be relying on TARP to the degree it is, and further building on ideas like retrofitting the city with green infrastructure, and encouraging things like permeable pavement, could have added benefits. MWRD also acknowledged additional flood control measures are important.
"Although TARP has been extremely effective in addressing [combined sewage overflows], our region also faces the danger of overland flooding not related to combined sewer overflows." said MWRD spokesperson Allison Fore, in an e-mailed statement.
"We have completed over 50 large projects such as stormwater reservoirs, levees, and streambank stabilization projects to address regional flooding and erosion issues. We operate 35 flood prevention reservoirs in Cook County. We are also undertaking an additional 70 local flooding projects including both green and 'gray' infrastructure in partnership with communities," said Fore.
Nonetheless, critics of Chicago's tunnel system say the over $3 billion project is not worth the money. The Chicago Tribune reports the system can easily be overwhelmed, costs could reach $4 billion, and alludes to a "payoff that wouldn't emerge for decades." Karen Hobbs, Senior Director of Midwest Advocacy for the National Resources Defense Council, said TARP was designed for a different time.
"Chicago's Tunnel and Reservoir Plan was designed 40 years ago for a region and city that fundamentally no longer exist: we have more roads, more parking lots, more buildings, more roofs. As a result, even as we're seeing more and more rain in increasingly violent bursts, that rain has fewer and fewer places to go," said Hobbs, in an e-mail. "Houston will have wasted billions of dollars if it doesn't learn from Chicago's experience and recognize it can't build its way out of the problem. Houston has to design a system that recognizes the reality of climate change, which means changing land use patterns and building codes."
San Antonio River Tunnel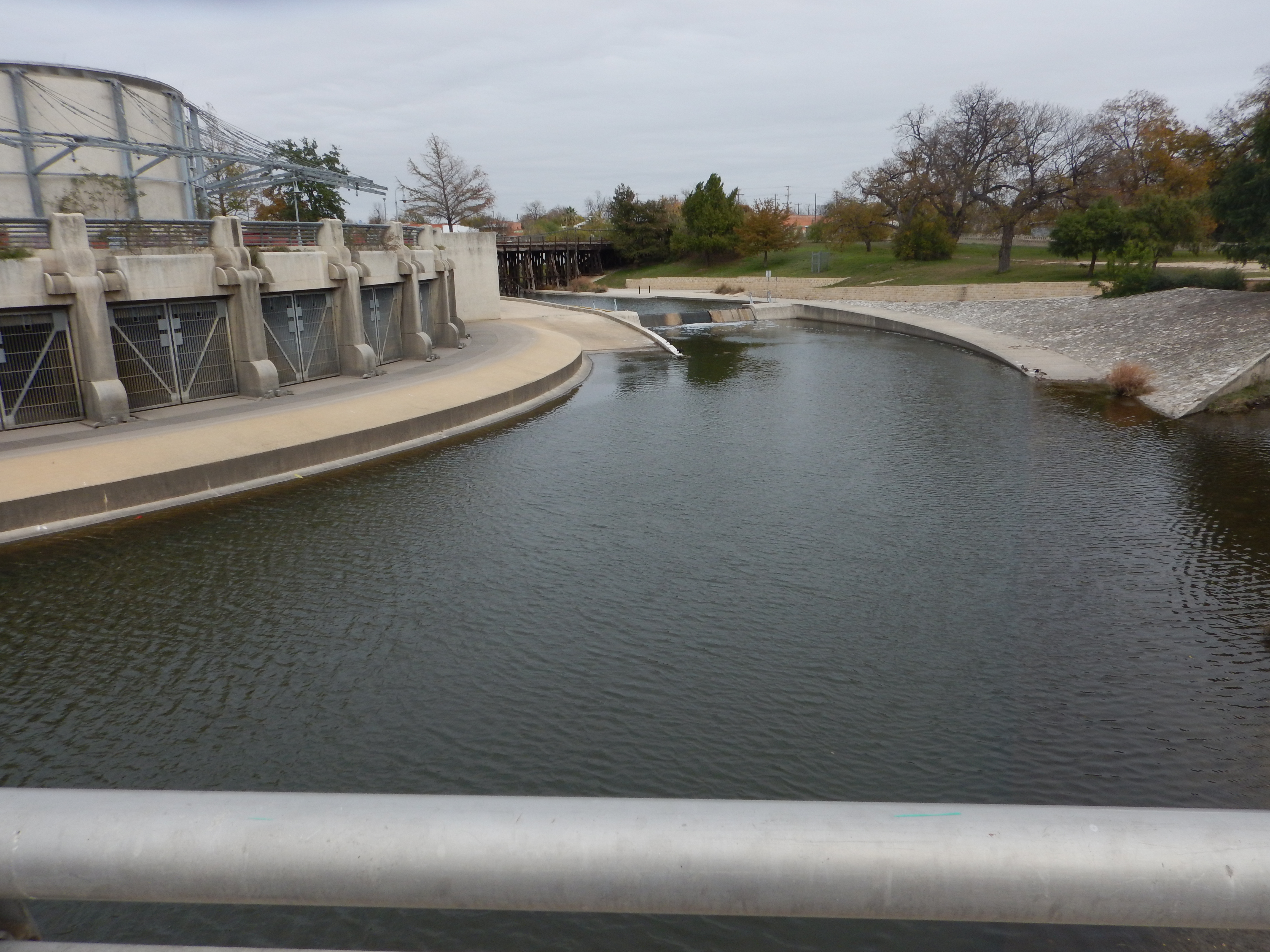 The San Antonio River Authority (SARA) said its San Antonio River Tunnel has been extremely successful, since it went online in 1997.
Melissa Bryant, of the San Antonio River Authority, said there been no problems with the tunnel. "It's amazing how many people do not know that we have a tunnel underneath the city downtown area that protects them from flood events," said Bryant. "We've seen it, again, pay for itself multiple times over the years, with the storm events that we've had.... And we've had other horrendous floods. We had one in '98, we had one in 2002, we had one in 2013, and 2015. So, it's definitely proven to cover the cost that it took to build the infrastructure."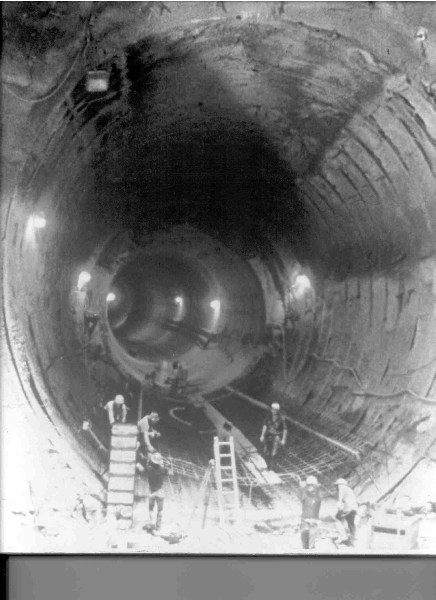 The San Antonio River Tunnel, just over 3 miles long, cost a little over $111 million. (And San Antonio's smaller, nearly 1-mile long San Pedro Creek Tunnel cost $39 million.) In contrast, Harris County's proposed tunnel could reportedly cost billions to build. Bryant said she'd definitely recommend Harris County to look into the idea. But, she also noted, San Antonio benefits from a various flood mitigation initiatives.
"When this tunnel was built, we were not doing a lot of the green infrastructure that we are today. So... we are now looking at things from a more holistic perspective," said Bryant. "We do feel that adding low-impact development, best management practices, and green infrastructure does add to the benefits of making sure that our flood management system is working well."
Bryant said San Antonio offers a rebate program for developers who do innovative things with stormwater management. And, in addition to its tunnels, San Antonio has multiple flood gates throughout the downtown area that act as an added buffer during flooding events.
Austin Waller Creek Tunnel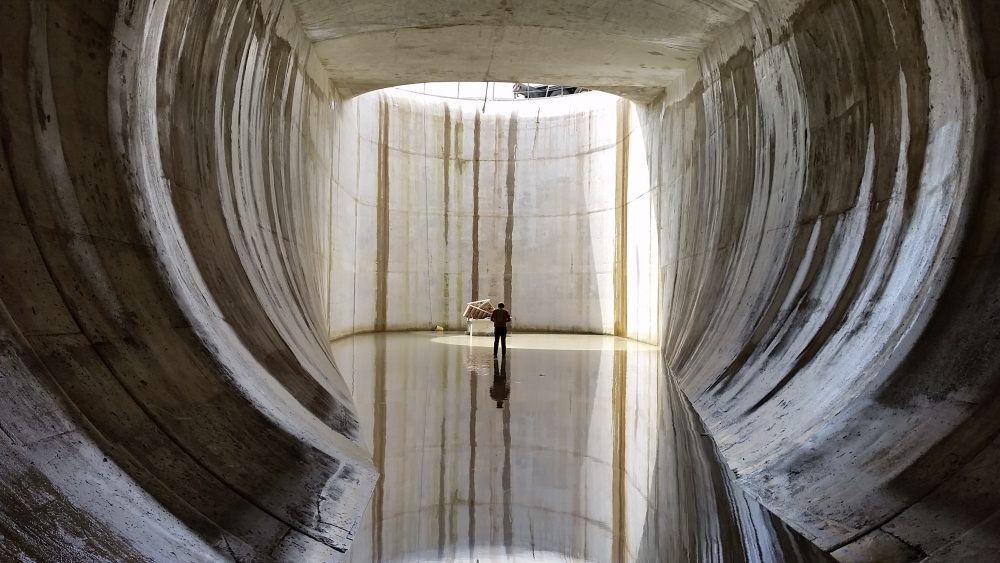 Construction for the Waller Creek Tunnel began in 2011, and Austin officials say the tunnel is nearing completion. The tunnel is expected to "remove more than 28 acres of downtown from the floodplain, protect 42 structures, 12 roadways and create an environment suitable for redevelopment," according to the Watershed Protection Department's website.
The tunnel has been accepting flood flows for a couple of years already. Mike Personett, Interim Director of the City of Austin Watershed Protection Department, said they're still in operational testing mode; learning how to operate the system and optimize its operation. Personett also said officials in Harris County want to learn how it works, too.
"Just a few weeks ago, Russell Poppe, Executive Director of the Harris County Flood Control District, was up here with one of his consultants to tour and discuss our facility," said Personett. "I think by all measures they were quite impressed with facility. And importantly, as I would describe, the flooding conditions in central Texas and the Austin area are very different from that experienced in southeast Texas and the Houston area. And so they were interested in just kind of assessing just how those different conditions might affect the feasibility of similar project in [Harris County]."
But earlier this year, attorneys for the City of Austin sent a letter to the tunnel's contractor, S.J. Louis; alleging massive construction flaws. S.J. Louis denies the allegations, and the two sides have been involved in a legal battle, concerning the contract and millions of dollars.
The City of Austin Watershed Protection Department declined to comment on the situation, due to pending litigation.