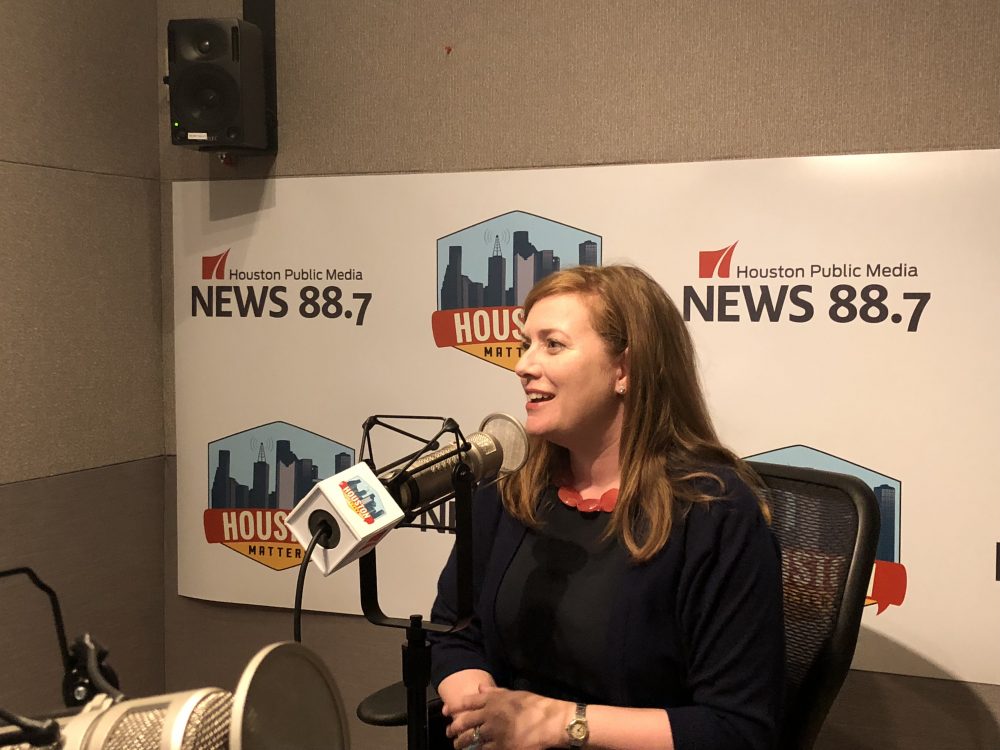 Texas' 7th Congressional District stretches across Houston's west side. For decades, it was considered a Republican stronghold. But in the 2016 presidential race, the voters of the 7th District went for Hillary Clinton. Now the district's incumbent congressman, John Culberson, is running for reelection, and re-energized Democrats see a chance to unseat him. Two Democrats are set for a runoff election this month.
"Really, I looked at the results, and I thought, 'Donald Trump doesn't represent this community, the Houston that I've spent nearly all of my life in,'" says Lizzie Pannill Fletcher, an attorney and community organizer. Trump's victory led her to join the record number of women running for Congress this year.
The same is true of Laura Moser, the founder of Daily Action, a web-based political pressure group. "Like many women and mothers across the country, I was horrified by the election of Donald Trump and decided to become more involved in politics," Moser says.
Both Democrats see Culberson as vulnerable because of his support of Trump. They also argue Culberson puts conservative ideology ahead of constituents' needs. Fletcher claims that Culberson has not been aggressive enough on getting infrastructure the district needs, especially to fight flooding.
"So what does that mean for me?" Fletcher says. "It means addressing flooding infrastructure first and foremost and recovery from Hurricane Harvey. Those have got to be the priorities for the 7th Congressional District."
Moser also says the district urgently needs better flood control infrastructure, and not just big ticket items like a third reservoir or a coastal spine.
"We need more detention. We need more retention. We need a lot of buyouts. We need to tie federal funding to disclosure of the risks, so if you're going to build something upstream, you need to consult with people downstream," Moser says.
The two Democrats see different means to accomplish their goals. Fletcher says she'd make better use of the opportunity she claims Culberson wasted.
"John Culberson will tell you he's on the Appropriations Committee, and he's in a great position to get us that funding," Fletcher says. "My answer is, I'm going for his seat on the Appropriations Committee."
Moser says she'd take a more collaborative approach. "One thing I've learned from working on these phone calls to Congress is to get anything done you have to form a coalition," she says. "There are members of Congress all over the country in places like Mobile and Miami and Charleston and Wilmington who are facing the kind of climate change that stands a chance of destroying Houston if we don't change it."
Fletcher and Moser each claim a record of advocacy. Fletcher's experience is local. She's fought for Houstonians in court, served on the board of what's now Planned Parenthood Gulf Coast, and volunteered with social justice group Texas Appleseed.
"I think that what distinguishes me among all of the candidates to date, and including John Culberson, is my commitment to this community and my lifelong advocacy for this community. I didn't just grow up here, but I have chosen to make my life here as an adult and build my career here," Fletcher says.
That echoes an attack the Democratic Congressional Campaign Committee made against Moser in February. The DCCC called Moser "a Washington insider who begrudgingly moved to Houston to run for Congress." But Moser says her Washington experience is a strength.
"I'm the only person in this race who has already made change in Washington, who has already proven that I can bring new voters into the process. Texas is not a red state. It is a non-voting state," Moser says. She argues that attracting new voters is the only way Democrats can flip the district, let alone the state.
Federal Election Commission records show donors from as far afield as Massachusetts and California have poured money into both Democrats' coffers. They also show hundreds of conservative and business groups doing the same for John Culberson. The Cook Political Report now rates the race in Texas' 7th a toss-up. But clearly Republicans are not about to let the seat go without a fight.