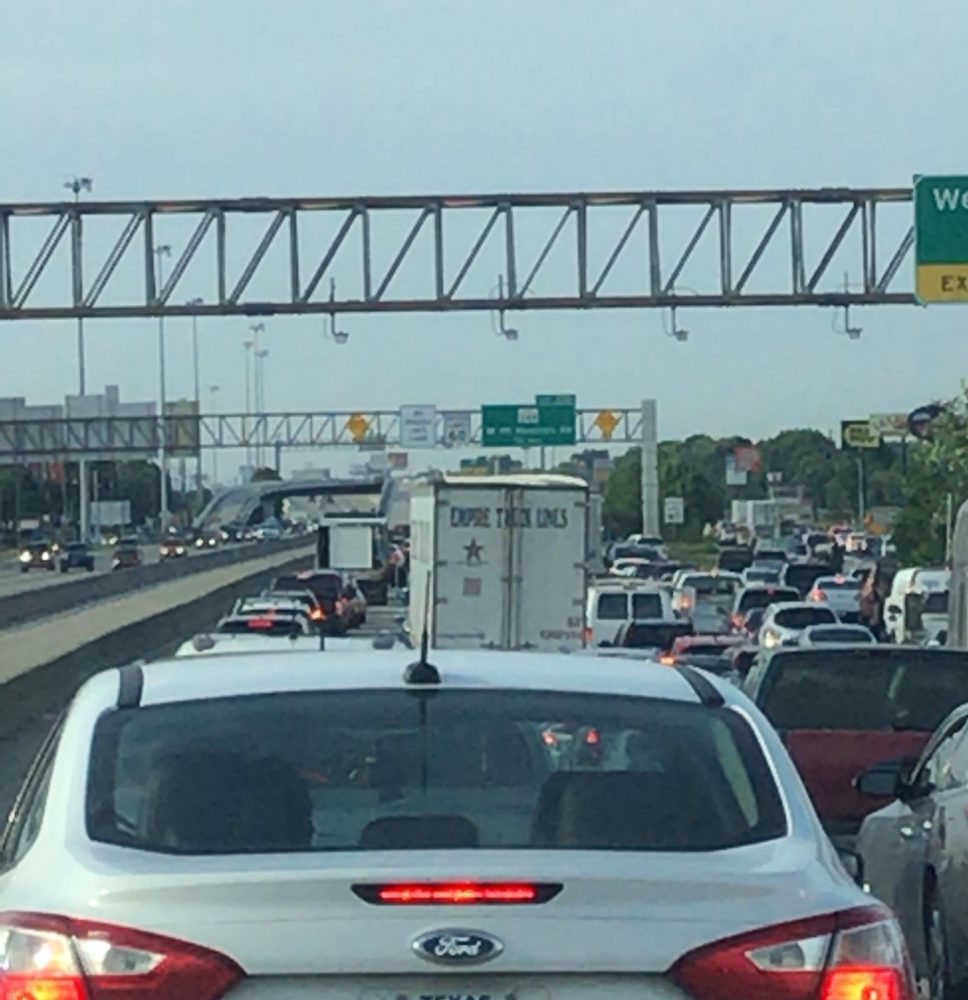 Every Houston commuter knows that traffic can often come to a crawl with very little warning. But what if there's a way to ease those inexplicable traffic tie- ups, by slowing drivers down before they make a bad situation even worse?
We got some perspective from Dinah Massie with Houston Transtar, the massive traffic control center where the freeways are under constant surveillance.
"We've seen mattresses, refrigerators, chickens, frozen chickens," said Massie. "All sorts of strange things hit our roadways."
But as Houston drivers already know, it doesn't always take a mattress in the main lanes to slow down traffic. Massie said that even the slightest action can set off a wave of slow-moving vehicles.
"When one person at the head of the queue slows down it creates an accordion effect," added Massie. "And so that single slowdown might delay traffic 30 minutes during rush hour."
But what if you could get some sort of notice so you'd know to reduce your speed before you hit that traffic jam? In some places they've been doing that for years with something called variable speed limits.
As for how those systems work, you'll have electronic speed limit signs placed over the road on a gantry. There are also sensors in the road that detect when the traffic starts to slow. That's so approaching drivers will know to decrease their speed to eliminate bunching.
One place you can see the variable speed limits in action is Washington State. Morgan Balogh is an engineer with the Washington State Department of Transportation.
"It slows people down prior to congested freeway systems up ahead," explained Balogh. "And it also allows us to close lanes and open lanes."
Balogh said they launched the system in 2010 to get drivers through a big construction project in Seattle.
"Drivers would be caught off-guard by stopped traffic ahead or slow traffic ahead and they would slam on their breaks or try to move out of the way of the stopped traffic or the stalled vehicle," said Balogh. "And so you get rear ends and sideswipes and some of those can be fairly high-speed."
And now that the variable speed system has been operating for a few years Balogh said it appears to be paying off.
"Initially we saw a reduction in collisions," said Balogh. "About a 17% reduction in collisions on the weekends, a little bit less of a reduction in collisions during the work week because of the commuters. But overall we saw about a 7% reduction in collisions."
So those are the results they saw in Seattle. But could you get the same results with variable speeds here in Texas? Thing is, the state has already tried it.
Beverly Kuhn is a researcher with the Texas A&M Transportation Institute. She headed up a variable speed study the legislature authorized in 2013.
To do that study Kuhn says they tried out temporary speed limit signs in three locations. They tested for congestion mitigation in San Antonio. It was tried out in a construction zone in Waco. Researchers also tested it on I-20 between Abilene and Fort Worth to see how the system would work in bad weather.
"When you reduce the likelihood of crashes, you improve the overall reliability of that facility," said Kuhn. "Even if it's two less crashes during peak periods then that's a lot less delay people experience during their commute because that crash hasn't occurred."
But if those findings were positive, why doesn't Texas have variable speed limits? We asked El Paso State Representative Joe Pickett. He co-authored the bill that authorized the original study.
"It's not because anybody thought it was a bad idea," responded Pickett. "No one has just picked up the banner and charged the hill with it."
Pickett said they were looking for ways to cut down on work zone fatalities and they also wanted to test variable speeds in other scenarios. But in the legislative sessions that followed it just didn't come up again.
"It's kind of fallen to the wayside because of other major pieces of legislation," added Pickett.
But Pickett said there's no reason they couldn't take up the variable speed issue in the future. They've have to pass another bill that would give TxDOT the authority to set variable speeds. Pickett added the legislation would also have to safeguard against abuses of the system, like speed traps.
"There are pockets and there are municipalities and there are places that have created that situation," said Pickett. "So that's just one of the negative comments that we would probably have to overcome."
Meanwhile back at Transtar, Dinah Massie said congestion on Houston's freeways continues to cause major problems for the region. She pointed to studies showing that for every hour of traffic delays, it costs the Houston economy about $100,000.
"Because people can't get the goods delivered," said Massie. "People can't get to work. Everything slows down and grinds to a halt. So people can't be as productive as they need to be in their day."
And Massie said anything that lets drivers know what to expect would be a huge help on the roads.