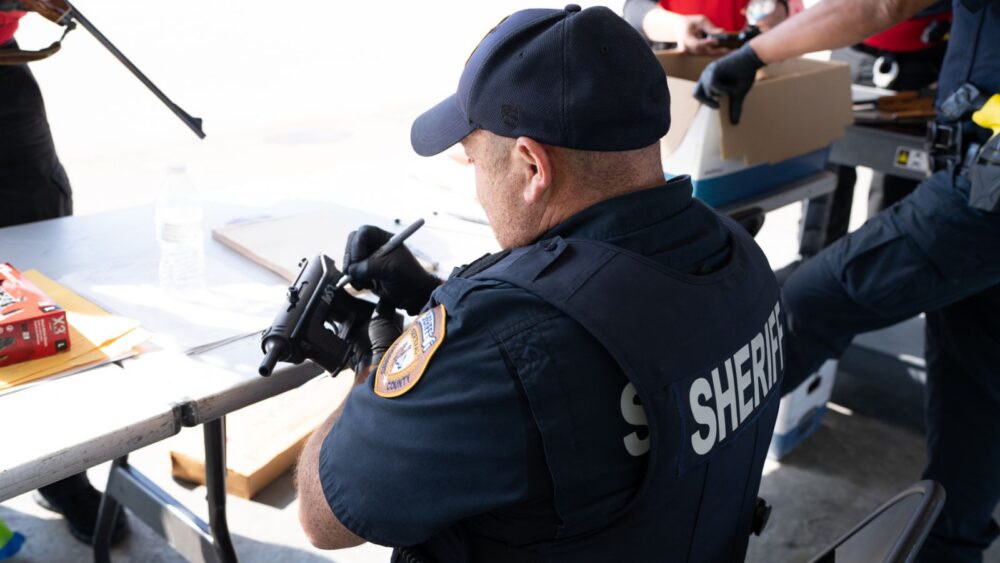 559 guns were turned in during the city's fifth gun buyback event on Saturday, and more than $170,000 in gift cards were distributed to those who surrendered them.
That's in comparison to 1,446 guns that were surrendered at the city's last event in July, and 1,252 at the event prior to that one.
Residents also brought in 124 semi-automatic rifles, 82 revolvers, 77 shotguns, 59 hunting rifles, 58 non-functioning firearms and four single-shot guns Saturday.
"We're moving the needle in a positive direction and our numbers are reflecting that things are moving in the right direction when it comes to gun violence in our community," Harris County Sheriff Ed Gonzalez said.
The event was part of the 2021 One Safe Houston initiative, created in response to an uptick in crime after the COVID-19 pandemic. The initiative focuses on crime prevention, crisis intervention, youth outreach and community partnerships.
Harris County leads the state in terms of intimate partner violence homicides, 96% of which involve firearms, Harris County Commissioner Lesley Briones said.
80% of school shooters under the age of 18 access firearms from their own home, or from the home of a relative, she said.
"What keeps me up at night is the safety of my three little girls and all children here in Harris County," Briones said. "This gun buyback is one of the many actions we are taking to prevent crime. We will never know how many youth suicides may have been prevented. We will never know exactly how many school shootings."
400 gun safes were distributed to participants, provided by the Houston Police Department and Spring Branch Management District. 1,000 gun locks were also distributed, according to Harris County Precinct 4.
Homicides committed with firearms were the primary cause of death among children in Harris County from 2016 to 2021, according to the precinct.
Firearm-related offenses increased by nearly 40% during those years.
Councilwoman Abbie Kamin said firearms can end up in the streets or sold at highly unregulated pawn shops if they aren't disposed of properly.
"Bringing them here today is one of the ways that each one of us can do our part to address gun violence by making sure guns do not fall into the wrong hands," she said during the event Saturday.
The city's gun buyback events are funded by $1.1 million in American Rescue Plan Act grant dollars. The city plans to host at least three more with that funding. They've collected more than 4,000 guns during the five buyback events hosted since 2021.
"No one gun buyback event, no one policy action will solve the problem of gun violence," Briones said. "We are committed to a holistic approach and to working across levels of government to create a safer Harris County."
The city has launched a number of initiatives to cut down on a constantly increasing gun violence rate.
A 2023 survey from Rice University's Kinder Institute for Urban Research showed 95% of 4,000 Houston residents supported proper gun storage education, and 91% supported funding community violence interruption programs.
93% of those residents supported requiring background checks on all gun sales, and 81% favored a handgun registry, according to that report.
Nearly half of the region's gun crimes were transportation-related, according to another Rice University report.