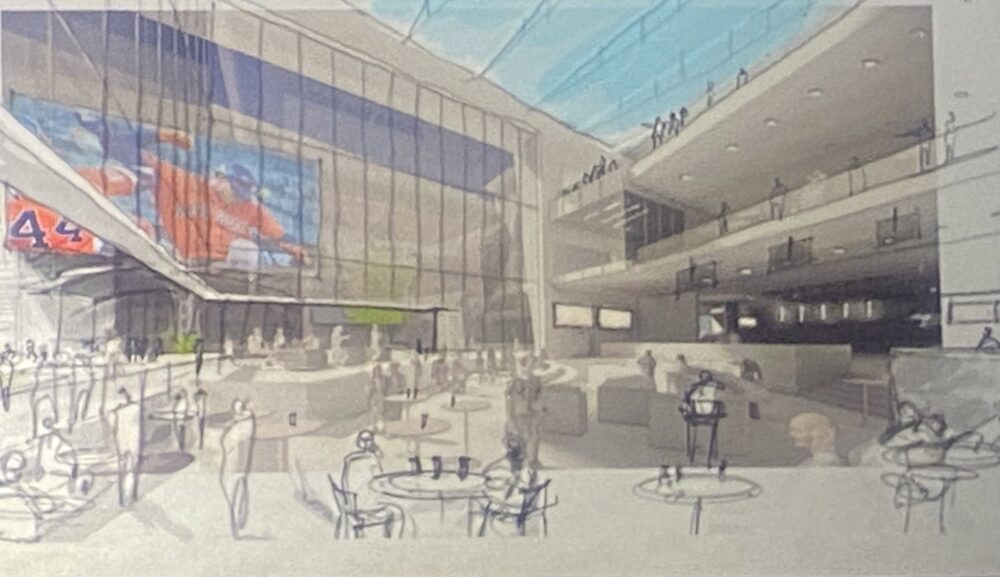 The Houston Astros' ownership group is building a hotel and entertainment district next to Minute Maid Park, with the goal of making that part of downtown a destination not just during baseball season but throughout the year.
Giles Kibbe, the Astros' senior vice president and general counsel, unveiled a schematic design for the forthcoming entertainment zone during Thursday's Central Houston State of Downtown event. He subsequently told Houston Public Media the plan is to construct a 17-story, 300-room hotel that is connected to 60,000 square feet of retail and dining space, along with a three-story gathering space where Houstonians and visitors can watch Astros games and other major sporting events on a big screen to be hung on the outside of the ballpark.
"It's a big project for us," Kibbe said. "We're hoping to break ground in November of next year."
The multi-million-dollar entertainment district, which will be funded by Jim Crane and other owners of the Astros, will be located immediately southwest of Minute Maid Park, on a 2-acre space bordered by Texas Avenue, Hamilton Street, Capitol Street and Avenida De Las Americas.
Kibbe said the property for the project, valued at more than $14 million by the Harris County Appraisal District, was acquired in 2016 and 2019. He said the Astros' plans to reimagine the space were inspired by mixed-use developments next to other MLB stadiums, such as The Battery in Atlanta, Texas Live! In Arlington and Ballpark Village in St. Louis.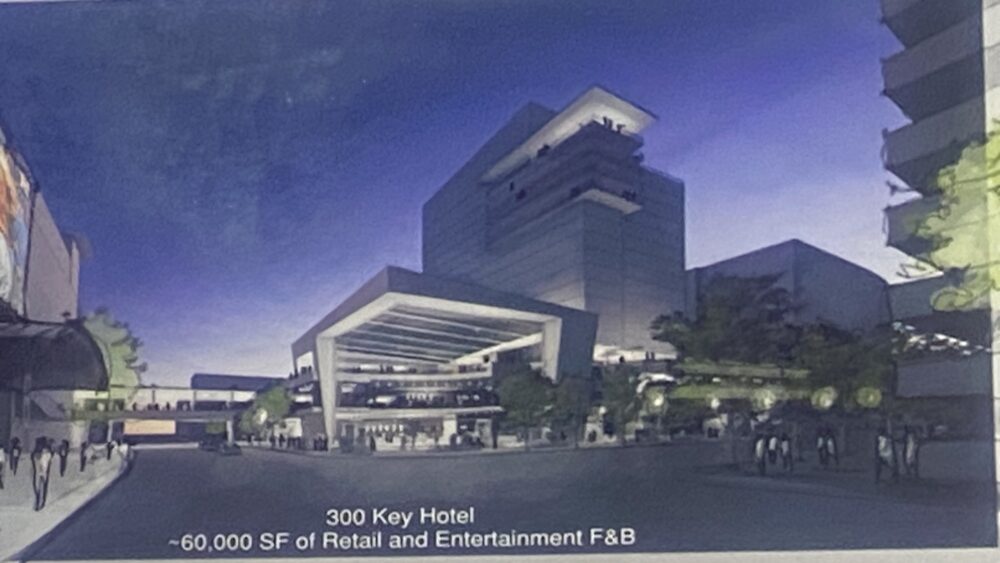 "It's something we've been looking at for a very long time, well before 2016," Kibbe said. "It was just acquiring the right pieces of property and putting it together. We finally got it to where we're ready to go."
While there are many details to be worked out, including a hotel brand and the specific restaurants, bars and shops that will fill the retail space, Kibbe said the plan is to construct sky bridges on the north and south sides of the entertainment complex, one of which will connect directly to Minute Maid Park. The large game-viewing area will be enclosed by glass, with windows facing the ballpark that can be opened when the weather is nice, Kibbe said.
The outdoor big screen that will be viewable from the gathering space will show Rockets and Texans games in addition to Astros games and other sporting events, according to Kibbe, who said the venue also could host live music performances.
"Our goal is it's an attractive area year-round, not just on game days, and it'll be a really great, happening venue," Kibbe said. "If you want to go to a public place to watch a sporting event, this is going to be the spot to go to."