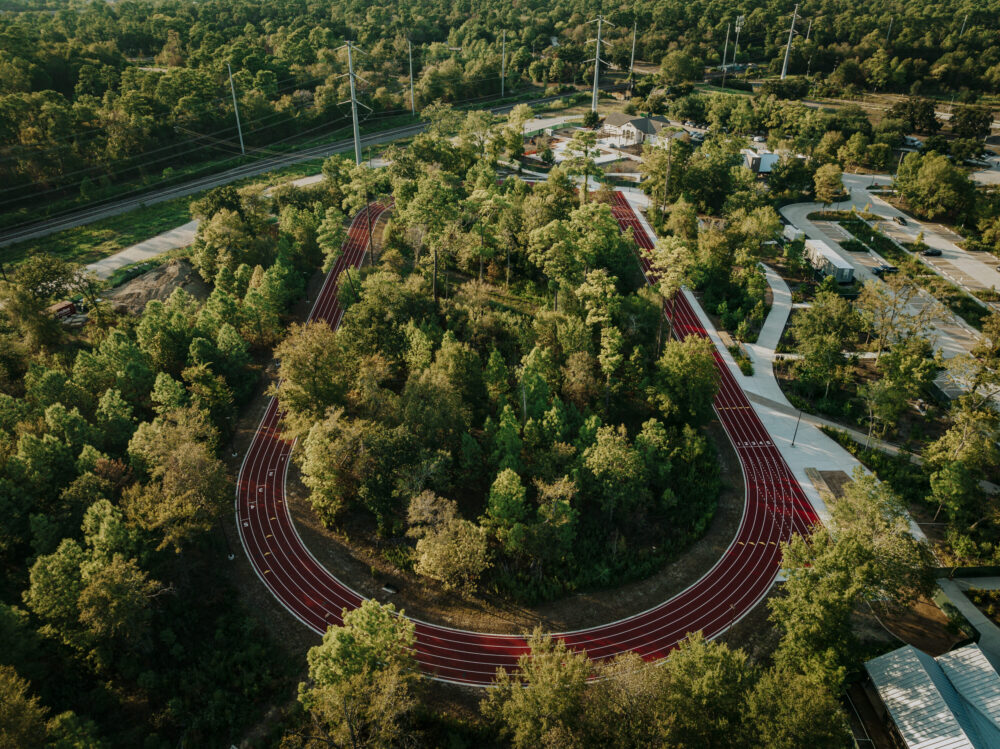 Houston's largest urban park will unveil its latest amenity Saturday with the grand opening of the Memorial Park Running Complex, which includes a timing track, new trails, viewing decks, an event plaza and other gathering spaces.
The centerpiece of the $13 million running complex, situated near the new land bridges on the south side of Memorial Drive, is the Roy H. Cullen Timing Track. The five-lane, 400-meter track is largely surrounded by native plants and trees, and the track circles around the same vegetation.
"Knowing that Memorial Park is really a runner's park in so many ways, we created a space for runners, walkers, trainers, anyone who just loves being out in nature and enjoys that kind of experience to come in and try out our new timing track," said Holli Clements, the vice president of engagement for the Memorial Park Conservancy. "It's going to be quite unique from probably any other track and field experience that you could find here in Houston."
Children younger than 12 years old will be the first to run on the new track during a "kids dash" that will be held immediately after a ribbon-cutting ceremony at 10:30 a.m. The free grand opening event spans from 10 a.m.-2 p.m. and also will include a DJ, giveaways, a "Vendor Village" with local businesses and organizations and food and drinks for purchase.
The running complex is the latest project delivered as part of Memorial Park's 10-year plan, initiated in 2018, with a new sports complex, wetlands area and the aforementioned land bridges and corresponding prairie having opened in recent years. The two land bridges, which cross over Memorial Drive, opened in February and connect the north and south sides of the park.
RELATED: Uptown Houston gets grant funding for pedestrian pathway across Loop 610 and into Memorial Park
Clements said the running complex should continue to shift park users from the north side – which includes the sports complex, Memorial Park Golf Course, the Clay Family Eastern Glades and the Seymour Lieberman Trail – to the south side. The Seymour Lieberman Trail is a 3-mile loop that has as many as 10,000 users per day, according to Memorial Park Conservancy president and CEO Shellye Arnold.
There are now more places to run and walk on the south side of Memorial Park, which includes the Houston Arboretum & Nature Center and series of hiking and mountain biking trails.
"Some of it is about really shifting, kind of shifting the gravity and the distribution of the users of the park and giving them an introductory experience to our south side trails in our Bayou Wilds area," Clements said. "So many of our runners that come are regulars on the north side. Some of them have never even come across Memorial Drive and come to the south side of the park. So we hope that this will be a really fun new way for them to engage and experience the south side of Memorial Park."
The running complex, which covers about 3 acres in the 1,500-acre park, also is meant to be a central gathering space, according to Clements. She said its event plaza can be rented out for private events such as corporate lunches, weddings and other special occasions.
Clements said a café, which will include healthy options for breakfast, lunch and dinner, is expected to open in the running complex early next year.
"The event plaza is going to be a space for gathering, which is something we heard people wanted in our master plan input sessions," Clements said. "We want spaces to gather in the park for community and for connection, and the event plaza is going to be a perfect space for that."