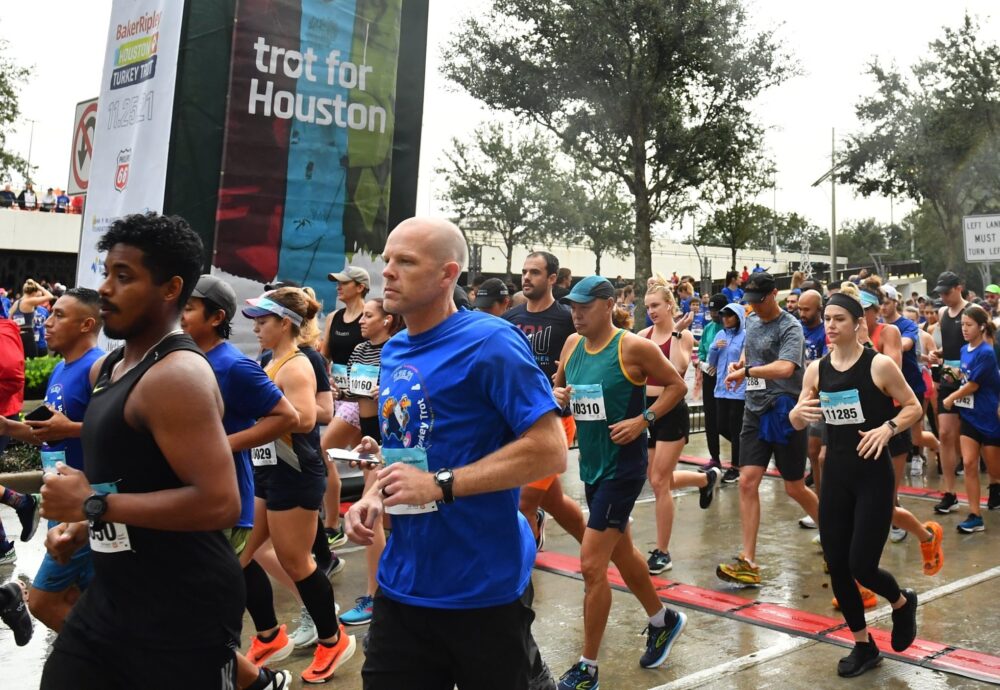 A Houston nonprofit has pulled the plug on a beloved Thanksgiving tradition.
The BakerRipley Houston Turkey Trot, an annual family-friendly race held every year since it started in 1992, is being discontinued, the nonprofit announced last week. BakerRipley spokesperson Elizabeth Hale said Tuesday that the 170 people who had already registered for this year's event, which was scheduled for Nov. 23 in the Galleria area, have received full refunds.
Hale said BakerRipley, which was founded under a different name more than a century ago, had run the turkey trot since 2011 and seen a gradual decline in participation in recent years. She also said costs to put on the race have escalated and the event has not been a significant fundraiser for the community development organization, which operates a variety of programs and services for children, adults, veterans and businesses in the region. So BakerRipley wants to better utilize its resources and focus more on community service initiatives, Hale said.
"This decision comes after a full and comprehensive review as part of a larger effort to realign our resources and initiatives with our mission and purpose," the nonprofit said in a news release. "BakerRipley remains committed to serving the community's evolving needs."
The turkey trot, which celebrated its 30th year in 2022, has been the largest annual event for the nonprofit, once drawing more than 10,000 participants on an annual basis for a 5K, 10K and Kid's Race, according to information provided by BakerRipley leading up to last year's race. Hale said participation dipped to fewer than 2,500 runners in 2021, with the COVID-19 pandemic being a factor, before rebounding last year with more than 6,000 participants.
While transitioning away from the popular Thanksgiving Day run, BakerRipley said in its news release that it looks forward to "introducing innovative initiatives that will continue to nurture the spirit of community and cooperation." Hale said the nonprofit also is coordinating with the third-party race organizer to potentially find a new sponsor that could resurrect Houston's turkey trot.
"Thank you for being a vital part of the Turkey Trot legacy," BakerRipley added. "Your support and participation have been the cornerstone of its success, and we are eager to channel that spirit into exciting new avenues of community engagement."
BakerRipley's event was the only large "turkey trot" within the Houston city limits. There are multiple Thanksgiving Day runs in the surrounding areas, including the Bay Area Turkey Trot in Clear Lake, the Pearland Turkey Trot, the Lake Jackson Turkey Trot and the YMCA Run through the Woods in The Woodlands.