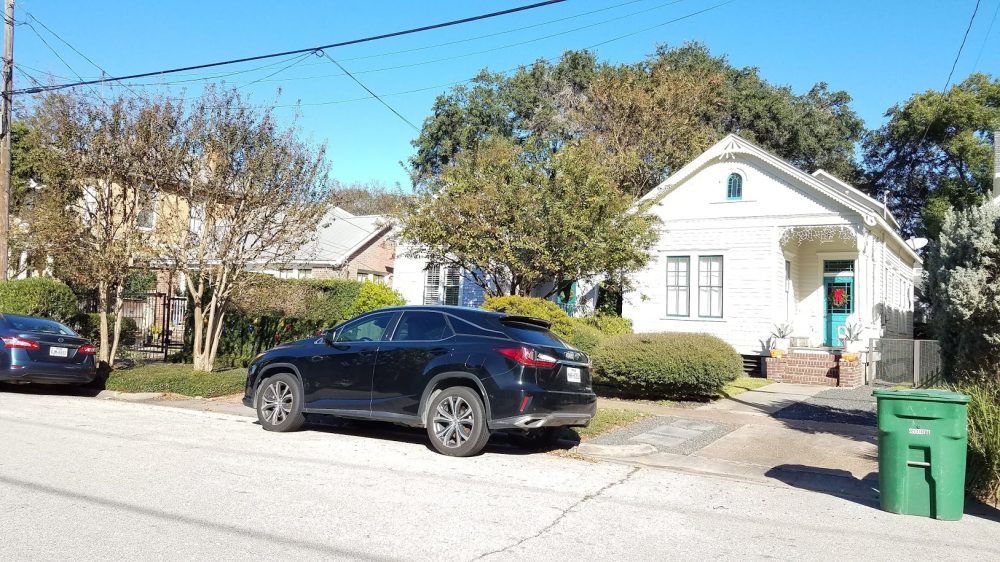 The Houston City Council approved a series of changes this week to the city's residential building and parking codes that aim to expand affordable housing options and improve walkability and pedestrian safety.
Starting Nov. 27, driveways that feed from front-facing garages into streets will be prohibited on new, small-sized lots in 10 Houston neighborhoods that are historically underserved and have been designated as "complete communities," such as Acres Homes, Gulfton, Kashmere Gardens, Near Northside, Sunnyside and the Third Ward. Frontloading driveways on residential lots less than 33 feet wide will be allowed for new developments in other parts of the city as long as the properties do not have side or rear access and are at least 1,400 feet away from a school, and the driveways must be no more than 12 feet wide while leading to a garage that is set back at least 20 feet.
The city's Planning & Development Department, as part of the 3-year-old Livable Places initiative, had previously proposed a citywide ban on those types of driveways on small residential lots, because they reduce sidewalk and green space as well as on-street parking. But the idea received pushback from homebuilders and developers, because those driveways are popular in what is historically a car-centric city.
The building code amendments approved by the city council on Wednesday represented a compromise that will "substantially benefit neighborhoods and the city as a whole," according to Mayor Sylvester Turner.
"The new standards will improve neighborhood pedestrian safety across Houston and reduce the number of times pedestrians and vehicles can collide in driveways," said Margaret Wallace Brown, the director of the planning department. "They also increase the distance between garages and sidewalks, allowing automobiles to park safely on driveways."
The changes will apply to residential development and redevelopment within the city limits and will not affect existing homes or developments that already have begun the permitting process. They also will not override deed restrictions in a community.
The same goes for some other changes approved Wednesday that intend to incentivize more small-scale housing options and expand Houston's stock of affordable housing. The city is increasing the maximum allowable size of secondary dwelling units, such as garage apartments, from 900 to 1,500 square feet while also easing parking-space restrictions for those developments.
For units less than 1,000 square feet, no additional parking spaces will be required if the primary dwelling on a property already has two spaces. An additional space will be required for secondary dwellings between 1,000 and 1,500 square feet.
For the first time since Houston's Chapter 42 building code ordinance was adopted in 1982, the city also will be allowing courtyard-type developments that can front green spaces instead of public streets. Individual driveways will be prohibited for these types of developments, which can have detached parking spaces and are required to have pedestrian connections.
Also being incentivized are small-scale, multi-family developments that contain between three and eight units, which were cost-prohibitive to develop under the existing building code, according to Dipti Mathur, a division manager with the planning department. These developments can have only one driveway from an abutting public street and must have pedestrian connections to a sidewalk.
Both the courtyard and multi-unit developments must be no more than 30 feet in height, so as not to disrupt the character of neighborhoods primarily filled with single-family homes. One parking space will be required for units up to 1,000 feet, with two spaces for larger units and one guest parking space required for every six units. No parking will be allowed in front of those developments.
Mathur said she is "excited" to see how the changes expand Houston's housing options in the coming years, a sentiment that was echoed on a city council that voted nearly unanimously to approve them – with at-large member Michael Kubosh being the lone dissenting vote. Turner thanked city planners, homeowners, neighborhood advocates and stakeholders from the building and development industry for collaborating on the changes, while acknowledging they might need to be adjusted as they are put into practice.
"What we voted on and approved today allows us to have transformational housing options for various lifestyles and income levels in the city of Houston," council member Tiffany Thomas said. "This is definitely the right direction for our city."