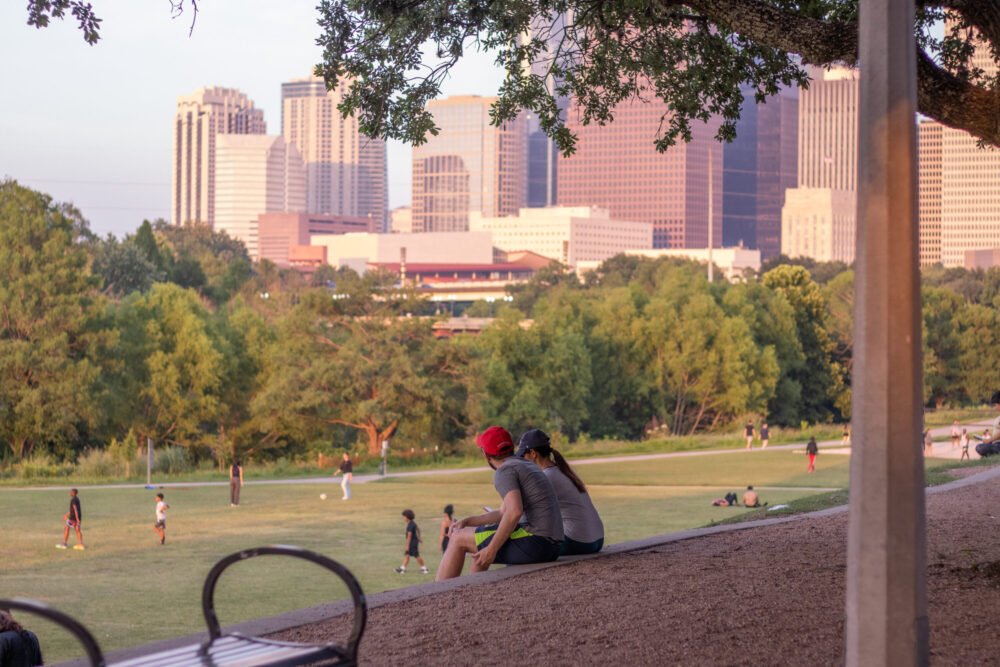 Less than 2 miles separate two of the biggest and most popular parks in Houston.
But for the city's cyclists and pedestrians, getting between Buffalo Bayou Park and Memorial Park feels like a long trek filled with hazards. There is no trail along the bayou, and Memorial Drive – which is lined by homes and businesses, often busy with vehicle traffic and has a narrow, shared-use sidewalk running alongside it – is the only major roadway that connects the two urban parks.
"They're so close, yet because there's no safe, attractive connection between them, they feel so far away from each other," said Joe Cutrufo, the executive director of BikeHouston, a local nonprofit that advocates for cyclists.
That gap will be closing, though, as the Houston Parks Board is receiving $8.1 million to help make it happen. The Buffalo Bayou Greenway Connector project was selected for funding as part of the Places 4 People initiative by Harris County Precinct 4 Commissioner Lesley Briones, who announced Wednesday that the effort will provide a total of $170 million to 32 different infrastructure projects in her precinct, which includes northwestern and western parts of the county.
Among them are 13 other trail connection projects, along with a series of Brays Bayou under crossings, street intersection and sidewalk initiatives, roadway drainage projects, community parks and METRO bus shelters.
RELATED: Memorial Park land bridge opening prompts call for better bike access
Houston Parks Board president and CEO Beth White said the nonprofit already has invested about $5.4 million into the initiative on land acquisition, work along the bayou and preliminary design. She said more detailed design work for the project, which is expected to cost a total of $13.5 million, likely will begin before the end of this year.
The trail connector will be part of the broader Bayou Greenways initiative that includes a total of 150 miles of trails along nine Houston bayous, although it was not initially part of the plan.
"We've been working on it quietly for a while," she said. "It wasn't in the original scope of the 150 miles, but we've had our eye on making that connection for some time."
Cutrufo said connecting Buffalo Bayou and Memorial parks is a "no-brainer" in the city's trail network, which has gradually expanded in recent years as city and county leaders have committed resources to better utilize the region's green spaces and also to provide more multimodal transportation options.
RELATED: Houston inching away from car-centric reputation with slate of multimodal infrastructure projects
The two parks both include well-used trails, with Memorial Park featuring a popular bicycle loop, but the trails do not extend east of Memorial Park or west of Buffalo Bayou Park, leaving a gap of a little more than 1 mile between them. On weekends when the weather is nice, Cutrufo said walkers, runners and cyclists often can be seen crowding the sidewalk between the two parks, which is on the south side of Memorial Drive.
So the planned connector trail "can't come soon enough," according to Cutrufo.
White said the vision is to extend the existing Buffalo Bayou Park trail to the west, keeping it along the bayou as long as possible before navigating it to Memorial Drive to the north. The road feeds into Memorial Park.
"This is definitely a big deal," Cutrufo said. "It's a critical connection between two of Houston's biggest and best parks."