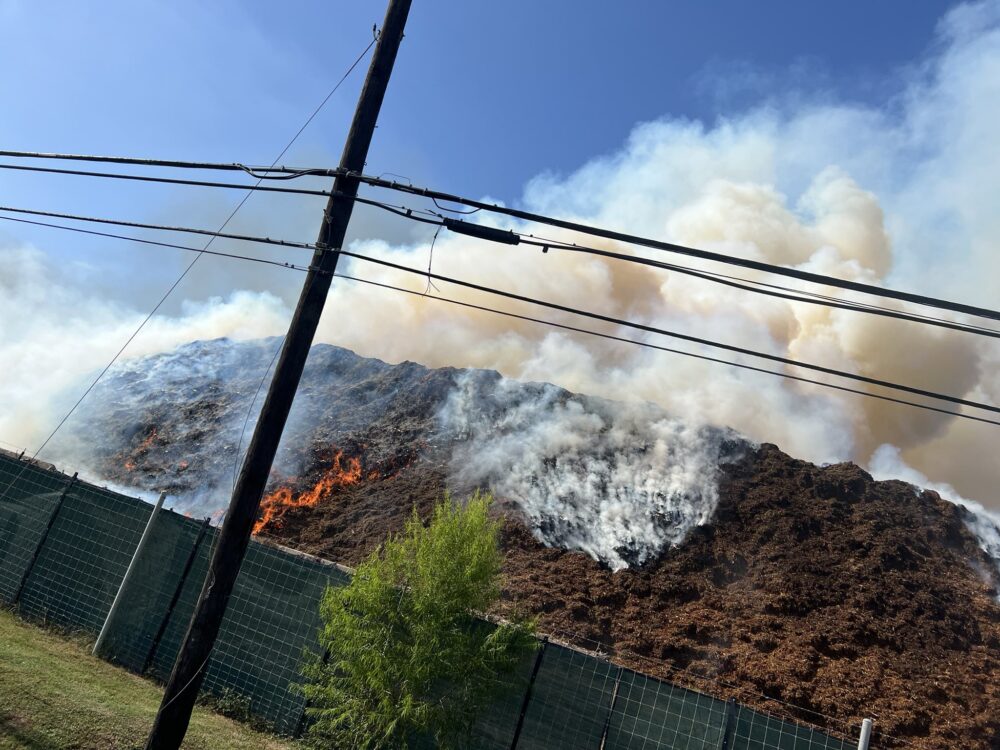 The Houston Health Department continues to monitor air quality near the site of a mulch fire that ignited Sunday afternoon and burned throughout the night in the northwest part of the city.
No elevated levels of pollution had been detected near the fire as of Monday morning, according to health department spokesperson Porfirio Villarreal. No shelter-in-place or evacuation orders have been given by authorities, although Houston Fire Chief Sam Pena wrote Sunday night on Twitter that residents in the area who are prone to respiratory problems might want to remain indoors or wear a mask when they go outside as a precaution.
The fire erupted at about 2 p.m. Sunday at the Living Earth facility in a largely industrial area at 5802 Crawford St., sending plumes of smoke into the air that could be seen miles away. The fire has remain contained within the facility, according to Houston Fire Department spokesperson Martee Black, who said no injuries or fatalities have been reported.
"We still have one of our investigators on the scene doing some air sampling," Villarreal said Monday. "So far, we've got no elevated levels of pollution."
@HoustonHealth is conducting air monitoring in the area. At this time, there is Nothing that would prompt a shelter in place or evacuation

⚠️As a precaution, any person(s) prone to respiratory problems may want to remain indoors or cover with a mask when outside near the area. https://t.co/T2ihECWyQX

— Chief Samuel Peña (@FireChiefofHFD) August 14, 2023
The fire was ignited by equipment at Living Earth and was spread by wind, according to the Houston Fire Department, which said a February fire at the same Living Earth location started much the same way. That fire resulted in about $600,000 in damages for the business, while the fire department said it saved about $2 million in potential damages on Sunday by preventing the fire from spreading to a nearby warehouse.
Firefighters battled the latest fire through the night to ensure it did not spread and early Monday morning turned over the scene to a private fire protection company, US Fire Pump. Citing a representative from US Fire Pump, HFD spokesperson Sedrick Robinett said Monday the fire could take up to a week to extinguish. Crews need to spread out the burning mulch in order to put out the fire.
"They have a water source in place as well as tractors to help move the huge piles of mulch," Robinett said of US Fire Pump.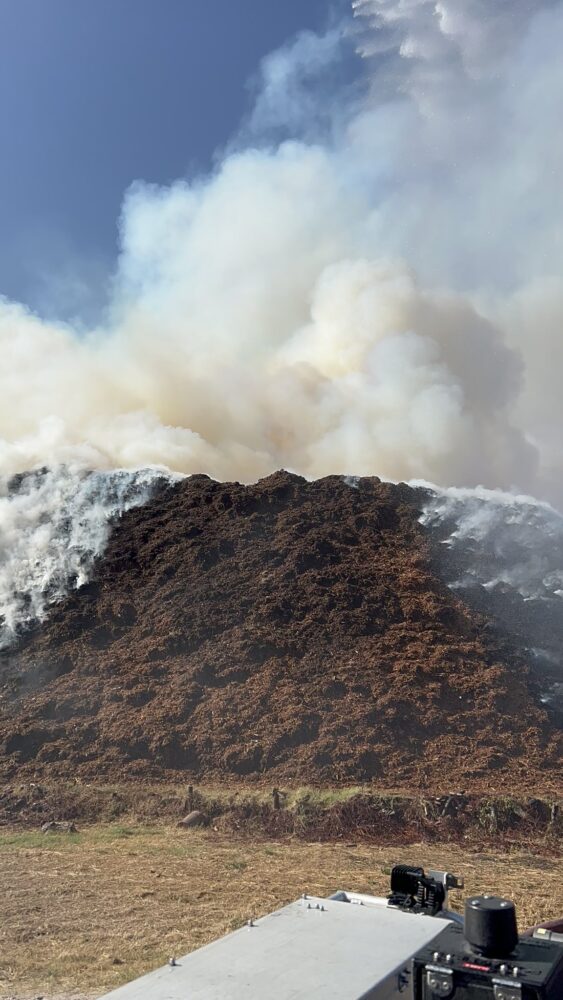 Living Earth, which operates 15 locations around the Houston area, recycles organic waste such as brush and glass clippings while manufacturing compost, mulch and soil.
HFD initially received a call about a "small grass fire" and one burning pile of mulch, according to Black, who said the situation worsened after firefighters arrived.
"Due to unfortunate, uncontrollable circumstances, the fire did spread to the entire facility," Black said. "It was contained at just the facility with no outward spread."