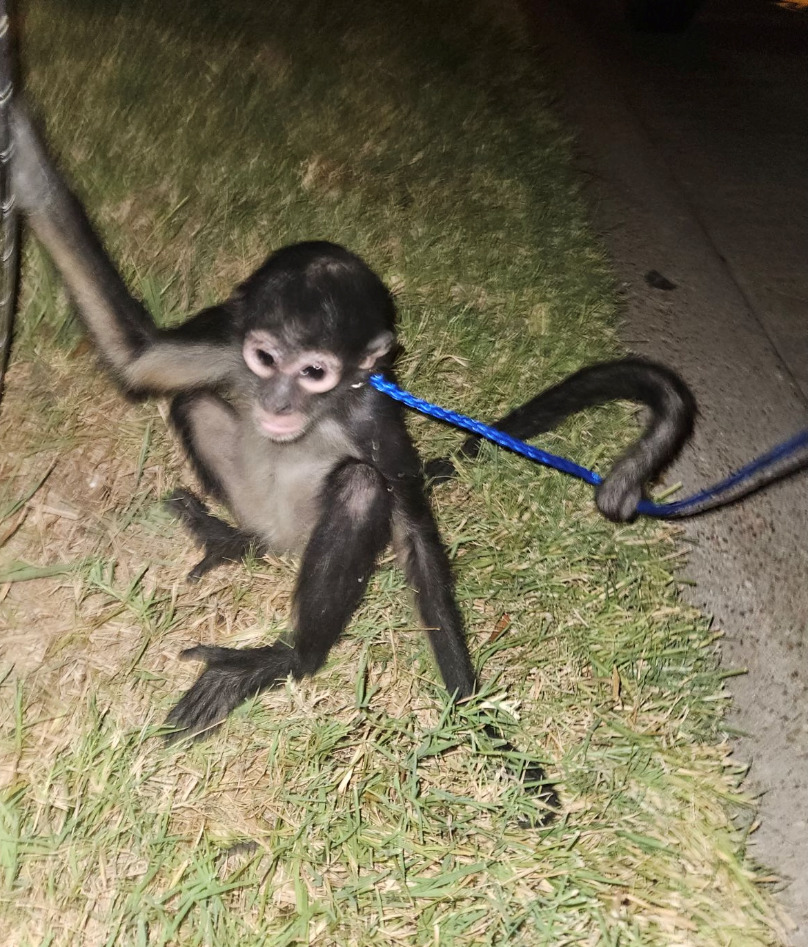 Monkey business is apparently part of the job for Houston police officers.
A resident of the southeast part of the city called the Houston Police Department on Monday night to report they had been bitten by a black monkey that was on the loose, according to department spokesperson Shay Awosiyan. Responding officers told news reporters at the scene they found the animal hiding under a pickup truck and hanging from one of its axles, and they decided to call Houston's animal control organization after being told the monkey had been bitten by a dog.
A representative of BARC, the city's animal control and adoption agency, managed to capture the monkey and turn it over to a local wildlife center, according to BARC spokesperson Cory Stottlemyer.
"I really wasn't expecting a monkey," HPD officer Isaiah Velazquez told reporters at the scene. "But it was a one-in-a-million thing when I got here. I've seen a monkey today."
Awosiyan said the resident who called HPD and said they had been bitten, in the 9800 block of Telephone Road, declined treatment from responding paramedics. Stottlemyer said BARC was told the monkey might have belonged to a nearby resident, but the potential owner they identified either did not answer or was not home.
A woman who answered the phone Tuesday at the Houston Humane Society Wildlife Center, which took possession of the monkey, said BARC has asked the organization to continue trying to find its owner and return it. She said the animal is a male spider monkey.
It is legal for Houston residents to own a monkey as long as its adult weight does not exceed 20 pounds, Stottlemyer said.
HPD officer Jesse Rodriguez, another responding officer, told reporters at the scene the monkey appeared to have blood and vomit coming from its mouth and "looked pretty beat up," likely from its encounter with the dog.
"We wanted to get it," Velazquez said. "But knowing that it was already kind of feisty and having been attacked by a dog, it was probably already in fighting mode. So we really didn't want to put ourselves (in danger) and get bit by a monkey. So we just decided to call BARC."