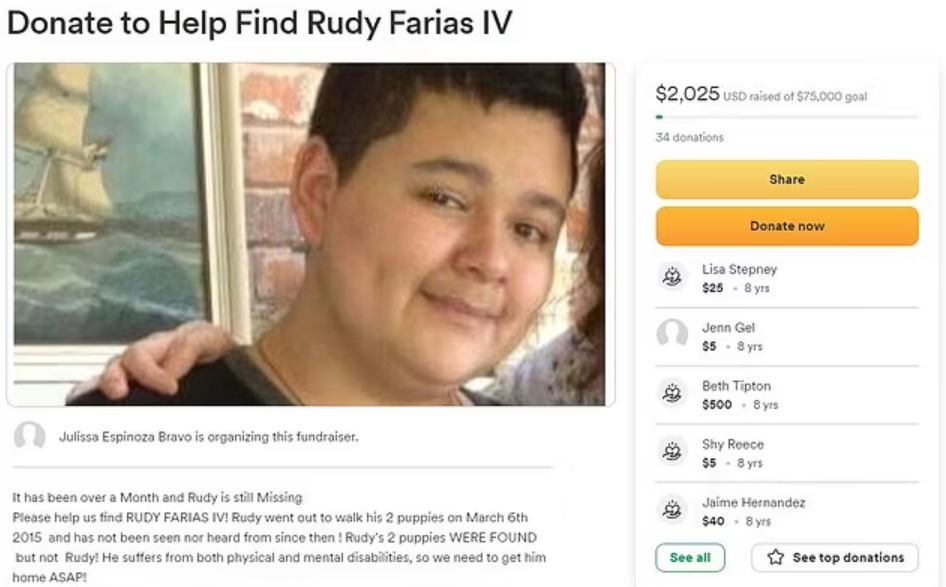 The mother of a Houston man who was falsely reported being missing for eight years has been banned from the internet's most notable fundraising platform.
GoFundMe confirmed to Houston Public Media that Janie Santana has been banned from the service and will not be allowed to participate in any future fundraisers.
The news comes days after the stunning confirmation from Houston police that Rudy Farias, who was reported missing in 2015, was never actually missing. Authorities said Farias returned home the next day and his mother actively misled investigators in the subsequent days, months and years.
"GoFundMe has zero tolerance for the misuse of our platform and cooperates with law enforcement investigations of those accused of wrongdoing," the company said in a statement.
The fundraiser, entitled "Donate to Help Find Rudy Farias IV," was created eight years ago and had not had any recent donations.
Santana has kept a low profile since Farias was reported "found" outside a southeast Houston church on June 29. But some members of the family have been outspoken in public interviews.
Michelle Rodriguez, first cousin of Farias, told reporters last Friday that she believes Santana should be held accountable.
"And the police letting her go, the DA letting her go, letting her walk free because they don't have no proof and they say that there [is] no sexual assault proof?" Rodriguez said. "They're not gonna know that if they didn't take him to go get medically checked. And they refused to do that."
Local activist Quanell X told reporters Farias claimed he was sexually abused by his mother in an interview with police, but Houston police pushed back on that in a press conference last week.
Houston police say their investigation into the saga remains ongoing.
Patricia Ortiz contributed to this report.