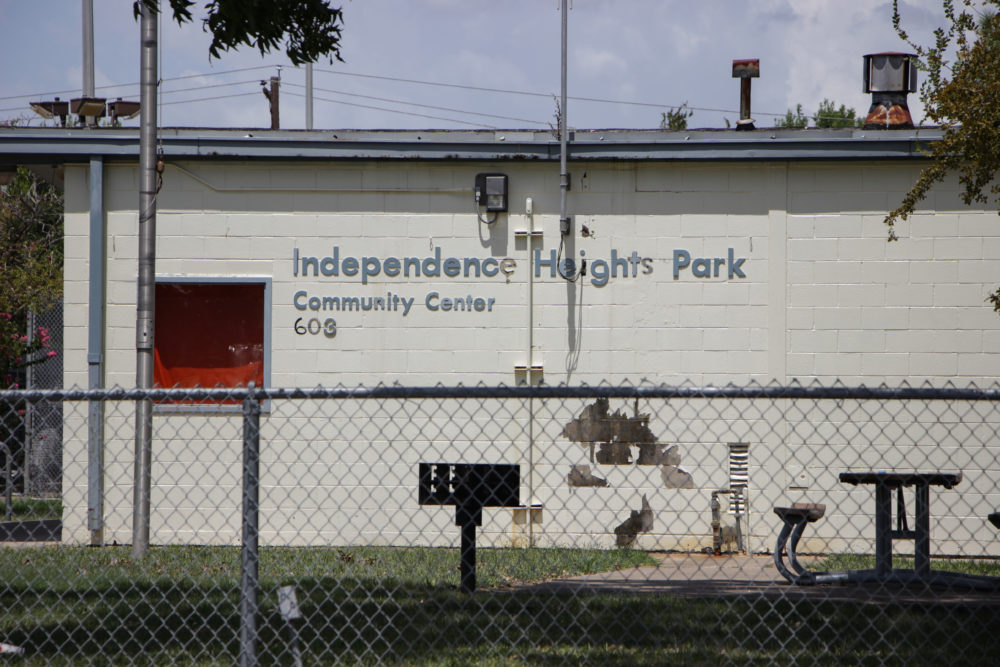 Houston's Independence Heights neighborhood, which more than a century ago became the first municipality in Texas to be incorporated by African Americans, is gradually losing its identity. Residents with deep roots there are being priced out by escalating property taxes, because land values also are increasing as developers invest in the community and new homes and businesses are built.
And the gentrification is accelerating, according to Tanya Debose, a descendent of some of the neighborhood's earliest residents who now serves as executive director of the Independence Heights Redevelopment Council. Since the community was earmarked in April to become one of the City of Houston's new conservation districts – which will allow homeowners to set architectural and construction guidelines to help protect the historic neighborhood's character – Debose said applications for new building permits have flooded in.
A $100,000 grant awarded this week by the African American Cultural Heritage Fund figures to help blunt the wave of that gentrification. Debose said it will be used to fund the creation of the Independence Heights Conservancy, which will focus on preserving and promoting the history of the neighborhood by seeking historical landmark designations, implementing cultural and educational programming and serving as a land trust.
"It's definitely what I call a blessing, because it does two things," Debose said. "One, it gives us the funding to try to build the capacity of the conservancy and to build a presence of the conservancy in the community and beyond. But it also says to the rest of the world that this place is worth saving. This place is very important. And once this place is erased, you don't get the first Black city in the state of Texas back. So time is of the essence with saving what we can."
Independence Heights, which was annexed by the City of Houston in 1929 and now has about 15,000 residents, according to Debose, is one of 40 locales around the United States and its territories to receive grant funding this year. The African American Cultural Heritage Fund awarded $3.8 million in all, with grant amounts ranging from $50,000 to $155,000.
Independence Heights was one of only two places in Texas to receive a grant this year, with the other being Jarvis Christian University in Northeast Texas.
"The important history and significance found in this neighborhood is currently threatened by gentrification and cultural erasure," the African American Cultural Heritage Fund wrote on its website. "Organizational capacity building funding for the Independence Heights Conservancy will help the organization manage the neighborhood's cultural and historical assets, establish cultural programming and be the key voice for the neighborhood."
Most immediately, Debose said the grant will be used to develop a staff for the conservancy, which will attempt to add to the handful of city, state and national historic landmark designations already in the neighborhood. There are longstanding homes as well as churches and businesses, she said.
The vision for the conservancy also includes the creation of destinations along North Main Street, which cuts through the community, and setting up neighborhood tours that can attract visitors and generate revenue. Independence Heights will be a stop on the under-construction Emancipation Trail, a collection of historic places in the Houston and Galveston areas that were settled by African Americans after the abolition of slavery.
Debose's roots in the neighborhood trace back to 1924, when her great-great grandfather bought a home there. He had been enslaved in Wharton County, which is southwest of Houston.
"We are a living, breathing example of an independent city that was created by the designation of formerly enslaved people," she said.
Debose said the Independence Heights Conservancy also plans to host cultural events such as festivals and lectures. The idea is to teach and remind residents old and new of the neighborhood's place in both Houston and Texas history, so it can continue to be passed down to future generations.
It's a legacy that also should be shared and celebrated well beyond the neighborhood, according to Debose.
"It should be saved," she said. "It's one of only a handful of significant Black towns that were incorporated by African Americans that are left. That's why it's important that we stay around, so we can tell our story."