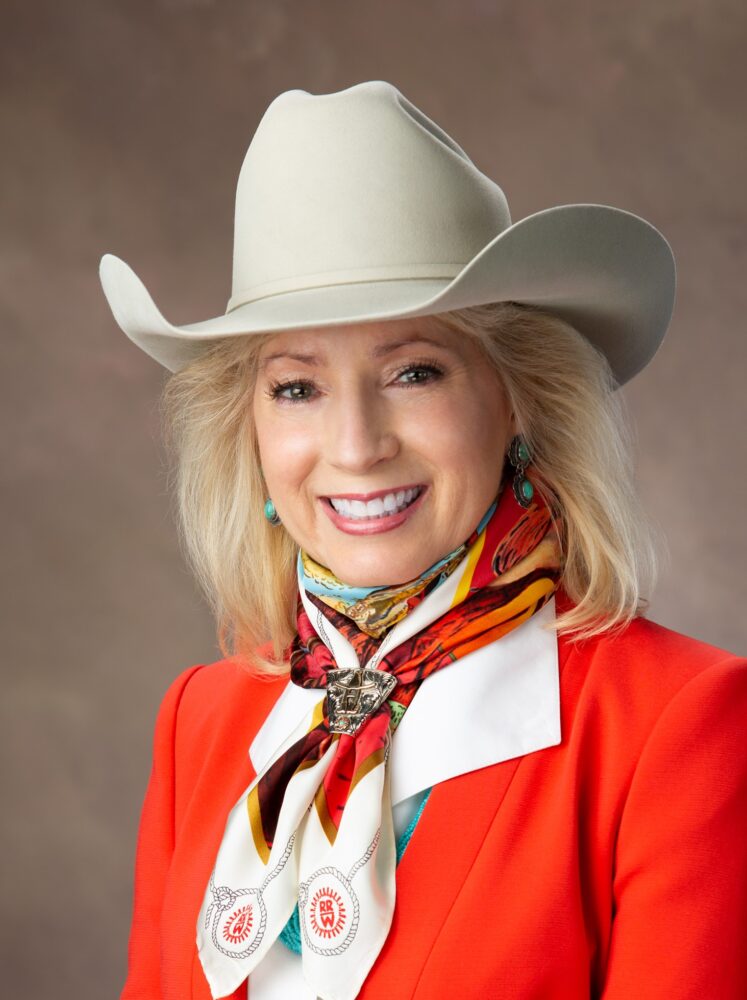 Women have taken on a greater role during performances at the Houston Livestock Show and Rodeo, which in 2022 added breakaway roping to its slate of events. Professional cowgirls previously had only one opportunity to compete in the United States' largest rodeo, in barrel racing, while the other six events are for men.
Pat Mann Phillips, a longtime rodeo volunteer who has served on its board of directors since 2012, said she pushed for the addition of breakaway roping because it would make the rodeo more diverse and inclusive and also because she is a "big fan." She had once aspired to be a competing cowgirl while growing up on her family's ranch in North Texas, where she showed livestock such as pigs and cattle at rodeos around the region.
"I attempted to be a roper back when I was growing up, and I wasn't near as good as these ladies today," Mann Phillips said. "I'm very inspired by them. It's very admirable what they're accomplishing."
Young girls and women in the rodeo world and beyond might now be inspired by Mann Phillips, who is fresh off a significant accomplishment of her own. Last week she became the first woman elected as chair of the board of the directors for the Houston Rodeo, which has been held for nearly a century.
Mann Phillips, who in 2019 became the first woman elected to the board's 15-member executive committee, was picked to serve in the chairperson role by her peers. Rodeo CEO Chris Boleman said the historic appointment had more to do with Mann Phillips' leadership skills, expertise and track record of involvement with the rodeo as opposed to her gender, but he still considers it to be a noteworthy moment in the rodeo's history.
More than half of the rodeo's 35,000-plus volunteers are women, according to Mann Phillips, who said the volunteer corps was mostly men when she joined the ranks in 2002 – a year after she and her husband attended the rodeo's barbecue cookoff for the first time.
"It demonstrates the growth and the diversity of our show," Boleman said. "To see Pat move into this role says a lot about our organization and the future of it."
Mann Phillips, 63, who works as a consultant in the energy industry, was elected to serve a three-year term as chair of the board, which is a volunteer role like all of the other 300-plus positions on the rodeo's board of directors. She said she wants to help continue the success of the Houston Livestock Show and Rodeo, which drew more than 2.5 million visitors this year in a return to pre-pandemic attendance levels, but also wants to see the annual event "up our game" by becoming more of a destination for international rodeo-goers.
Boleman said Mann Phillips was elected to lead at a "pivotal" time for the rodeo, which is working on extending its lease at NRG Park and also wants to maximize its outreach and involvement in the community. The rodeo committed more than $22.5 million this year to youth in the Houston area and across Texas through grants, scholarships and other educational programs, which Mann Phillips jokingly referring to the scholarship recipients as "my kids."
"I'm just really grateful for the opportunity to serve in any position in this organization," she said. "I just love it. It's a labor of love."
Serving as chair of the board for the Houston rodeo – which Mann Phillips called the "Super Bowl" of rodeos – is not something she imagined when she first started volunteering more than two decades ago. Mann Phillips she said gradually worked her way up the organizational ladder, becoming a committee chair and later a vice president who oversaw all 110 of the rodeo's volunteer committees.
Mann Phillips said other female volunteers who have taken on leadership roles, such as Carolyn Faulk, Dr. Kelly Larkin, Pam Springer and Sharleen Walkoviak, provided inspiration for her and deserve credit for helping her make history with the Houston rodeo. In turn, Mann Phillips hopes to be an example for other women and perhaps young girls who dream of competing – or leading – at the rodeo.
"This is truly an honor I share with all the other women I work with that have been before me that are role models to me," she said. "It's kind of exciting to see all the ladies who are stepping into leadership roles right now with the show. As more women got involved in the show, you're starting to see them bubble up to the top."