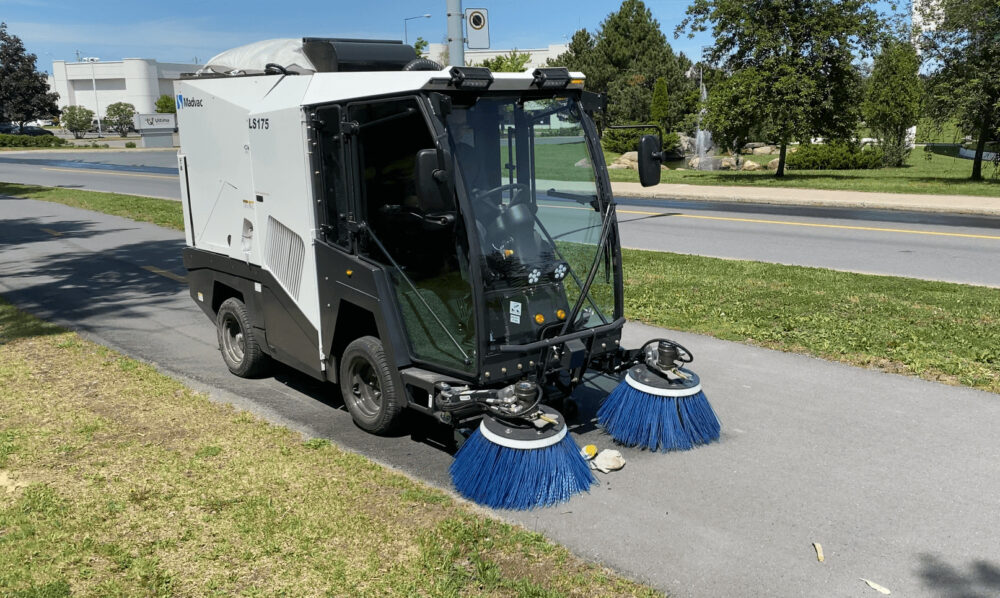 As the City of Houston gradually expands its network of bicycle lanes, it purchased a miniature street sweeper last year so it could keep those lanes clean.
The task has proven to be difficult for the Madvac LS175, which Houston Public Works dubbed as the "Space City Sweeper" in response to a community naming contest. The machine became clogged with dirt and debris after its first few uses last fall and had to be sent back to the manufacturer for repairs, according to public works spokesperson Erin Jones.
The mini sweeper returned from a months-long hiatus in April and has since completed a few more cleaning jobs, Jones said Monday. And in an attempt to prevent future clogging problems, public works employees are doing some pre-cleaning before deploying it in bike lanes, pedestrian refuge islands and other small spaces within the city's rights-of-way.
"We kind of adapted," Jones said. "If it's heavier debris on some of the bike lanes, our guys go out and do some pre-sweeping before getting the sweeper out."
The Houston City Council last June authorized spending nearly $147,000 on the sweeper, which arrived in Houston in November. Jones said the machine exhibited clogging issues on the first day it was deployed and was sent back to the manufacture in December, with Houston Public Works having since coordinated with the manufacturer to determine how to keep the "Space City Sweeper" running smoothly.
Jones said the city did not spend any money, beyond the original purchase price, to have the sweeper worked on by the manufacturer. She said the sweeper completed two or three jobs before it was sent back and has since completed three additional jobs.
BikeHouston executive director Joe Cutrufo, whose cycling advocacy nonprofit lobbied for the city to buy the mini street sweeper, said he's thankful the public works department is committed to utilizing it and putting in extra manpower to keep bike lanes clean. They can become littered with grass clippings and leaves in residential areas, trash in more commercial locales and automobile parts in areas of the city that are prone to crashes, Cutrufo said.
"I think the solution here is that in order to not overwork the sweeper, the bike lanes need to be swept more often," Cutrufo said. "It's no different than when you're sweeping your own home or vacuuming your own home. If you regularly maintain the bike lanes, chance are they don't have as much time to get refilled with debris."