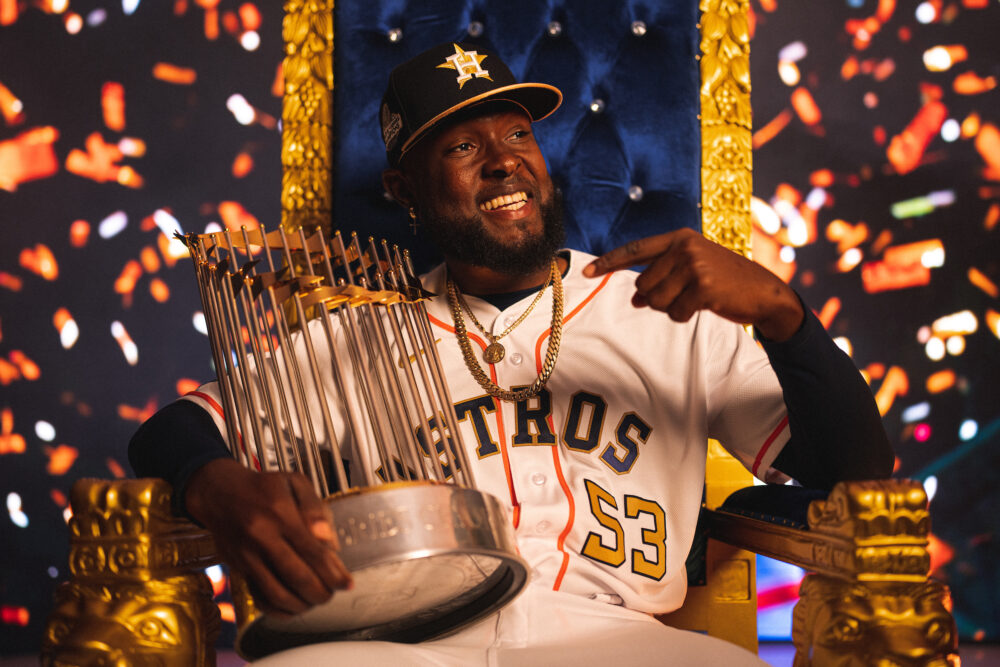 The Houston Astros will start the 2023 regular season by wearing special uniforms with gold trim to commemorate their World Series championship last year.
A week beforehand, Astros fans will have the opportunity to purchase replicas of those jerseys along with other golden team gear, including limited-edition championship rings.
The local professional baseball franchise will host a 24-hour retail event called "Astros Gold Rush" beginning at midnight Wednesday at the Union Station Team Store inside Minute Maid Park, 501 Crawford St. Gold hats, T-shirts and other items will be available along with the special jerseys, which the Astros will wear March 30-31 during their season-opening home games against the Chicago White Sox.
The Astros' World Series trophies from both 2017 and 2022 will be on hand for photo opportunities during Wednesday's sale, which ends at 11:59 p.m. Fans also can sit in the gold "throne" that Astros players used for a photo shoot with their gold-trimmed uniforms.
A DJ, Astros mascot Orbit and the team's Shooting Stars will provide entertainment. Breakfast will be served to visitors between 5-8 a.m. or while supplies last, according to a news release from the Astros.
Attendees also can purchase a limited-edition championship ring for fans between 9 a.m.-5 p.m. Those purchases would be made sight unseen, according to the Astros, because the rings will not be unveiled until the players receive theirs on March 31.
Visit www.astros.com/gold for more information.