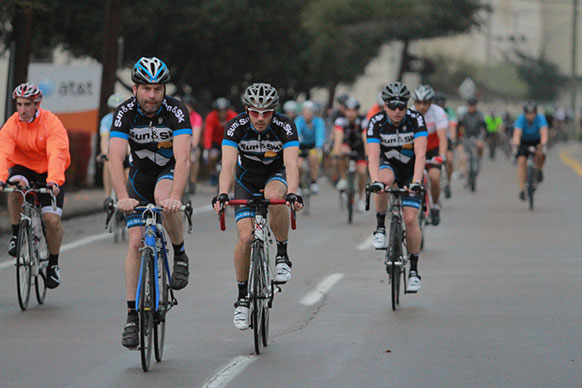 The Tour de Houston, an annual charity bicycle ride around the city, returns this Sunday.
There are 20-, 40- and 60-mile rides, all of which will proceed southeast from Downtown Houston, available to participants of all ages. Each route starts and ends at City Hall, 901 Bagby St.
A post-ride party will be held for participants, with music along with free food and beverages.
Proceeds from the leisurely, non-competitive event, which is sponsored by Apache Corporation and hosted by the Mayor's Office of Special Events, will benefit Re-Plant Houston, a reforestation program of the Houston Parks and Recreation Department.
Participants aged 13 and older can ride for $45 if they register by Saturday, with the cost increasing to $50 on ride day. The price is $25 for children 12 and younger.
Cash, credit cards and checks will be accepted on ride day, when walk-up registration begins at 6:30 a.m. The 60-mile ride is scheduled to start at 7:30 a.m., followed by the 40-mile ride at 7:45 a.m. and the 20-mile ride at 8 a.m.
Event T-shirts and jerseys are available for an additional cost, although their availability might be limited on the day of the ride.
After exiting the downtown area, riders will proceed southeast on Navigation Boulevard, south on Broadway Street and southeast on Galveston Road. The short-course riders will ride to the Houston Botanic Garden and back, the 40-mile ride goes to Ellington Airport and back, and the 60-mile ride extends to Clear Lake Park.
Rest stops with refreshments and portable restrooms will be stationed along the routes. The roads will not be closed to other traffic, although officers and ride marshals will be on hand to provide support. They will be stationed along the route until 1 p.m., after which participants have the option to continue riding without support or be transported back to City Hall.
Helmets are required for all riders. There is a maximum of two riders allowed per bike, and no trailers are allowed.
For more information, visit https://tourdehouston.itsyourrace.com/event.aspx?id=8702.