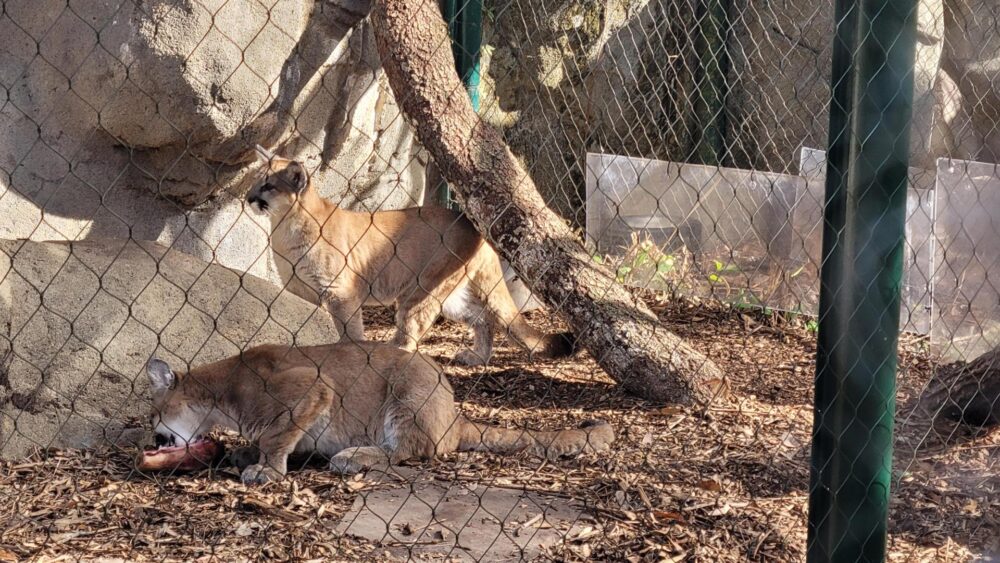 Houston Zoo visitors can now see the University of Houston's cub mascots as they explore their new habitat.
Shasta VII and Louie were first found at four weeks old in October 2022. They were rescued after a rancher found them orphaned on his property in Washington State. The two cubs are now five months old and roaming in a public habitat at the Houston Zoo.
The two cubs succeed Shasta VI, who died from progressive spinal disease, and his companion, Haley, who passed from kidney illness.
Tori Miller is a zookeeper taking care of the cubs and said the more energetic cub inherited the name Shasta.
"We wanted to have the most outgoing cub be Shasta," she said. "He was the one that would come up first every single time when we started feeding them. So he got the honors."
Miller said Shasta VII tends to climb around the habitat and is leaner than his brother Louie, who loves to eat. Zoo visitors who want to visit the cubs can also differentiate the two of them by the tips of their tails. While the tip of Shasta VII's tail blends from a dark to light brown, Louie's is more abrupt. However, Miller also said the cubs will likely continue to change as they grow older.
The first public appearance of Shasta VII and Louie also served as motivation for some students as they begin their college journey. Emily Bailey is a freshman at UH who went to see the cubs on Friday.
"So lowkey, I was thinking about dropping out. And this kind of makes me want to stay, you know, they're so cute," she said. "This has inspired me to stay."
Bailey said meeting Shasta VII and Louie was also an opportunity to see school spirit.
"Seeing all these people happy about them, and then the mascot outside is representing, it's just showing like, wow, people really love UH. And I just love it so much."
Zookeepers say the cubs will soon start to participate in more events for UH, such as March Madness. Zoo visitors can find the pair across from the black bears at the zoo.