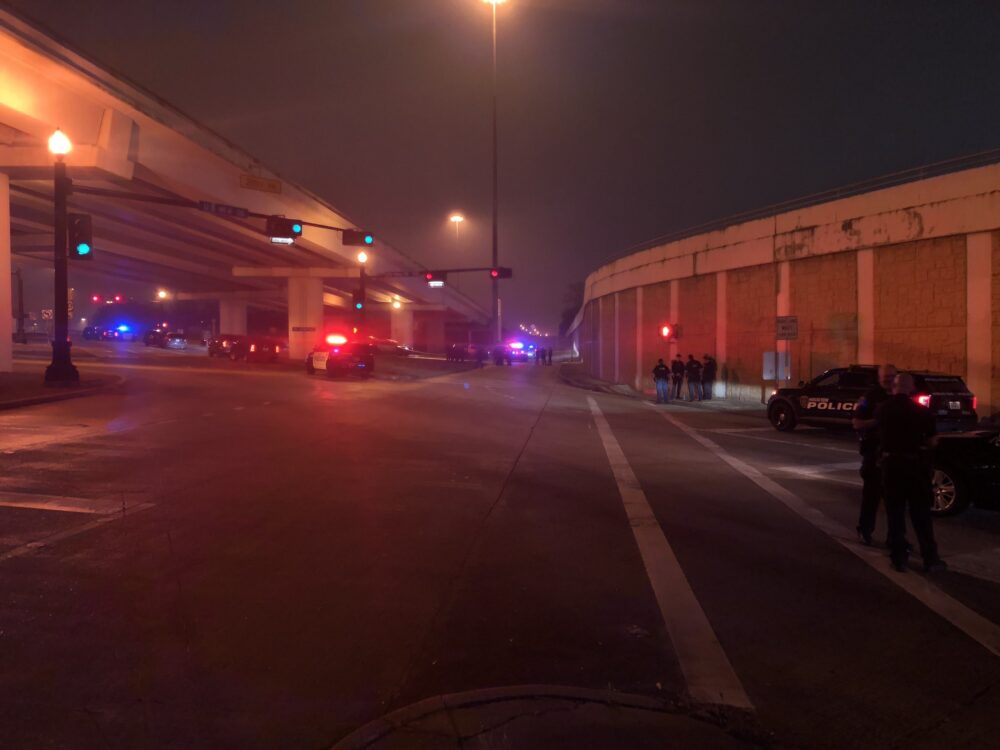 Seven Houston police officers are on administrative leave after a Wednesday morning car chase and shootout that left a man dead.
Houston Police Department officers shot and killed a 27-year-old Black man at the end of a 20-minute chase through the west side of town that culminated at the intersection of U.S. 59 and U.S. 90 in Sugar Land, according to Houston Police Chief Troy Finner. He said the man opened fire on police who were at the scene, with seven officers shooting back and killing the man, who had talked on the phone with his family members during the chase.
Some of those family members were present during the shooting, according to Finner, who did not release the deceased man's name.
"We ask for prayers for that family and also our officers," Finner said.
Finner said the deadly incident started shortly before 10 p.m. Tuesday, when police officers saw an assault rifle, pistol and drugs in an unoccupied vehicle parked at a Valero gas station in the 4000 block of Synott Road in the Alief area. Officers then set up surveillance on the vehicle and saw a man get into it and drive off at about 1:15 a.m. Wednesday, according to Finner.
Police tried to initiate a traffic stop but were unsuccessful, with a chase ensuing and culminating with the shootout in Sugar Land, according to Finner. When asked why police didn't stop the man before he left the gas station, Finner said they wanted to let him get away from the station in the interest of others' safety.
"If you've got two guns in a car and drugs in it, if a suspect comes, you want to stop that suspect and find out what's going on," Finner said. "It's just not normal to have two guns left in plain view with narcotics."
Among the seven officers who fired their guns and are now on administrative leave, Finner said three were assigned to the gangs unit, two to the West Side patrol division and two to the South Gessner patrol division. The officers have between 2 and 24 years of service time with the department, Finner said.
Finner said HPD will conduct an administrative investigation into the shooting, with the Texas Department of Public Safety, Fort Bend County Sheriff's Office and Fort Bend County District Attorney's Office handling the criminal investigation.