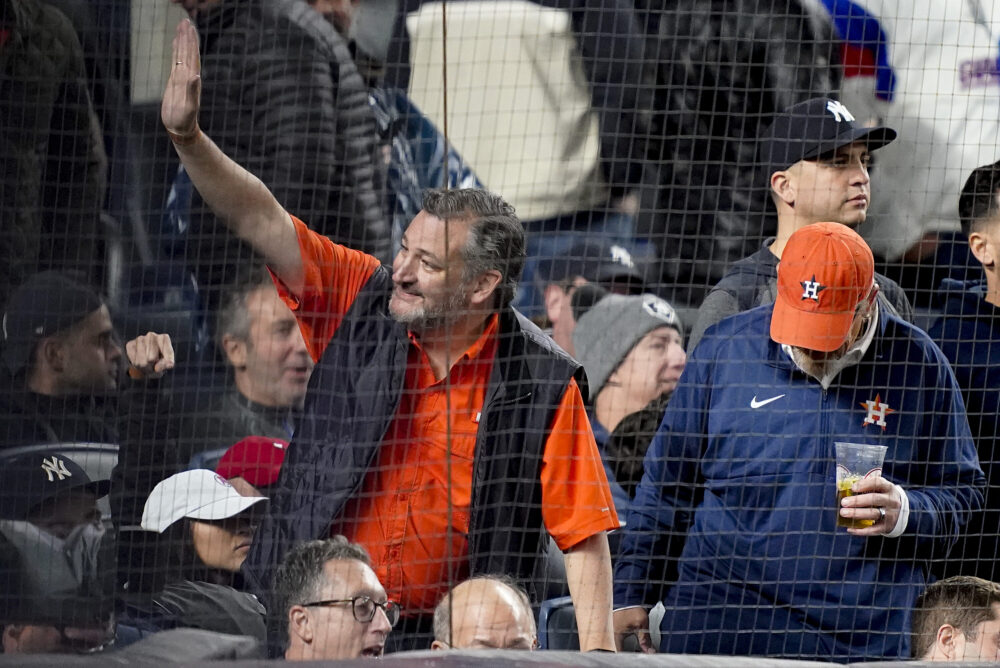 Criminal charges have been dropped against the Houston man who allegedly threw beer cans at U.S. Sen Ted Cruz during the Astros' World Series championship parade, with a Harris County grand jury declining to issue an indictment in the case.
Joseph Arcidiacono, 33, had been arrested during the Nov. 7 parade and charged with aggravated assault with a deadly weapon. He was accused of throwing two unopened beer cans at Cruz as the Republican politician rode through Downtown Houston atop a Humvee, according to Harris County court documents.
Arcidiacono, who had been out of jail on a $40,000 bond since shortly after his arrest, was no-billed by a grand jury last Friday, court records show.
Beer flies at Ted Cruz during Astros World Series Parade pic.twitter.com/lRALgyXCe2

— Alien Truther Wildwest (@wcgroovy) November 7, 2022
Bill Stradley, a Houston attorney representing Arcidiacono, said Monday he had no further comment beyond a Nov. 9 statement he released on behalf of his client. In that statement, Stradley suggested Arcidiacono had thrown drinks at Cruz because he wanted the senator to catch them and chug them, adding, "This was an Astros fan trying to toss drinks from his cooler to the Senator during a championship parade and not realizing how it would be perceived until he saw security's reaction."
"Joey apologizes for how his actions alarmed Senator Cruz, his family, and his security detail and put a damper on an otherwise beautiful celebration for millions of Houstonians," Stradley also said in the Nov. 9 statement. "With this fuller context, we ask for grace and hope Senator Cruz declines to maintain charges."
Representatives for Cruz's office did not immediately respond Monday to a request for comment. The Houston Police Department wrote on Twitter on the day of the parade that Cruz was struck by one of the cans in the "chest/neck area" and did not need medical attention.
Later Nov. 7, Cruz took to Twitter to thank law enforcement for their response, adding, "I'm also thankful that the clown who threw his White Claw had a noodle for an arm."