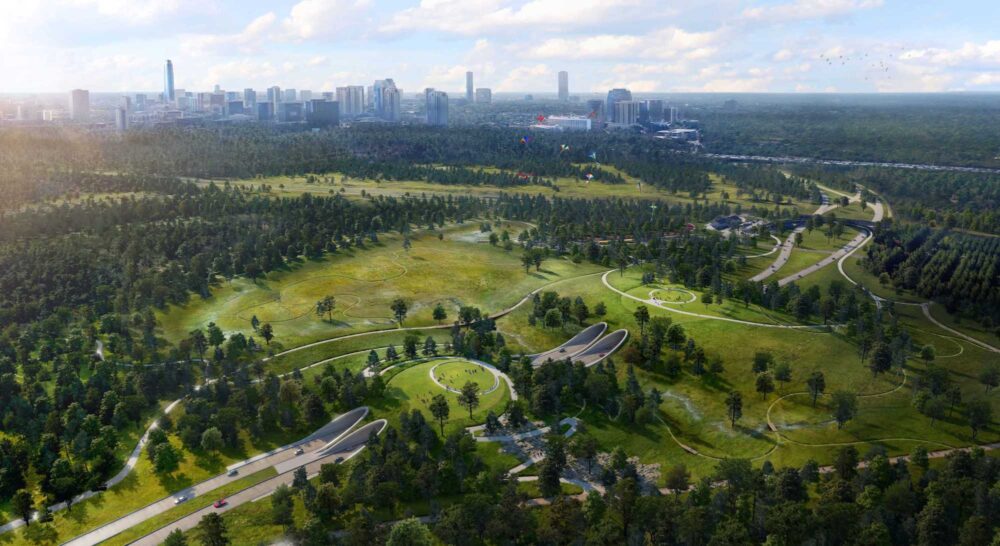 The public unveiling of the Land Bridge & Prairie project at Houston's Memorial Park, postponed from December because of weather-related construction delays, has been rescheduled for February.
The Memorial Park Conservancy announced Friday that the new amenity's grand opening — a free event billed as "The Biggest Picnic in Texas" — will be held from 10 a.m.-5 p.m. Feb. 11 at 7575 Picnic Ln. The festivities will include live music, face painting, food trucks, stamp collecting and self-guided tours of the 100-acre space, which bridges the north and south sides of the park for hikers, cyclists and wildlife.
A limited number of stocked picnic baskets will be provided, according to the Memorial Park Conservancy, which said visitors can bring their own baskets as long as they do not contain glass containers.
On-site parking will be limited, so attendees are encouraged to use public transportation or off-site parking. Paid parking is available at 1643 Memorial Dr., Lot H, with a free shuttle service to the park.
The land bridge project is part of the conservancy's 10-year, $200 million master plan for Memorial Park, which sees more than 4 million visitors per year and since 2020 has hosted a PGA Tour event at Memorial Park Golf Course. The Clay Family Eastern Glades and the first phase of a sports complex have previously been completed as part of the master plan.
Work on the land bridge project began in August 2020 with an estimated cost of $70 million. The part of Memorial Drive that runs through Houston's largest urban park was transformed with four vehicular tunnels – two for westbound traffic and two for eastbound travelers – with a pair of 35-foot hills built over the tunnels to serve as land bridges.
The addition of about 100 acres of prairie with native Gulf Coast vegetation is part of the project, which will provide scenic views of Downtown Houston from atop the hills while aiming to mitigate flooding risks and reduce the impacts of climate change. A wildlife tunnel also has been created that runs underneath Memorial Drive.
Approximately 500,000 cubic yards of soil from within Memorial Park was used to create the land bridges, according to the conservancy's website, which said that soil was enriched with compost created from green material inside the park.