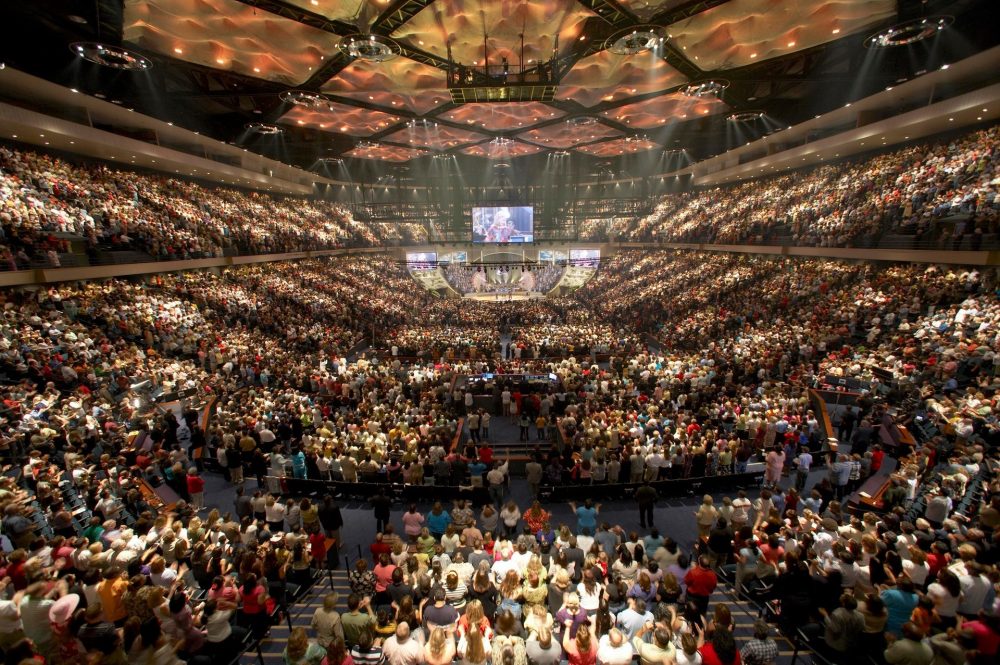 Texas abortion rights activists interrupted a Sunday service at Houston's Lakewood Church and were escorted out of the building.
Members of the Texas chapter of "Rise Up 4 Abortion Rights" yelled "It's my body, my choice" and stripped down to their underwear before being taken out of the worship space. They continued to protest outside the building.
Coco Das, a Rise Up 4 Abortion Rights organizer, explained the urgency behind the demonstration.
"We're really in an emergency situation as far as abortion rights," Das said, citing a leaked Supreme Court draft opinion that would overturn Roe v. Wade. The court is expected to announce its ruling within weeks.
"Online, there's been a lot of support," Das said of what the Texas chapter did on Sunday. "There's been debate and contention as well."
BREAKING @lakewoodchurch service disrupted by @tx4abortion activists determined to STOP SCOTUS from taking away abortion rights declared ABORTION ON DEMAND AND WITHOUT APOLOGY!
As they were removed they chanted MY BODY MY CHOICE!
Overturn Roe? Hell No! https://t.co/Y0oCPlHcsr pic.twitter.com/aTvGfwthlB

— Rise Up 4 Abortion Rights (@riseup4abortion) June 5, 2022
Rise Up 4 Abortion Rights is basing much of its platform on the Green Wave movement in Latin America, which achieved the decriminalization of abortion in Argentina, Mexico, and most recently, Colombia.
Das said her organization's audience is the "millions of people" who don't want Roe v. Wade overturned, but don't know how to take action.
"It was provocative," Das said of Sunday's demonstration. "It has actually resonated with people on a very broad scale."
Lakewood Church Pastor Joel Osteen has previously stated his opposition to abortion.
The church did not respond to Houston Public Media's request for comment on the protest.