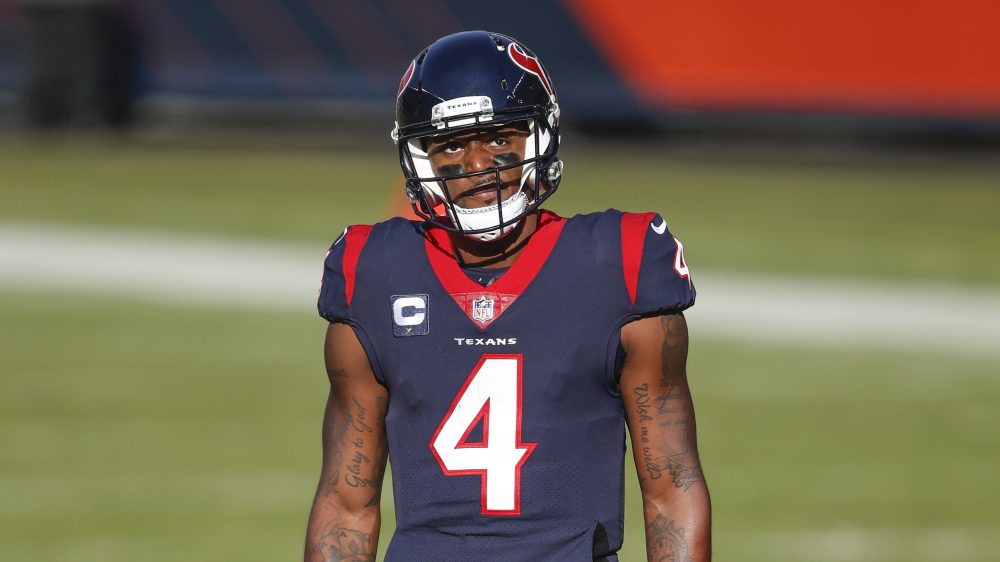 Updated 1:55 p.m. CT
Twenty-one women have now filed lawsuits accusing Houston Texans quarterback Deshaun Watson of sexual assault.
Five more women came forward this week with sexual assault allegations against Watson, and more are on the way, according to attorney Tony Buzbee. Similar to the previously filed lawsuits, the new suits accuse Watson of sexual misconduct towards massage therapists during multiple massage sessions throughout 2020.
In one lawsuit, Watson is accused of exposing himself and inappropriately touching the therapist during four sessions between July and September of 2020. During the last massage session, Watson allegedly forced the woman to touch his penis, and eventually coerced her into performing oral sex, according to court documents. The woman said that Watson continued to message her after the session, with the last message being sent in December 2020.
The lawsuit, along with one filed Monday, also accuses Watson of deleting messages on Instagram and contacting women who had previously massaged him in an attempt to settle.
The news comes as 18 massage therapists came forward Wednesday to publicly support Watson. All 18 women provided their names, and said the quarterback never made them feel uncomfortable or made inappropriate advances towar them, with one woman calling the accusations "ludicrous."
"Collectively, they have worked with Deshaun more than 130 times over the past five years," read a statement from Watson's attorney, Rusty Hardin. "These statements show the other side to this story that has been so lacking in the flurry of anonymous complaints filed by opposing counsel."
In response to the latest suits, and the Instagram allegation, Hardin released a statement Monday calling it irrelevant.
"Like a lot of people, Deshaun regularly deletes past Instagram messages," Hardin said. "That said, he has not deleted any messages since March 15th, the day before the first lawsuit was filed. We categorically deny that he has reached out directly to his accusers in an attempt to settle these cases."
Hardin wrote that his team plans to formally respond to the issues raised in the filed lawsuits within the coming weeks.
The news also comes a day after Buzbee said Tuesday that evidence of sexual assault against Watson would not be taken to the Houston Police Department, as he had previously suggested.
Buzbee wrote on Instagram Tuesday night that he was reluctant to provide evidence to the HPD because he had previously called for the resignation of former Houston Police Chief Art Acevedo during his mayoral campaign. The attorney unsuccessfully challenged Sylvester Turner in 2019.
Buzbee also claimed Watson's attorney, Hardin, has a son who is a member of "the exclusive Command Staff of HPD."
"I am not saying in any way that Deshaun Watson's lawyer, Mr. Hardin, has a son who has a position that would compromise HPD and its investigation," he wrote. "But, I am saying that me and my clients will go elsewhere to provide our evidence to investigative authorities."
HPD did not respond to a request for comment about the Instagram post.
On Thursday, Hardin pushed back on Bubzbee's claims, writing that the idea of HPD overlooking "legitimate complaints based upon a family connection of one of its officers is ludicrous."
"I would respectfully suggest that Mr. Buzbee's failure to go to law enforcement does not result from some baseless fear that HPD will not fairly investigate," he wrote. "Instead, it is from the knowledge that his parade of anonymous allegations could not survive the rigorous inquiry of trained investigators or the need to attest to the truth of the allegations under oath."