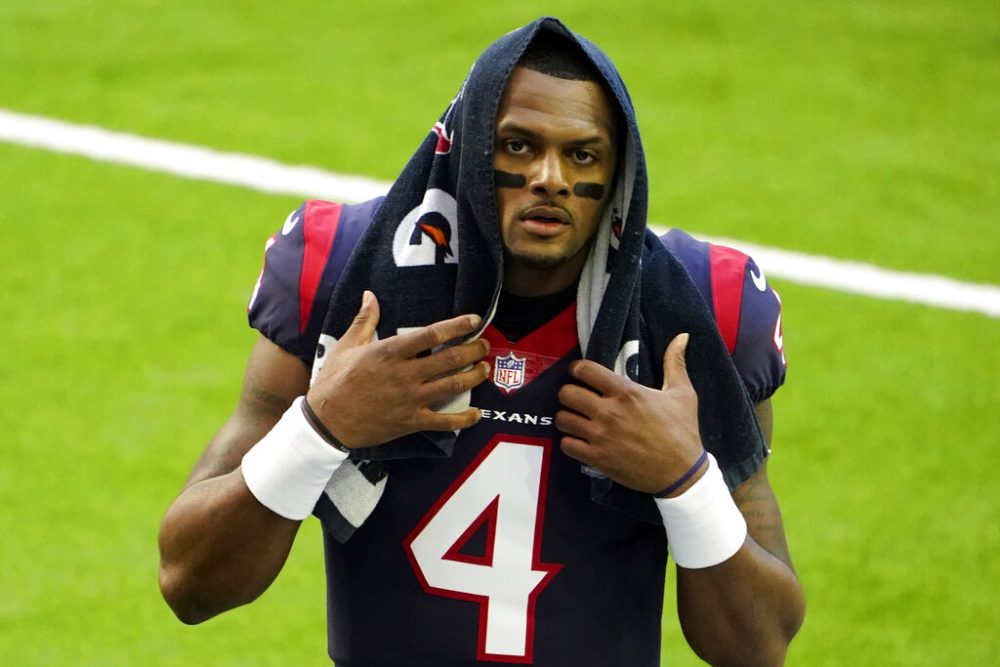 The following story contains graphic descriptions of alleged sexual assault.
Updated 8:48 a.m. CT Wednesday
Two more women have accused Houston Texans quarterback Deshaun Watson of sexual assault, according to lawsuits filed late Tuesday. At least 16 women have come forward with allegations against the quarterback.
The latest suits allege Watson exposed himself and inappropriately touched the women during massage sessions in 2020.
The news comes as attorney Watson's attorney Rusty Hardin filed a sworn affidavit claiming the NFL star faced a blackmail attempt from one of the women now accusing him of sexual assault. In the affidavit, Watson's marketing manager claims the woman demanded $30,000 for her "indefinite silence" regarding what she stated was a consensual encounter with Watson.
—
Updated 11:30 a.m. CT Tuesday
Another massage therapist has filed a lawsuit accusing Houston Texans quarterback Deshaun Watson of sexual assault, bringing the total to 14.
According to a civil complaint, the Los Angeles-based woman was contacted through Instagram and set up a massage appointment with Watson on July 15 of last year. When the woman arrived at a house in Beverly Hills for the appointment, Watson led her into a room, shut the doors and locked them behind him, according to the lawsuit.
The woman pulled out her mace, but the appointment moved forward, according to the suit. During the session, Watson allegedly grew more aggressive, telling her to massage his glutes before exposing himself and forcing her hand onto his penis, the complaint reads.
After the appointment, Watson allegedly told the frightened woman, "I will not have you sign a NDA but don't ever talk about this," according to the suit.
He later tried to set up another appointment with the woman, who ignored his request, the lawsuit says.
The suit is asking for "minimal compensatory damages."
A spokesperson for Watson did not immediately respond to a request for comment.
Tony Buzbee, a former mayoral candidate and Houston attorney representing the women, said he planned to reach out to the Harris County District Attorney's Office to ask for a criminal invstigation.
Dane Schiller, a spokesperson for DA Kim Ogg, declined to comment on the suits, and said the office would not issue a statement on the allegations unless a criminal charge is filed, "out of fairness to all."
—
Six more women have filed lawsuits against Houston Texans quarterback Deshaun Watson accusing him of sexual assault, bringing the total to 13.
The six new lawsuits, filed Monday, allege Watson exposed himself to massage therapists and inappropriately touched them during their sessions. One incident allegedly occurred as recently as this month, according to a civil complaint.
One of the most recent suits accuses Watson of masturbating in front of a massage therapist, and forcing her to touch his groin area during a massage session that occurred in July 2020.
Another lawsuit, which details behavior that allegedly occurred during two massage sessions in June and August of 2020, accused Watson of exposing himself and inappropriately touching the woman on multiple parts of her body. During the second session, Watson allegedly became more aggressive and wrapped his legs around the woman's neck in an attempt to force her to perform oral sex, according to the suit.
In a third lawsuit, Watson allegedly offered the massage therapist money if she "did more" during a massage session in August 2020, though the suit does not go into detail of what Watson was suggesting.
MORE | Number Of Sexual Assault Accusations Against Deshaun Watson Expected To Rise
A fourth suit describes an incident that allegedly occurred at another session in late January 2021, in which another massage therapist said Watson exposed himself, inappropriately touched her with his penis, and made sexually suggestive comments throughout the duration of the session.
Two more lawsuits accused Watson of exposing himself and touching the women with his genital area during massage sessions in April 2020 and March 2021.
Watson's attorney, Rusty Hardin, did not immediately provide comment Monday. In a previous statement, he referred to allegations against hi client as "meritless." Watson has also publicly denied at least one of the accusations.
The lawsuits come after Houston attorney and former mayoral candidate Tony Buzbee, who represents the women, announced via Instagram Saturday that his law firm would request a criminal case against the NFL star.
"Our team will be submitting affidavits and evidence from several women, who had experiences with Deshaun Watson, to the Houston Police Department and the (Harris County) District Attorney, on Monday morning," he wrote. "We will request that a grand jury be empaneled to consider the evidence we provide."