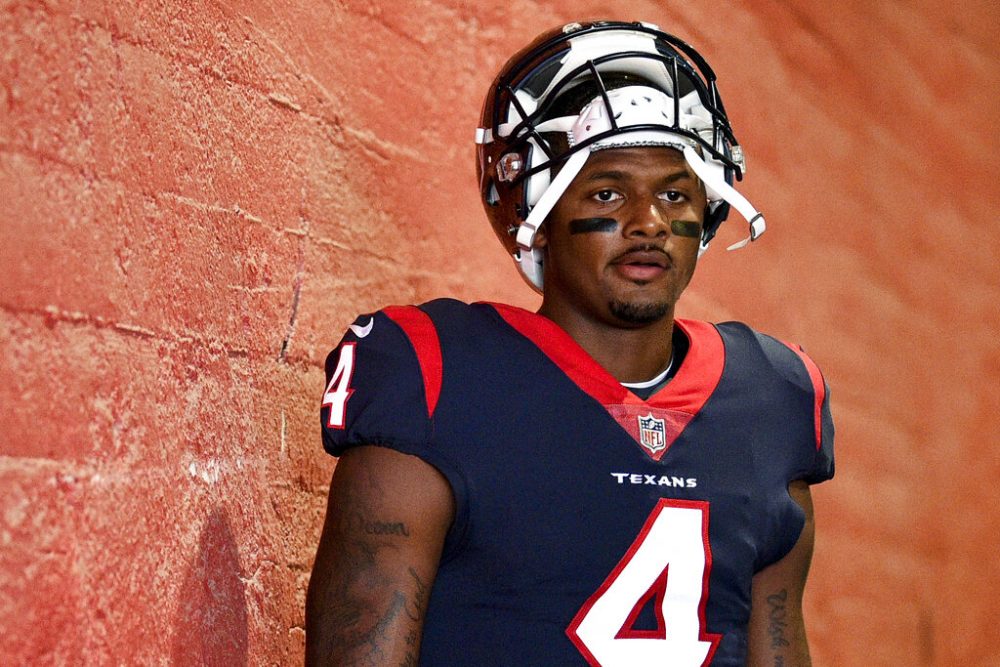 The following story contains descriptions of alleged sexual assault.
Updated 5:54 p.m. CT
Seven women in total have accused Texans quarterback Deshaun Watson of sexual assault and at least five more lawsuits are on the way, according to Houston lawyer and former mayoral candidate Tony Buzbee.
The latest lawsuits, filed Thursday evening, accuse Watson of inappropriately touching the women while they were giving him a massage and exposing himself. The four incidents occurred last year.
At a press conference Friday, Buzbee asked people to look beyond Watson as an NFL star, saying the suits had nothing to do with his status as a Houston Texan.
"At the end of the day, we're talking about football," he said. "What we should be talking about is human dignity in the way women are treated."
One lawsuit detailed an incident that occurred in June 2020, when Watson allegedly exposed himself and inappropriately touched a female masseuse with his genitals during a massage session. The woman said she was contacted by Watson via Instagram to request the massage.
"I make a lot of massage therapists uncomfortable and it's really hard for me to find someone who will meet my needs," he allegedly said during a phone call with the woman, according to court documents.
Watson contacted the woman about seven times after the incident to schedule another massage, but she declined his requests, according to the civil complaint.
Another lawsuit claimed to detail encounters that Watson had with a licensed esthetician from September to October last year.
During the first massage session, Watson removed all of his clothing and insisted that the woman focus on his thigh and buttocks, she said. Watson then became increasingly agitated and flipped onto his back, exposing himself, before asking the woman "what she was going to do about his erection," according to court documents.
The second session was scheduled one month later, where Watson's behavior escalated, according to the lawsuit. The woman said Watson asked the woman to touch his penis, then moved his body to rub it up against her hand. After Watson attempted to kiss the woman on her mouth, she cut the session short and Watson abruptly left, according to the complaint.
MORE | 7 Massage Therapists Accuse Texans QB Deshaun Watson Of Sexual Assault
The National Football League has opened an investigation into the allegations, according to a letter shared on Buzbee's Instagram account.
View this post on Instagram
Watson has denied sexually assaulting anyone, saying on social media he has "never treated any woman with anything other than the utmost respect."
Watson is represented in the lawsuits by Houston attorney Rusty Hardin, who in a statement Friday said his client would respond more fully to the accusations next week.
"I'm extremely proud to represent Deshaun Watson and wholly stand behind him against what we believe are meritless allegations," Hardin said. "However, we will wait to comment in detail until we've completed our review of the numerous, evolving allegations from Mr. Buzbee."
Responding to the allegations, Watson's agent, David Mulugheta, said on social media: "Individuals fabricate stories in pursuit of financial gain often. Their victims should be heard, and those offenders also prosecuted."
Sexual assault is real. Victims should be heard, offenders prosecuted.

Individuals fabricate stories in pursuit of financial gain often. Their victims should be heard, and those offenders also prosecuted.

I simply hope we keep this same energy with the truth.

— David Mulugheta (@DavidMulugheta) March 19, 2021
Leaders from the African American Coaches Association in Houston defended Watson on Friday, saying they believed that the accusations were false.
"The money that they're being offered is tremendous. Hundreds of thousands of dollars," said CEO Dr. Kevin Simms.
He also claimed that other women who work in the massage industry have since discredited Watson's accusers, but offered no proof.
At a press conference Friday, Buzbee responded to criticism of his clients, saying they weren't motivated by money.
He also said that his office has been in contact with at least 20 women since the first allegations of sexual assault came earlier this week.
"This case is about female empowerment, taking the power back," Buzbee said. "They bring these cases for one reason only: stopping further misconduct from this defendant."
Additional reporting by Matt Harab.