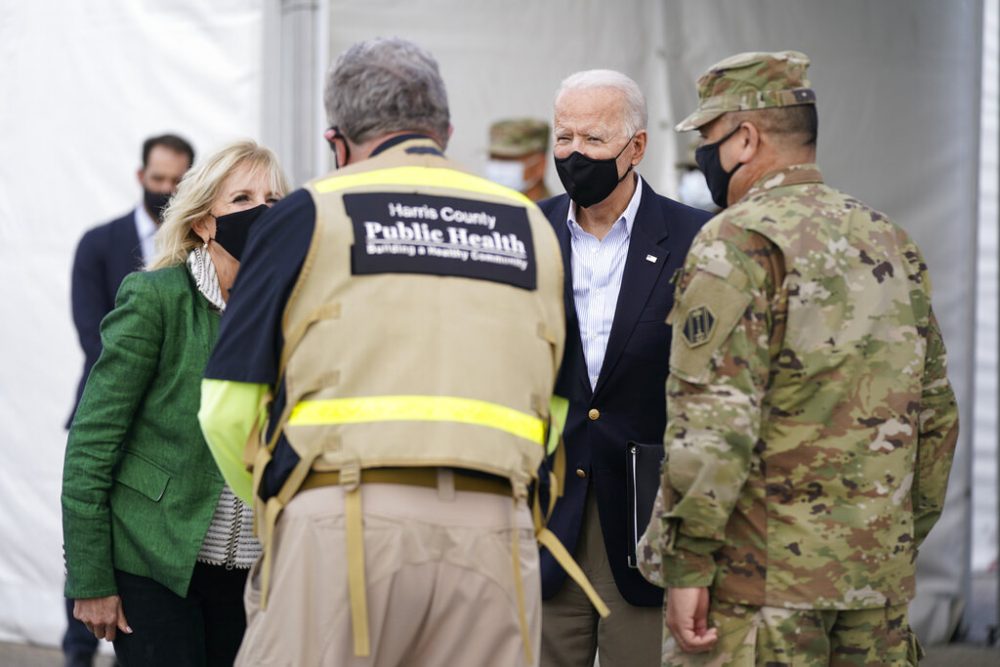 President Joe Biden praised the work of the Houston Food Bank on Friday, hours after he and the first lady made a visit to the nonprofit to meet with volunteers and organizers.
The president and first lady Jill Biden visited the Houston Food Bank in the afternoon, where she joined volunteers to pack boxes of food for Houstonians still reeling. The president — who spent the morning being briefed by Gov. Greg Abbott, Mayor Sylvester Turner and Harris County Judge Lina Hidalgo — arrived at the later in the afternoon.
Speaking to reporters, Biden thanked the people working at the food bank.
"They're doing God's work," Biden said.
Thank you President @JoeBiden and First Lady @DrBiden for taking time to visit and speak with volunteers at @HoustonFoodBank today. pic.twitter.com/w9Mg1uOTiQ

— Sylvester Turner (@SylvesterTurner) February 26, 2021
Earlier in the day, at the Harris County Emergency Operations Center, the president praised the work of people who have been responding to the storm, while also working in the middle of a pandemic.
"It's a hell of an operation you have here," Biden said. "Probably the best in the country."
In response to last week's storm, FEMA had already provided millions of gallons of water, along with meals, and thousands of blankets and emergency generators in response to the storm, Biden said.
Biden briefed reporters at NRG Park, the site of a FEMA mass vaccination hub. It's one of three such sites in the state — along with two others are in Dallas and Arlington — and is serving as part of a pilot program to broaden vaccine distribution in the country.
Biden, a Democrat, suggested that he and Republicans Abbott and U.S. Sen. John Cornyn could find common cause in getting Americans vaccinated as quickly as possible.
"We disagree on plenty of things," Biden said. "There's nothing wrong with that, but there are plenty of things we can work on together. And one of them is represented right here today, the effort to speed up vaccinations."
Texas' other U.S. senator, Ted Cruz, an ally of former President Donald Trump and one of a handful of GOP lawmakers who had objected to Congress certifying Biden's victory, was in Florida Friday addressing the Conservative Political Action Conference.
The site, which opened this week, is set up to fully vaccinate 126,000 people over the next six weeks. City and county officials have said the site would prioritize the region's most vulnerable communities.
Health care workers will administer 6,000 first doses per day for three weeks at NRG Park, and then switch to second doses for the next three weeks.
Biden said the U.S. was well on the way to hit his goal of 100 million shots in 100 days, saying that the country had already reached 50 million in 37 days.
"We're not giving shots to Democrats or Republicans," Biden said. "We're giving them to Americans."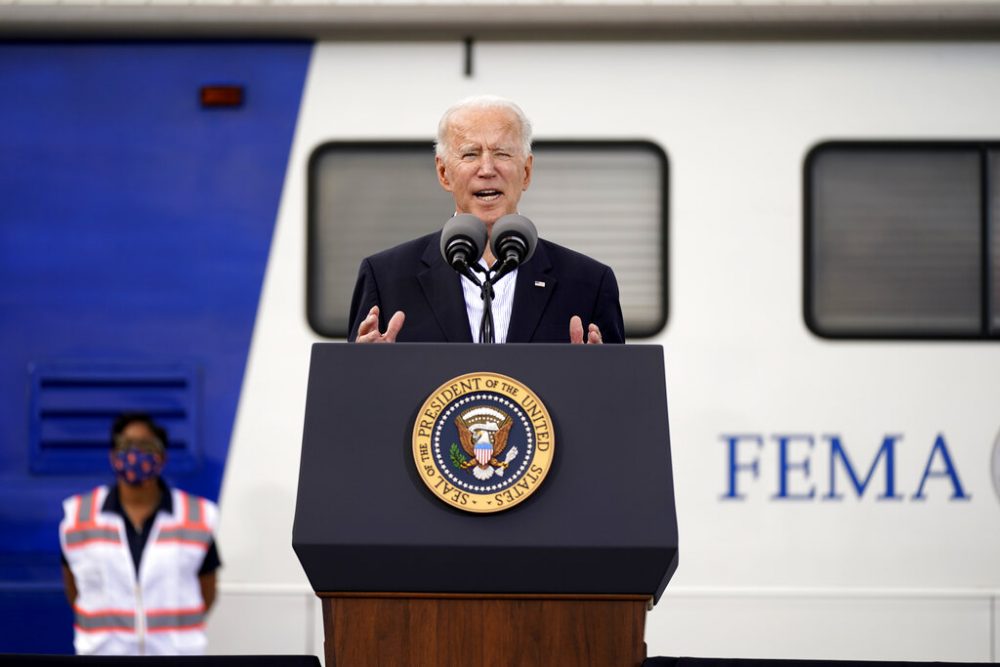 The remarks came the same day the Food and Drug Administration panel unanimously recommended a new COVID-19 vaccine from Johnson & Johnson for emergency use.
To help reach its goal, the administration is increasing the number of vaccinators, enlisting thousands of retired doctors to deliver shots, Biden said.
In Texas alone, the government is spending million of dollars to perform thousands of vaccines a day, providing vaccines to 500 local pharmacies, including 50 in Houston. Across the country, 7,000 local pharmacies have been enlisted to administer vaccines.
The administration is also sending doses to to community health centers, including 12 across 10 cities in Texas, the president said. The government is also working to produce a massive education campaign on vaccine safety.
But he stressed people should remain vigilant, saying that things could get worse as new variants emerge, and warned that letting up now could lead to another spike in April or May, urging the public: "for God's sake, wear your mask."
Nonethless, Biden said the situation is improving.
"If there's one thing I know it's that Americans never give up," Biden said. "They never give in. They never cry uncle. They persevere."
Additional reporting by the Associated Press.