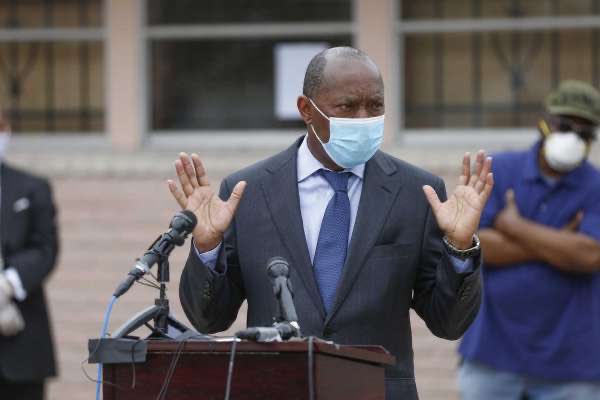 The city of Houston and Harris County are pooling together $159 million in emergency rent relief assistance, using funding allocated from the federal Consolidated Appropriations Act passed by Congress at the end of 2020.
The program, administered by Baker Ripley and Catholic Charities, is expected to open for landlord enrollment next week and for renter applications by the end of February.
Houston City Council on Wednesday voted to approve the city's $70 million contribution to the fund.
"The City-County partnership with BakerRipley and Catholic Charities demonstrates how critical a coordinated collective response is to helping our neighbors," Mayor Sylvester Turner said. "Our current state demands we align our efforts and leverage our resources and expertise to better support the growing needs of our community."
Funding will not operate on a first-come first-served basis. Instead, applications will be selected randomly and then reviewed to confirm eligibility.
More details are expected by the end of the month. A $1.3 billion statewide rental assistance fund is also expected to launch in the coming weeks.
At Wednesday's council meeting, Turner announced a grace period ordinance will be on next week's agenda, giving renters facing eviction more time to catch up on rent. Details haven't been released yet, but Turner said the ordinance will expire on March 31, when the federal CDC eviction moratorium is currently set to expire.
"I do not think people ought to be evicted when these dollars are coming, in this time period, because the dollars are there," Turner said.
Houston housing advocates have asked Turner to enact such an ordinance since last year, when the city of Austin passed a grace period ordinance giving renters facing eviction an additional 60 days to pay rent. Dallas also has a 60-day grace period.
"Houstonians have deserved a grace period for months," said Zoe Middleton, the Southeast Texas co-director of the policy group Texas Housers. "The details of this ordinance will determine whether or not (it) stabilizes renters in our city beyond March 31."
A grace period ordinance is not the same thing as a moratorium policy. Austin and Travis County, for example, have a grace period ordinance in place, as well as a recently renewed local moratorium on evictions that's been in effect for nearly a year that actually bans landlords from posting a notice to vacate.
Despite broad support from many Houston City Council members and members of the public, and a unanimous recommendation from the city's and Harris County's joint housing stability task force, Turner has kept a grace period ordinance off the agenda until now.
"Whether the mayor and city council adopt the language that was proposed by the housing stability task force or some other language that is similar to what has been implemented in the city of Dallas, we welcome any protection that can be afforded to tenants in this crisis," said Dana Karni, managing attorney of Lone Star Legal Aid's Eviction Right to Counsel unit.
While so far the mayor has committed to offering a short-term ordinance through March, Karni said the CDC order seems likely to be renewed.
"I don't know what the proposed ordinance looks like and whether it is something that the city would contemplate extending," Karni said, "considering that the present CDC order is set to expire March 31, and all indicators out of Washington seem to point in the direction that the CDC order is very likely to be broadened and extended well past March 31."
Local labor leaders also praised Turner's decision to place the ordinance on next week's agenda.
"The Gulf Coast labor movement has worked with the city and our community allies to find solutions that keep working families housed," said Jay Malone, political director for the Texas Gulf Coast Area Labor Federation, "and we're thankful to Mayor Turner and the City Council for their actions today."