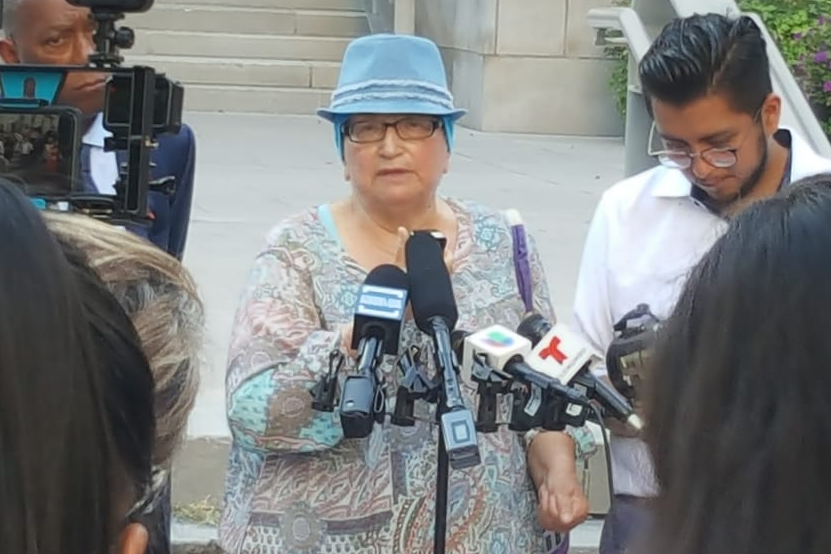 Maria Jimenez, who for decades worked in Houston as an influential immigration and civil rights activist, died of cancer on Tuesday. She was 70.
Her children confirmed her passing on social media Wednesday, inspiring an outpouring of support among activists and community leaders in Houston and across the state.
My beautiful mom Maria Jimenez lost her battle with cancer last night. She was an immigrant rights activist and an atheist. pic.twitter.com/HR7Lgzuql7

— Stalina Villarreal (@profstalina) December 3, 2020
Jimenez, an immigrant from Mexico, came to the Houston area as a kid in the 1950s and grew up in the Magnolia neighborhood.
She was raised with a strong interest in social justice. Her dad had been a union activist back in Mexico and they would watch the news and have political discussions throughout her childhood.
"By the time I was 13 years old I already knew I wanted to study political science because I wanted to do away with injustice," Jimenez said in an oral history from University of Houston.
It didn't take long for her to have an impact. As a student at UH, she joined the Mexican American Youth Organization, a political group for progressive Chicanos, and took part in lettuce boycotts to improve conditions for migrant farm workers.
After graduating, she ran for state representative on the Raza Unida ticket, a third party created for and by Mexican-Americans in Texas in the 1970s.
"The establishment Democrats were scared," said Texas activist Eduardo Canales, who was organizing chair of Harris County's Raza Unida Party at the time. "Maria was definitely the poster child to have (as a candidate), very successful, very active coming out of high school — very articulate."
Even though they lost, he said they were proud of bucking the system.
It is with deep sadness that I share that my long time friend and Mentor Maria Jimenez has transitioned. Maria was a pioneer. Maria was a visionary. Maria is and will always be a beacon of lucha through her teachings. pic.twitter.com/6Z6cN4f8GP

— Cesar Espinosa 🦋 (@Cesar_Espinosa) December 2, 2020
It was just the start for Jimenez, who has a long list of accomplishments.
She worked with laborers and Mayan communities in Central Mexico. She helped people get visas through the Association for Residency and Citizenship of America. She advocated for Central American workers in Houston through the Service Employees International Union.
And over the last 30 years she had been a watchdog of human rights abuses at the U.S.-Mexico border.
In 2013, she co-founded the South Texas Human Rights Center to address the deaths of migrants — and their lack of proper burials.
Her co-founder, Eduardo Canales, said he remembers how he landed the role.
"I said 'hey — who's going to be on the ground'. And she says 'you are. you are, Eddie'. And here I am," Canales said.
Jimenez often empowered others to be leaders like her. She was an early supporter of Harris County Judge Lina Hidalgo.
"Very few initially thought that it was possible to change the leadership at the helm of Harris County and immediately she believed it could be done," Hidalgo said. "She was ready to get to work. She supported me. She introduced me to all of her contacts and helped me all throughout."
Jimenez also mentored Cesar Espinosa, one of Houston's most prominent immigrant advocates.
"I remember one of my first interactions with her was the May 1 march in 2001 and she just grabbed me by my arm," Espinosa said. "And she says 'Help me control this'. The rest was history."
Jimenez is survived by her twin daughter and son.
At Jimenez' request, the family will not hold a funeral. The Houston Chronicle reports that her family plan to scatter her ashes at the US-Mexico border.