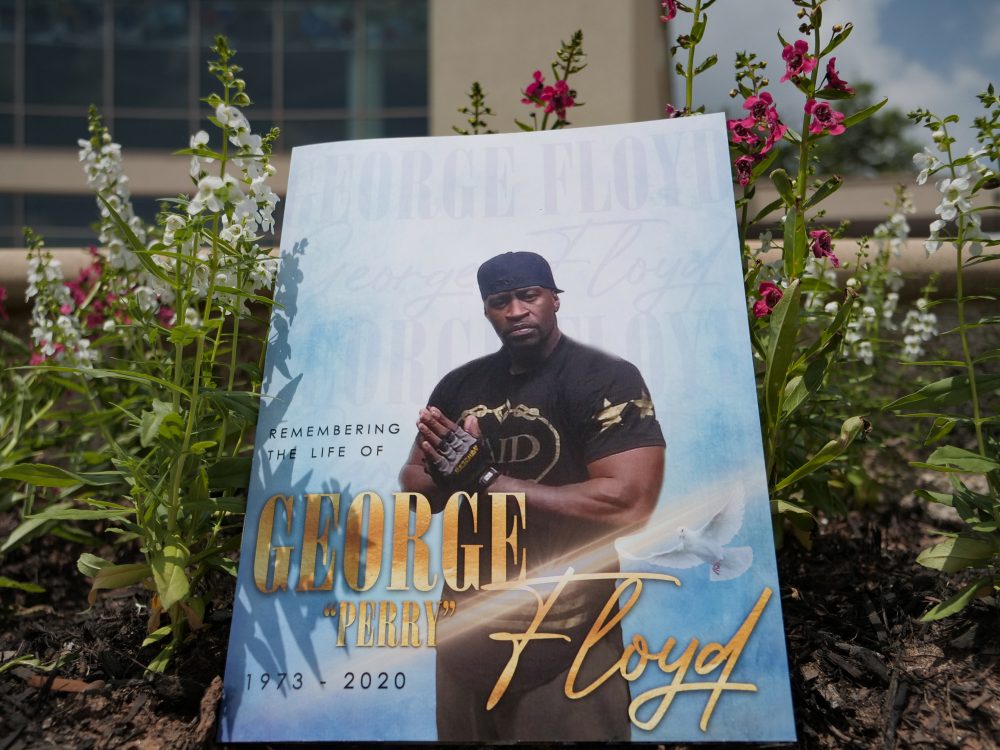 George Floyd will be laid to rest Tuesday at a plot in Pearland next to his mother, after a packed funeral attended by family, friends, politicians, and celebrities in Houston.
One day after a public viewing that drew reported thousands in attendance, mourners entered the Fountain of Praise church Tuesday met by an energetic service to celebrate Floyd's life, with a choir singing songs like "He'll Welcome Me" and "Nobody Like Our God," while congregants sometimes danced and sung along. Speakers including U.S. representatives Sheila Jackson Lee and Al Green joined Floyd's family on stage to honor the man who was killed by police on May 25. Actor Jamie Foxx and singer Al B. Sure! could be seen in the congregation.
In one emotional moment, Floyd's niece, Brooke Williams, demanded justice for her uncle, channeling her anger and frustration into a passionate euology as the congregation appluaded.
"Why must this system be corrupt and broken?" she said. "These laws need to be changed. No more hate crimes, please. Someone said 'Make America Great Again,' but when has America ever been great?"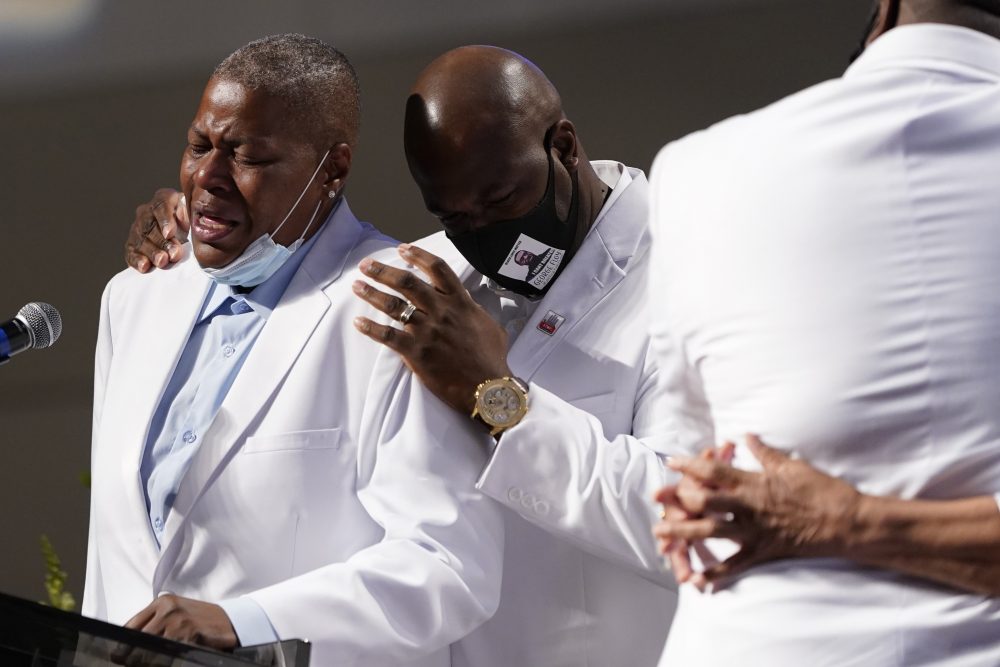 Floyd was killed by Minneapolis police on May 25, a death that sent shockwaves across the country and around the world, sparking protests calling for police reform. Former officer Derek Chauvin was charged with his murder after video showed him leaning his knee into the back of Floyd's neck for nearly nine minutes. Three other officers seen on camera watching the act were charged with aiding and abetting.
While Tuesday's service honored and remembered George Floyd, there were other names that hung in the air throughout the day: Trayvon Martin, Eric Garner, Pamela Turner, Botham Jean, Michael Brown, Ahmaud Arbery — other black victims of violence, some of whose families were in attendance at the funeral.
In a eulogy, Rev. Al Sharpton decried what he called "an intentional neglect" in the justice system when it comes to prosecuting those who've killed black Americans. As Sharpton spoke, congregants sprung to their feet in applause, cheering on the reverend's words demanding reform.
"Until we know the price for black life is the same as the price for white life, we're going to keep coming back to these situations," Sharpton said.
"We are fighting an institutional systemic problem that has been allowed to permeate since we were brought to these shores."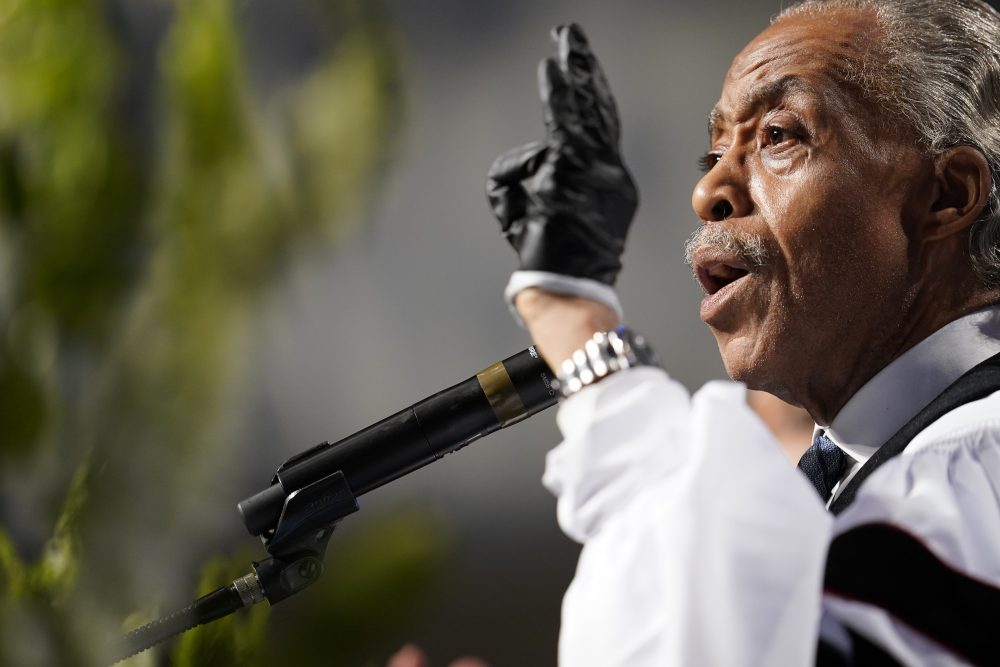 Former Vice President Joe Biden, who visited with Floyd's family on Monday, recorded a video for the funeral, recognizing the pain of losing a loved one.
"Unlike most, you must grieve in public," Biden said. "It's a burden. A burden that is now your purpose to change the world for the better, in the name of George Floyd."
Addressing Floyd's 6-year-old daughter, Gianna, Biden quoted her own words, saying that her father would "change the world."
"We can't turn away, we cannot leave this moment thinking we can once again turn away from racism that stings at our very soul," Biden said.
"Now is the time, the purpose, the season to listen and heal," Biden said. "Now is the time for racial justice."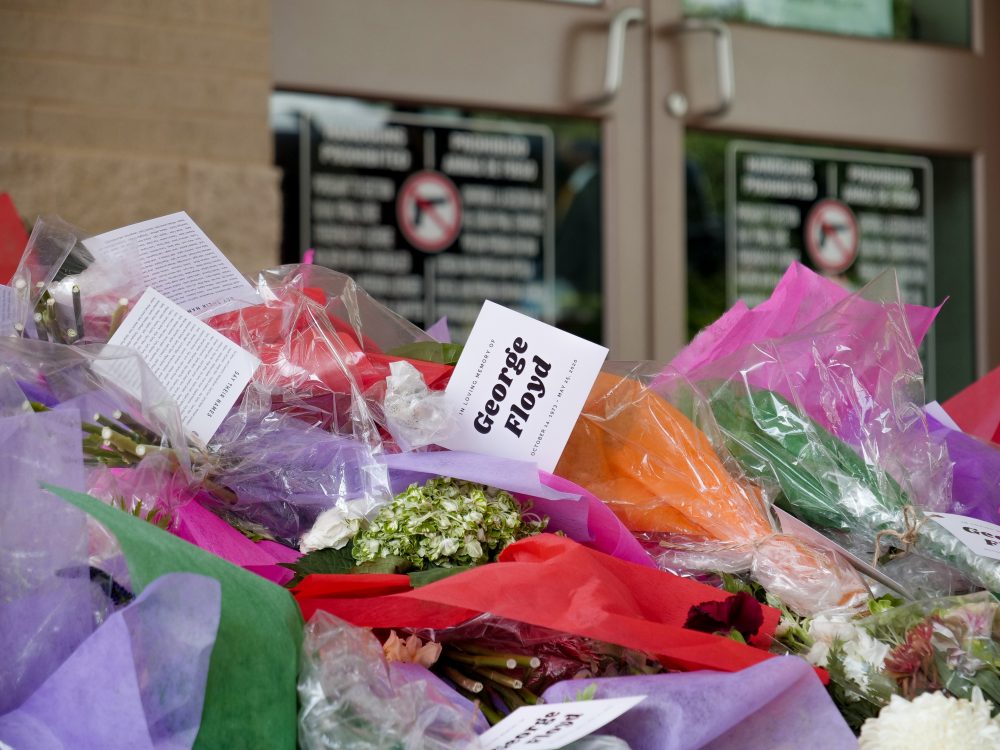 Mayor Sylvester Turner announced from the stage that June 9 would be proclaimed George "Perry" Floyd Jr. Day. The mayor added that he would sign an executive order banning choke holds and strangle holds among the police, require de-escalation techniques, mandate a verbal warning before shooting, institute a duty to intervene for officers who view innappropriate force from colleagues, and other reforms.
Speaker Ivy McGregor read a resolution on behalf of the students of Jack Yates High School, where Floyd was once a student, honoring his legacy, his sense of humor and his time as a football player for the school — No. 88.
"I think it has a very grounding effect for the nation and for the world to experience his home-going," Sonny Messiah-Jiles, publisher of African-American news source the Defender Media Group, told Houston Public Media on Tuesday.
Floyd, who was born in Fayetteville, North Carolina, moved to Houston as a toddler. He grew up in the Cuney Homes of Houston's Third Ward, and graduated from Jack Yates High School in 1993, where he played basketball and football. He left Texas after receiving an athletic scholarship to play basketball at South Florida State College, and later, returned to play football at Texas A&M Kingsville.
He moved to Minneapolis to start a new life six years ago, family said.
Friends and family remembered Floyd's compassionate, outgoing personality, a "gentle giant" who doled out "bear hugs" to loved ones. He was also a musician, performing under the name of Big Floyd alongside Houston hip-hop legend DJ Screw.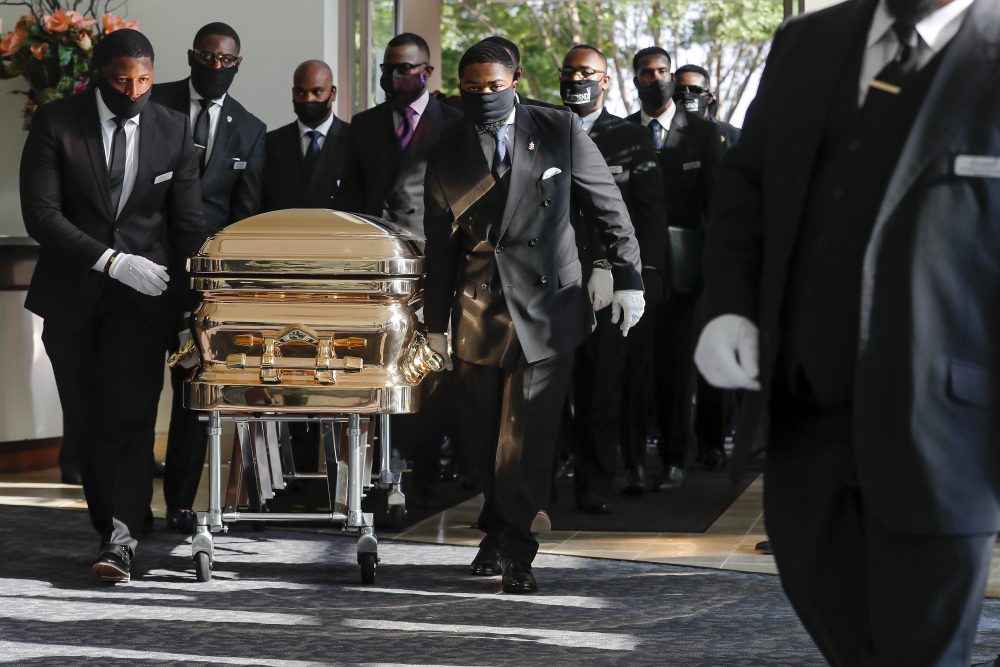 Ashton Woods of Black Lives Matter Houston, which helped organize the first protest in Houston after Floyd's death, said that as people remember Floyd, it should also be an opportunity to rethink policing in Houston and elsewhere.
"It's not just about police brutality, it's about the systems that encourage that police brutality and empower police brutality," Woods said outside the church Tuesday. "So until we dismantle those systems of oppression we'll probably be having this conversation for a very long time."
For Woods and others, Floyd's death is part of a continuing history of trauma in the black community, caused by the death of black Americans at the hands of police and others.
"It feels like someone took a part of you from them, even though you might have not known them, even if you might have never met them, even though they're not even your family," Woods said. "But they are our family. Because this is indicative of a larger issue of oppression against black bodies."