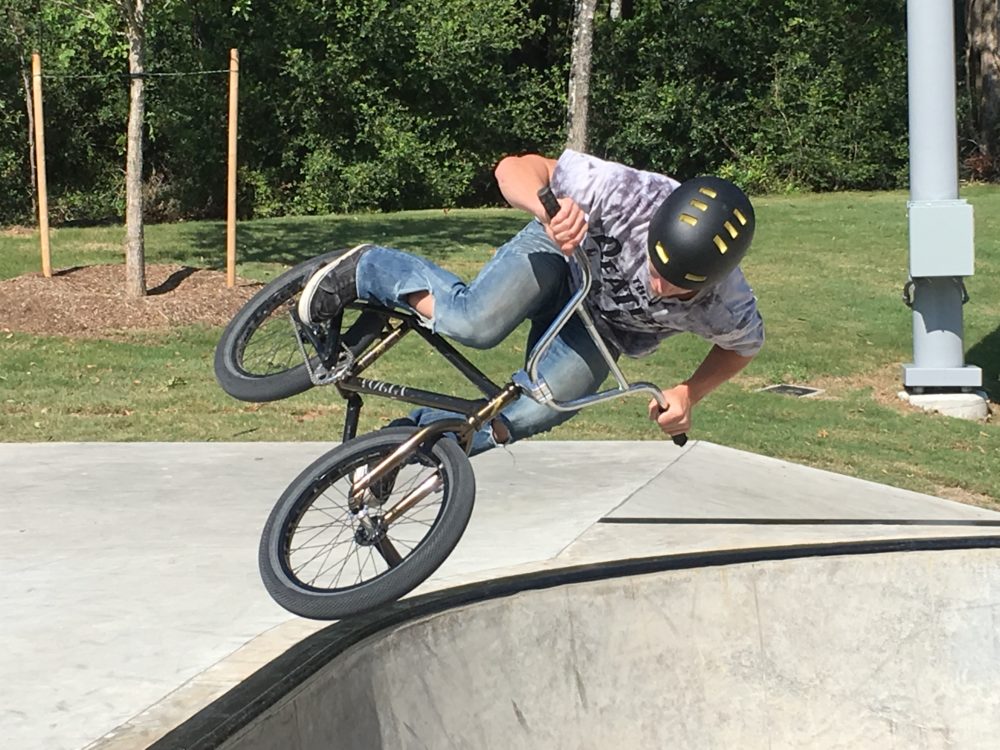 Thousands of professional BMX riders and fans are set to gather in Houston this weekend for the USA BMX Lone Star Nationals competition. It's the first major event to be held at the Rockstar Energy Bike Park in Greenspoint since it opened in August.
One of the biggest BMX venues in the nation, it's quickly growing a local and regional fan base, among both professional riders and amateurs eager to test out the sport. In addition to the national championship, the Rockstar Energy Bike Park will host the BMX World Championships next May. The park's managers expect both events to attract thousands of visitors from Texas, the United States and abroad.
Houston's BMX culture dates back to the late 1970s and has produced star riders like Hall of Famer John Purse and World Champion Kyle Bennet. BMX itself started in California in the 1970s as a byproduct of motocross. Riders use customized bikes to perform freestyle flips and tricks in concrete bowls, ramps and dirt race circuits.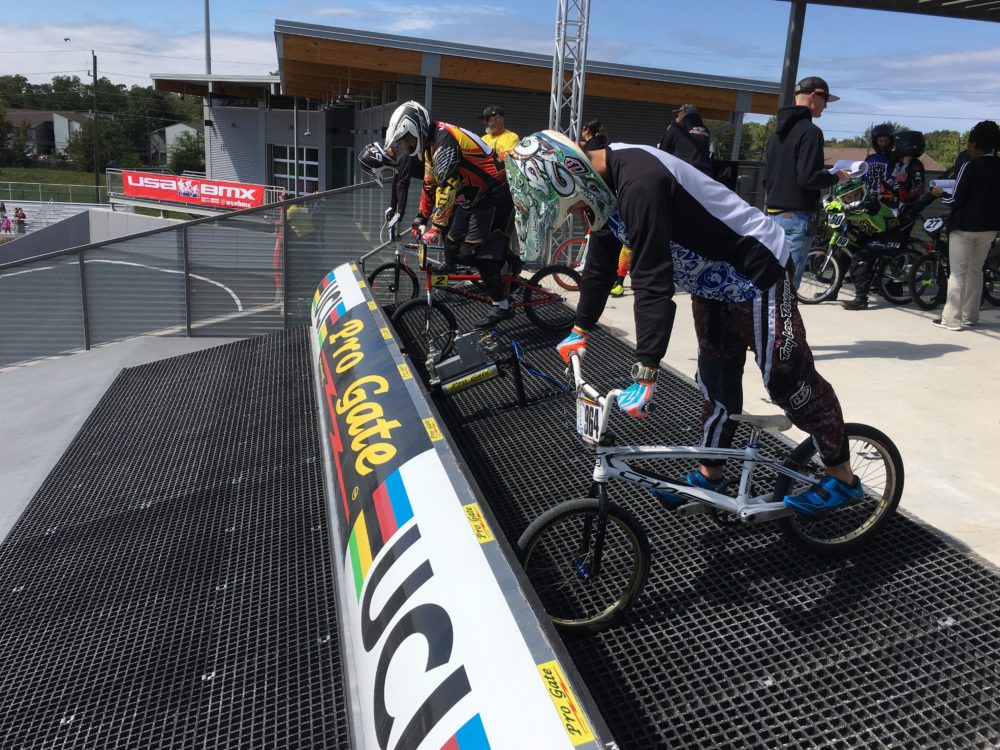 Interest in the park was clear from the beginning with about 3,000 people visiting the facility on its opening weekend, according to Sally Bradford, executive director of the North Houston Development Corporation, the group that manages the park and operates the racetrack.
USA BMX, which oversees the sport in the United States, designed the track and sanctioned it for official races.
That seal of approval is a big draw, according to Bradford. Riders from Texas and several European nations are coming to Houston to train and compete.
"It's huge to have this as a sanctioned park. That's why you get people coming in from all around the country, because they want to race at this track to get their points," Bradford told News 88.7.
In addition to the racetrack, the park has concrete bowls for freestyle riding, three asphalt circuits with multiple slopes called pump tracks, a skills course and a dirt trail.
"It is one of the only bike parks to ever encompass all of the variables within the genre of BMX," said John David, chief operating officer of USA BMX.
The park is already drawing regulars who come from nearby neighborhoods and far-flung reaches of the region.
Melissa Tiller said she brings her husband and kids to enjoy the dirt trail, and likes having a safe place to ride bikes in a controlled environment.
Due to the magnitude of the park, there are options for all ages. "We have kids out here who bring their bikes with training wheels, you're talking two, three-year-olds," said park manager Treena Dockery.
Galveston resident Chase Spears has already visited the park six times and said he is looking forward to the national and world championships.
"It would be awesome to see all that," he said. "I don't race, but I would definitely like to watch."
Riders from neighboring states are also coming to Houston to use the park. Robert Porter learned about the park through social media and drove almost six hours from Louisiana to check it out, despite having a BMX park in his hometown.
"But just the bowls alone here blow that place away," Porter said.
Though the riders come for the thrills, BMX also entails the risk of injuries, especially for racers. Houston rider Brandon Taylor is a Texas BMX Hall of Famer, who raced from 1996 to 2001 and in 2012.
"Just like football, it happens. At this level, when you are going hard, it's going to happen," Taylor said about the injuries BMX racers can suffer.
The origin of the bike park came, in part, from the development of another sport venue, the North Houston Skate Park, which opened in 2014. Bradford said that BMX riders and fans attended the grand opening of the skate park and asked for a facility that was customized for their sport.
Bradford started a committee for the bike park and invited local riders to be part of it. "We involved them from day one in the planning and the developing of all the features they felt like a first class park would need," she said.
The park's total budget was $26 million, including design, engineering and construction. The corporation paid for it through funds from a tax increment reinvestment zone, or TIRZ, where local tax dollars are used for projects and economic development.
Now, park officials are gearing up for the BMX national championship this weekend. Dockery is closely monitoring the weather and hoping for no heavy rains. In September, Tropical Storm Imelda flooded some sections of the park, including the racetrack, causing a partial shutdown.
"You have a soil tech mixture laid out and once that gets wet, it takes several days for it to dry," Dockery said. "And when you are conducting maintenance on the different areas it doesn't help when it keeps raining."
The park will also host major events in 2020 with a second tournament of the National Championship in March and the World Championships in May.
Bradford said about 4,000 people could come to Houston for the national championship and the crowd could double for the world tournament. Riders and fans are expected from across the U.S. and also from Australia, Europe and South America, where BMX is very popular.
"That's huge for our hotels, our restaurants out in this area. I know that they have already blocked off thousands of rooms for the world's [championship]," Bradford said.
Interested in visiting the bike park? Here's what you need to know:
Rockstar Energy Bike Park
Address: 12257 Kuykendahl Rd, Houston, TX 77090
Web: http://northhoustonsportcomplex.com
Hours of operation:
Monday 10 a.m. – 9 p.m.
Tuesday Closed
Wednesday 10 a.m. – 9 p.m.
Thursday 10 a.m. – 9 p.m.
Friday 10 a.m. – 9 p.m.
Saturday 8 a.m. – 10 p.m.
Sunday 10 a.m. – 9 p.m.
Fees:
Practice nights: $10
Race days: $15