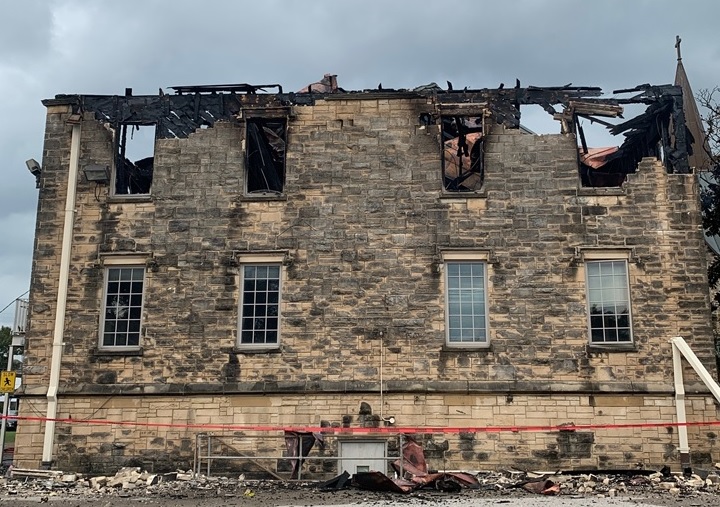 The senior pastor of St. Mark's United Methodist Church says it will take months for her church to completely recover from a 2-alarm fire that blazed at the historic church last week.
In an interview with News 88.7 Monday, Rev. Emily Chapman said the church doesn't have an estimate of the losses yet.
She said that the fire was mostly contained to one section of the second floor — the southwest corner of the church — but said the entire building suffered smoke and water damage.
"There's really not a part of it that is completely undamaged, everything has smoke damage, some of it has water damage," Chapman said. "And, of course, the fire damage on the second floor did take the roof entirely, the roof and ceiling entirely and blew all the windows out."
St. Mark's United Methodist Church was built in 1939 but its origins in Houston date back to the 1870's. And the fire has rattled the community, according to other media.
Chapman said it appears that after the fire started in one room, it spread to the attic and swept through it.
She said that there's really no part of the 8,000 square foot building that escaped damage.
She said the southwest corner of St. Mark's essentially burned away and will have to be rebuilt.
The building is insured, according to Chapman, but the church doesn't know yet whether the insurance company will pay for all the repairs.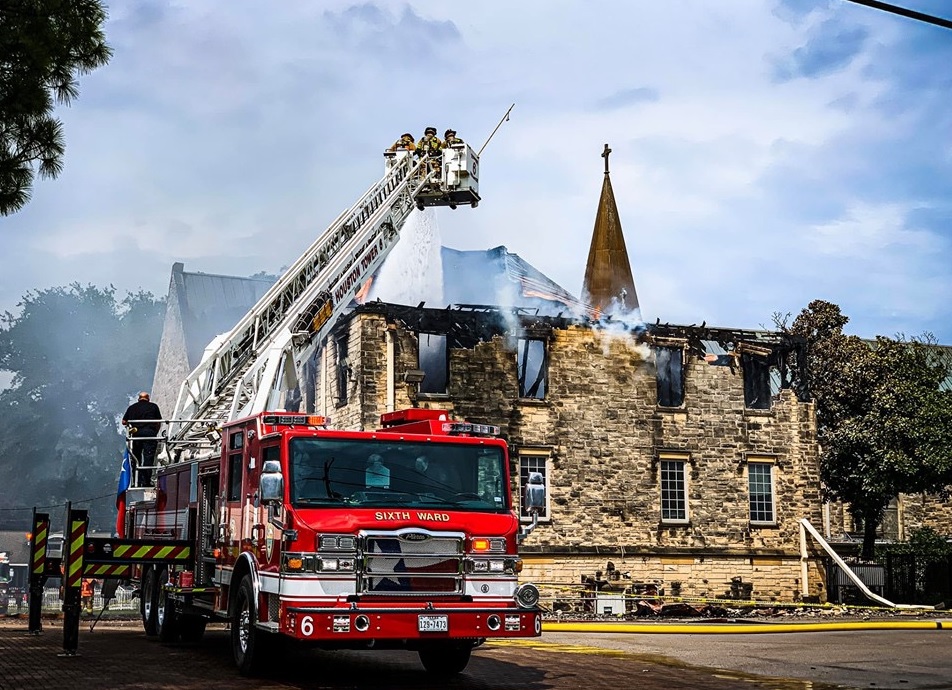 The sanctuary itself only has smoke damage. "The remediation process on that has already begun, so we hope to get back into our sanctuary in fairly short order," Chapman said.
"The rest of the building will be walled off from the part where the sanctuary is so that the repairs can continue," she added.
St. Mark's also has a preschool with 90 to 100 students located in a separate building and it sustained no damage; they hope to reopen this week. Over the weekend, parishioners and neighbors restocked the children's books collection that was burned in the fire.
Last Friday, when the fire started, Houston Fire Department sent at least seven fire trucks. The department continues to investigate the cause of the fire.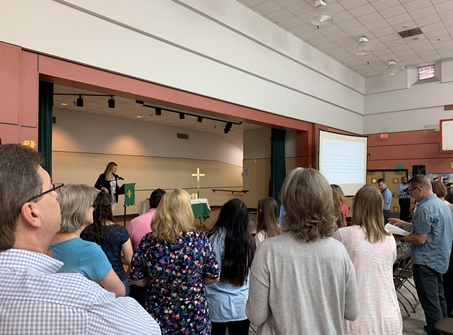 St. Mark's is still holding worship services. This past weekend, they gathered at Clemente Martinez Elementary School in the Near Northside. For the next few weeks, the church plans to hold Sunday services in other public schools located in the Heights. The locations of upcoming services will be announced on the church's social media channels.
Chapman said principals from nearby schools "have all reached out to us and offered space and whatever we need until we can get back on our feet, so we are super grateful."
Nearby churches and others have also offered space for St. Mark's to hold ministry activities, like Bible study, choir practice and Boy Scouts and Girl Scouts meetings.