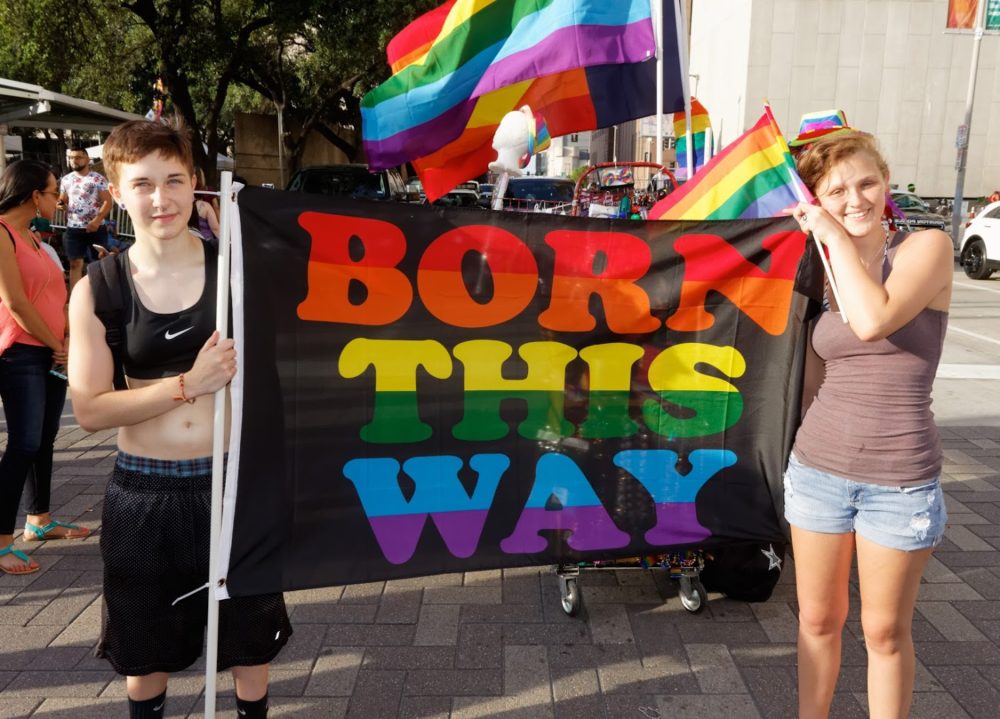 This Saturday, an estimated 700,000 people will celebrate Gay Pride Month in the heart of Houston with the Pride Festival and Parade. Before putting on your rainbow gear, there are several things to know.
The History Behind Houston's Pride Celebrations

In June of 1977, Houston had its own "Stonewall Movement" when thousands of people surrounded City Hall to protest Anita Bryant, a famous singer who opposed gay rights and worked against the gay community. The very first Pride Parade took place a year later on Westheimer Road in June of 1978, according to Pride Houston. Since then, Pride festivities have been held on the last Saturday in June to commemorate Stonewall and the first parade in Houston.

The tradition of the parade beginning after sunset started in 1997 when Annise Parker, a Houston City Council member at the time, arranged for Houston to host the nation's only nighttime Pride Parade. The Pride Festival was moved to downtown in 2015 to continue the tradition.

Though Pride Houston started out as a protest, it has morphed into a celebration. "You know although we are celebrating that day and it's more of a jubilee, that at the back of your head, at the same time you must be vigilant of what's going on around you," Lo Roberts, Pride Houston President, told Houston Matters.

The Festival The festival begins at 12 pm and ends around 7 pm. Performers include Young M.A and Dorian Electra, among others. Admission is free and open to all ages, though VIP Tickets can also be purchased.

The festival will take place on the intersection of McKinney Street and Smith Street.

The Parade

Admission to the parade is free and open to all ages. No tickets are required, except to access the Parade VIP area. The parade begins at 8 pm and ends around 11 pm. It will start at the intersection of Smith and Lamar, continue down Smith Street until Walker where it will make a right turn, then continue down Walker until Milam Street, then down Milam until they reach Jefferson Street.


Three festival goers at the 2016 Houston Pride Parade.

Road Closures – Smith from Walker to McKinney (west curb lane) from 9 am to noon
– Smith from Rusk to Lamar (all lanes) from noon to midnight
– Smith from Lamar to Dallas (the two east lanes) from noon to 6 pm
– Smith from Lamar to Dallas (all lanes) from 6 pm to midnight
– Bagby from Walker to Lamar (all lanes) at 6 am (re-opens on Sunday, June 24 at 2 am)
– McKinney Exit Ramp at 45 North at 6 am (re-opens on Sunday, June 24 at 2 am)

More on road closures can be found, here.

Where to Park Festival goers can park at 1100 Smith Garage for $10 — but go early to ensure a spot! Some other options for downtown parking can be seen below. If you prefer to be dropped off, Uber has partnered with Pride Houston and has designated drop off and pick-up spots.



A map of the various parking garages available downtown.

What to bring and what not to bring

Bring a water bottle to stay hydrated and wear shoes you can walk in. Firearms are not allowed at Pride, and organizers have taken measures to ensure the safety of those attending by having Houston Police Department officers throughout the parade and festival, private security forces, metal detection devices and random vehicle searches within the festival.
The Pride Houston App Attendees can also download the Pride app for access to the parade route, festival maps and a list of all the vendors and performers.
Listen to the Houston Matters discussion of the history and legacy of Pride Houston with Harrison Guy, Grand Marshal for the Houston Pride Parade, Lorin "Lo" Roberts, President of Pride Houston, and HPM's Ernie Manouse, in the audio below: