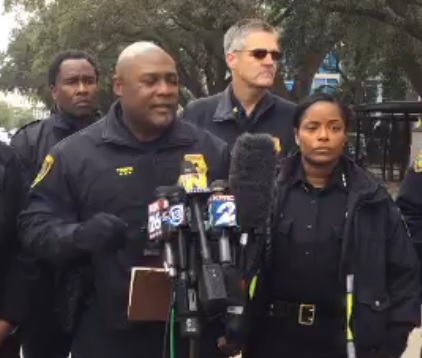 The Houston Police Department has identified the Lamar High School student who was shot to death Tuesday near that HISD school, in the River Oaks area, as Delindsey Dwayne Mack.
The Houston Independent School District said that Mack had transferred to Lamar from Yates High School.
Houston Police Department Executive Assistant Chief Troy Finner said Tuesday the shooting occurred around 12:15 p.m. at the 2800 block of Bammel Lane, which is about a four minute walking distance from the high school, which is part of the Houston Independent School District.
Finner said Mack, who was 18 years-old, and a female were standing and "they were approached by three suspects." "One suspect walked up and started firing," Finner added.
Finner noted Tuesday that the suspect who fired the shots was wearing a black hoodie and possibly black clothes and added that a black four door Subaru that has a plastic bag on the back passenger side window is linked to the shooting. But the news release HPD issued Wednesday said the vehicle in which the suspects fled is possibly a dark gray Nissan Sentra or Versa with paper license plates and a plastic covering the rear.
According to witnesses, in addition to the shooter, there were two other people inside the vehicle and all appeared to be males.
Finner, who didn't release the name of the victim, also said that after he fell on the floor, the suspect "stood over that individual and fired more shots."
The male victim was transported to Ben Taub Hospital and was pronounced dead.
Finner said he thinks the victim was "targeted" and added he doesn't rule out the possibility that the shooting was gang related.
The female victim –who also attends Lamar and is 15 years-old, according to Finner– was grazed on one of her arms by a bullet.
Lamar High School was put on lockdown after the shooting and HISD Superintendent Grenita Lathan said there are counselors on campus and they will also be available on Wednesday.
In a different incident, two other Lamar male students died last week in an apparent murder suicide that occurred at an apartment in The Park at River Oaks along Buffalo Speedway, near West Alabama Street, as reported by the Houston Chronicle.
Mayor Sylvester Turner released a statement describing the killing of the student as "a heinous act of violence" and asking the public to help with the investigation. "Somebody knows something and working together we can protect our children, keep our community safe and get violent criminals off the streets of Houston," the Mayor's statement noted.
You can watch Chief Finner's media briefing from Tuesday here:
Chief @TroyFinner Briefing on Shooting a.t 2800 Bammel Lane https://t.co/KdDjJIuzx5

— Houston Police (@houstonpolice) November 13, 2018